Zang Toi Gives A Sneak Peek Into His Spring 2013 Collection Ahead of New York Fashion Week [PHOTOS]
"This is the world of Zang Toi!" the designer, known for his dramatic flair in statement-making creations for both work and play, proudly exclaimed.
Eagerly, Toi welcomed IBTimes into the mecca of his world at his busy studio on Wednesday, as he prepared for Mercedes-Benz Fashion Week in New York, where he will unveil his spring 2013 collection on Sunday, Sept. 9.
The House of Toi is a busy one. Even mid-interview, Toi couldn't take a break from his work - holding a thought as he dictated directions to his staff of "ladies" in his office, whom he refers to as "angels" and his beloved seamstresses. All of them are wearing "Team Toi" t-shirts. Clearly, the sartorial superstar -- as he is often called - has a never-ending series of projects underway.
"There's a lot of things brewing at the House of Toi!" the designer said - among them, a raft of licensing projects involving everything from nail polish to shoes, an eponymous café in Malaysia, not to mention his nearly finished Spring 2013 collection. Indeed, the Zang Toi brand is more profitable (and more in fashion) than ever.
Toi's customers, whom he describes as "ladies that can afford to have anything they want," oftentimes spend upwards of $100,000 at a shot on his wares. One lady and very loyal Toi follower even ponied up $1.3 million for the Malaysian-born Toi's designs last season.
"I'm just very lucky to have found that niche," said Toi. "(My customers) wait patiently twice a year for me to visit the store. They don't come in and buy one or two or three pieces, we do a whole wardrobe."
And they're not just buying his expertly tailored clothing, but a portion of the designer as well.
"They buy a piece of my personality," Toi noted. "I think one thing they all have in common: they love me because I'm down to earth. I'm true to myself. I never pretend to be someone I'm not. I'm always very real."
Thanks to this loyal following of customers, which the designer also calls "the Zang Toi lady," his brand has more than doubled its profit in the last two years despite less than stellar economic conditions globally.
"This recession, knowing how many of my colleague friends in the industry have been suffering, I've been very fortunate," Toi said. "Like everybody, we were hit hard in 2009 during the recession but I was one of the very few fortunate ones who got up and rebounded very quickly."
According to Toi, his company's profits are up 55 percent through July, compared to the same period last year. And that's before his spring collection even debuts on the runway next week.
And he's growing exponentially thanks to licensing opportunities. Three years ago, Toi licensed his shoes to a distributor in Malaysia, and they've become the top-selling brand in the country.
"Last year alone, we sold over $3 million worth of shoes in Malaysia," he gushed. "That's a lot of shoes to sell."
Then, in November, Toi launched a fine jewelry line in his home country, Zang Toi by Amee Philips, and sold $500,000 worth of jewelry in Malaysia in eight months. On top of that, Toi is experimenting becoming a restaurateur, since he adores cooking, with the Zang Toi Café run by his brother in Malaysia.
Now, Toi is releasing his new line of makeup with Amazing Cosmetics at New York Fashion Week. The Zang Toi compact's white and silver design resembles the décor in his studio and lavish Upper East Side apartment.
"I did my research, if you go into the stores, most compacts are always black colors," he said.
"Every designer makes compacts black. But I wanted mine to stand out," Toi said of the four eye shadow compact. "I'm not afraid to be different. I think to be the new kid on the block, you have to do your own thing. You have to be brave enough to make a statement of your own."
Perhaps the biggest statement that this product is making is one of global involvement with people in need of aid. A portion of the licensing fees he receives from Amazing Cosmetics will benefit the American Red Cross.
"I have been fortunate and very privileged to come to America 31 years ago to live the American dream," Toi said. "I'm able to have built a very successful, profitable business for myself so it's my duty to give and to help."
Toi, whose fashion empire is worth an untold fortune now, moved from Kelantan, Malaysia where he was the youngest of seven to his "adopted home" of New York to attend Parsons School of Design.
"I came to study here and I didn't have a penny. I probably had $300 saved in my bank account for emergencies that my parents gave me," Toi reflected. By 1990, the designer had opened his own atelier, received the Mouton Cadet Young Designer of the Year award and gained the respect of Vogue Editor-In-Chief Anna Wintour. Since then, there's been no stopping him.
Toi's Spring 2013 collection at Mercedes-Benz Fashion Week in New York will be a big shock for his loyal fan base. A departure from last season's ultra-glamour, the upcoming collection was actually inspired by his recent travels to the French Riviera while staying at the Hotel du cap Eden Roc and is romantically demure.
"The last few seasons have been dramatic. I want to surprise my audience. I want to take a lighter, more romantic turn," he said, adding that he is introducing an icy pastel palette "for all the ice princesses."
Another inspiration for this collection is his muse, his first ever in 23 years, Julie Macklowe, a former hedge fund manager turned entrepreneurial fashionista. He and Macklowe, now known for her vbeauté skincare line, met almost three years ago and have become fashion's "It Couple,"according to the duo's inside joke.
"Julie is a perfect life size Barbie doll for me," Toi said. "She's like a breath of fresh air for me. We live in New York. People can be so jaded. Julie is just so easy. It's her stylish and adventurous spirit that inspires me. "
Macklowe has even inspired another business venture for Toi, a nail polish line with Zoya named Julie after her and for which he created his own color: an ice lilac based on his Spring 2013 collection.
With just a few days before Fashion Week, Toi still has to put the finishing touches on his collection. He still has to cast the models, each of which he individually does fittings for to ensure the clothing fits beautifully.
Indeed, beauty is exactly what's number one on the long agenda for Zang Toi, who describes his job as to make "ladies look beautiful."
"When you create something beautiful, you bring enjoyment to other people's lives. Especially, now, you want to have a reason to put a smile on someone's face. We hear so much gloom and doom on the news. Now with the hurricane hitting, it's just every day," he said. When I called him a "sartorial escape artist," helping the world - in Zang Toi's vision, of course -to be free from this "gloom and doom," he let out a laugh that is as signature as his expert tailoring.
"You just give someone a little joy, that's all you can hope for," he said. "It's just nice to shine a little light, a little smile on someone."
Zang Toi will debut his Spring 2013 collection at 7 p.m. on the stage on Sunday, Sept. 9 at Mercedes-Benz Fashion Week.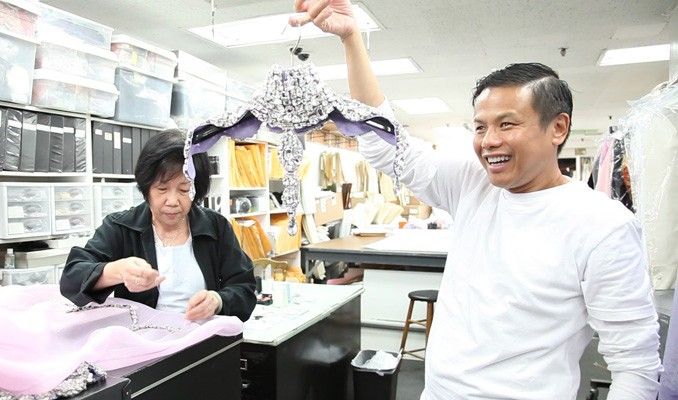 © Copyright IBTimes 2023. All rights reserved.