Zhejiang Xingrun Default: China's Property Market Risk Concentrates In 3rd And 4th Tier Cities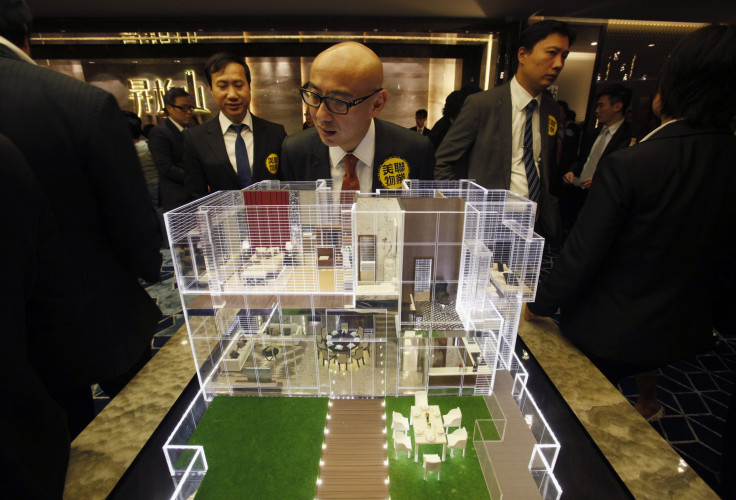 News that a Chinese real estate developer is unable to repay its bank loans surfaced less than two weeks after the country's first domestic bond default, highlighting the rising financial strain in the world's second-largest economy.
"China's property sector is significantly overinvested" and "a sharp property market correction could lead to a systemic crisis in China," said Nomura economist Zhiwei Zhang, who sees the property market as the biggest risk that China's economy faces in 2014 and 2015.
According to the Chinese-language National Business Daily, Zhejiang Xingrun Real Estate Co., based in Fenghua city in eastern Zhejiang Province, is on the brink of bankruptcy. State media have estimated the company owes 15 domestic banks 2.4 billion yuan ($389 million) and individual investors another 1.1 billion, with only 3 billion yuan of assets on hand.
China Construction Bank Corporation (SHA:601939), Shanghai Pudong Development Bank Co. Ltd (SHA:600000) and Agricultural Bank of China Ltd (SHA:601288) were the company's biggest creditors, according to multiple reports in Chinese news media.
Wu Yongben, head of the Fenghua city financial office, was meeting representatives of six banks on how to resolve their outstanding loans to Zhejiang Xingrun, according to National Business Daily. Wu told the publication that the government is trying to come up with a plan to lower the banks' nonperforming loan ratio "because this problem will soon be exposed."
China's central bank, in a statement posted to its official microblog, said it's not involved in dealing with risks from the collapse of Zhejiang Xingrun Real Estate Co. The Financial Times earlier Tuesday reported the People's Bank of China and one of its largest state lenders were holding emergency talks over whether to bail out Zhejiang Xingrun.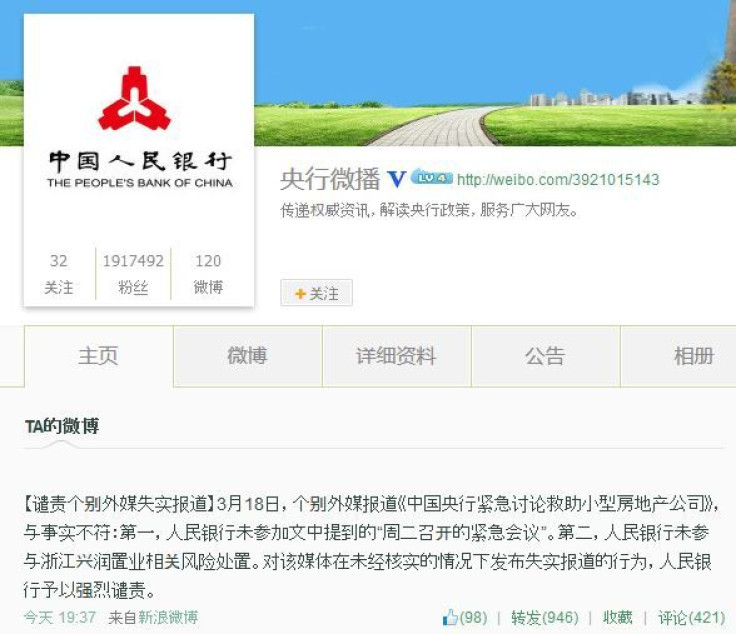 While this isn't the first time for a Chinese property developer to default on loans or to face bankruptcy, the size of Zhejiang Xingrun's debt load is notable.
The company's legal representative and its controlling shareholder, a father and son, were arrested in November and January for suspected "illegal fundraising" and engaging in usury, according to state media reports.
Pressured by tight liquidity and slower home price increases, developers have turned to the shadow-banking sector. In Zhejiang Xingrun's case, in addition to the bank loans and other debt, the company also took deposits from individuals who were offered annual interest rates of between 18 and 36 percent.
"As far as we know, this is the largest property developer in recent years that is at risk of bankruptcy," Nomura's Zhang said. "We believe more property developers will face similar pressures as transaction volumes slow and cash flow conditions tighten, and expect this problem to be more severe for unlisted developers in third- and fourth-tier cities with limited access to financing."
Average new home prices in major Chinese cities rose 8.7 percent on year in February, the National Bureau of Statistics said Tuesday, cooling from a 9.6 percent rise in the previous month.
On a month-on-month basis, home prices were unchanged or fell in 13 of the 70 cities surveyed in February. That number stood at eight in January.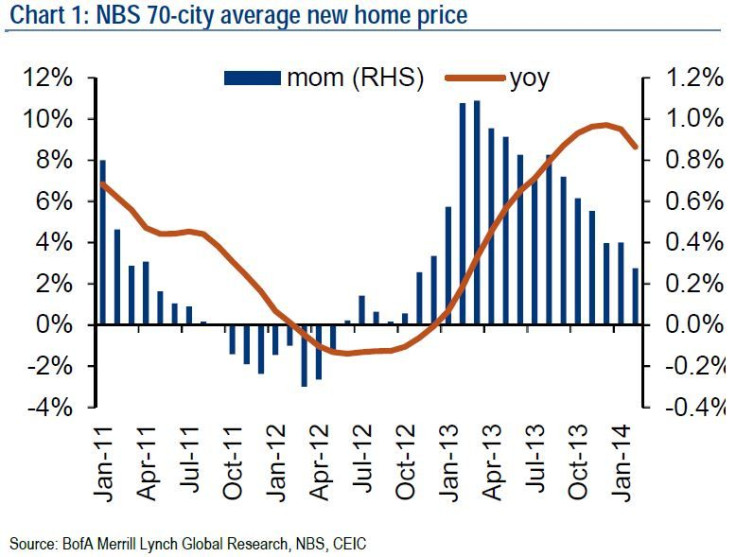 Divergence In Home Price Growth
The risk is particularly high in third- and fourth-tier cities, which accounted for 67 percent of housing under construction in China in 2013, according to Nomura's Zhang.
"This risk does not seem fully recognized in the market partly because data are not readily available for these cities, and some investors may be misled by the boom in first-tier cities," he said, adding that most investors aren't aware that first-tier cities (Beijing, Shanghai, Guangzhou and Shenzhen) only account for 5 percent of housing under construction.
When the U.S. property bubble burst, prices didn't collapse in New York but instead in places like Orlando and Las Vegas, Zhang explained.
In February, divergence in home price growth continued in the different tiers of cities in China. New home price growth was 21.5 percent on year in first-tier cities in February, while that of second-tier and third-tier cities were 9.2 percent and 4.6 percent, respectively. Home price growth in all three tiers decelerated from January, but the on-month growth for first-tier and second-tier cities ticked up to 1.20 percent and 0.22 percent in February compared to 1.15 percent and 0.05 percent in January.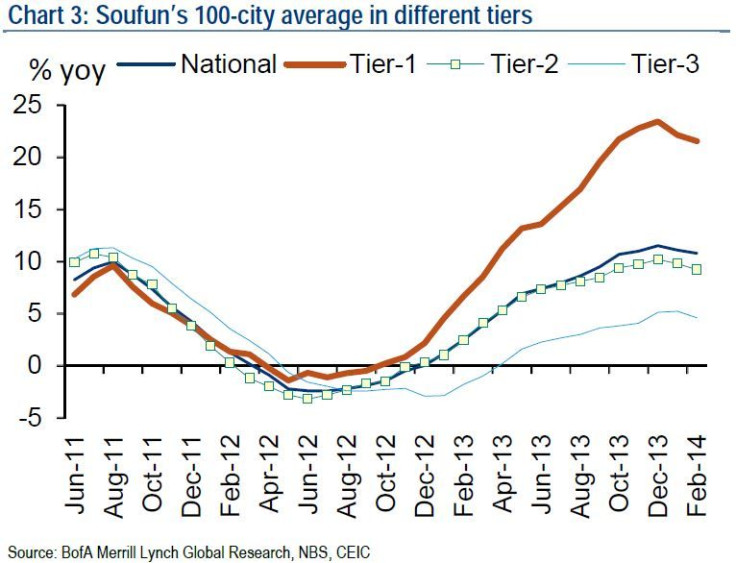 Zhang describes real estate as "a pillar of growth for China" that makes up 16 percent of the country's gross domestic product, accounts for 33 percent of fixed asset investment, 20 percent of outstanding loans, 26 percent of new loans and contributes 39 percent of government revenue, based on 2013 data.
"If it slows sharply, we see no obvious replacement to support growth," Zhang said.
Nationwide, residential floor space per registered urban resident is forecast to have reached 37 square meters by 2013, compared with 35 in Japan and 33 in UK, according to Nomura. And, if the current trend holds, could reach 51 square meters by 2017.
More importantly, contrary to conventional wisdom, Nomura believes the pace of urbanization has already started to slow and is set to drop further in coming years.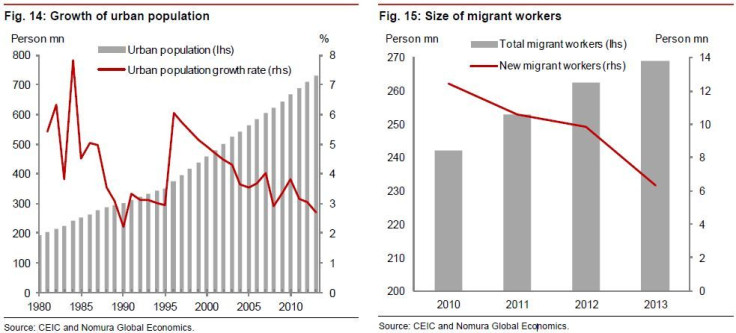 "The ballooning supply in the pipeline will likely become increasingly difficult for incremental demand to absorb," Zhang said.
© Copyright IBTimes 2022. All rights reserved.
FOLLOW MORE IBT NEWS ON THE BELOW CHANNELS