Zhou Yongkang Trial And Sentencing: Harsh Consequences Expected Under 'Rule Of Law'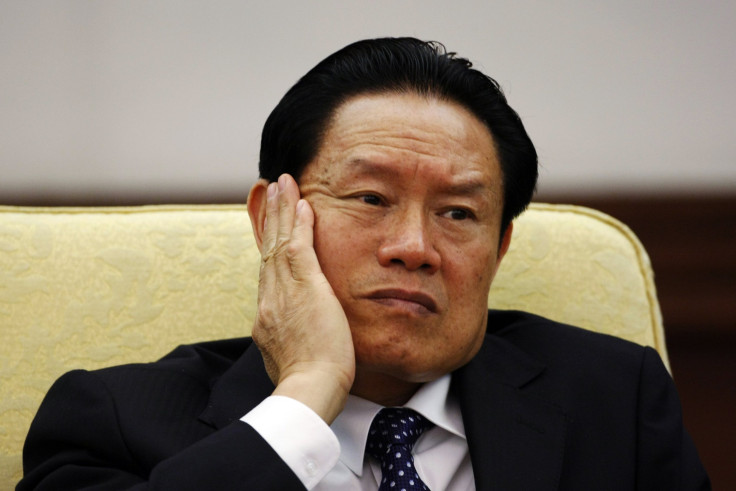 Xi Jinping's hallmark anti-corruption drive has taken down its biggest target to date. Now, after the Chinese Communist Party expelled one of its highest-ranking officials, Zhou Yongkang, the powerful former security boss and Politburo Standing Committee member, analysts are expecting China's government to exercise one of its harshest punishments: a suspended death sentence.
Last Friday Chinese state media released a boilerplate announcement of Zhou's expulsion, listing six violations of "party and organizational discipline and secrecy," without much additional commentary. However, after months of mounting a case surrounding Zhou, taking down his close associates as well, news of his arrest was not surprising. And as Zhou heads to court, analysts say considering the crimes of which he is being accused, including bribery, abuse of power, and leaking Party and country secrets, a suspended death sentence is not far-fetched.
Zhang Ming, a political science professor at China's Renmin University, said the suspended death sentence is the cards for Zhou, which is pretty much the harshest sentence a disgraced member of the Communist Party can receive. "There has been an understanding in the leadership over the past few decades that the maximum punishment for corrupt senior officials is a death sentence with a few years' probation," Zhang told the South China Morning Post. Such a sentence exceeds the one imposed on Bo Xilai, the once high-flying Chongqing Party chief, who was given a suspended sentence of life in prison for corruption and abuse of power, and has greater implications for Xi's regime.
"The Zhou case is of much greater political significance than Bo since Zhou was a politburo standing committee member and extremely powerful: a hugely important 'tiger' to take down," Dr. Michal Meidan, an associate fellow of the Asia Program at Chatham House, the Royal Institute of International Affairs in London, told International Business Times in an interview. "His ouster is also intimately linked to SOE [state-owned enterprises] reform, oil sector reform and changes in the public security apparatus. But all that is long behind the leadership, this announcement is the final confirmation on what was by now certainty."
While Zhou's sentencing seems predictable, China's widely promoted "rule of law" will be put to its first high-profile test. During a plenary meeting in Beijing in October, the party's leaders worked for four days to establish a "system of strict rule of law and supervision," which is party-speak for a tool used to exhibit power to ensure stability rather than what is commonly understood as a legal framework to which the whole nation is held accountable.
"How transparent, the investigation and ensuing trial will reveal a lot about whether the party is serious about implementing rule by law," Zhu Zhiqun, the director of Bucknell University's China institute, said in a separate South China Morning Post report, adding the case would test China's supposedly improved and streamlined judiciary. Whether or not "rule of law" has been implemented to the satisfaction of the public, Zhou is still expected to go through a public shaming similar to that meted out to Bo.
"Parts of his [Zhou] trial will probably be public, in the vein of Bo's carefully scripted trial," Meidan added, saying because some of the charges include state-secrets, other parts will likely be kept private. "The question is who's next. Now that the Zhou case is done, there might be an expectation to see another big ticket downfall."
© Copyright IBTimes 2022. All rights reserved.
FOLLOW MORE IBT NEWS ON THE BELOW CHANNELS