Zimbabwe's Mugabe takes fresh shots at foreign firms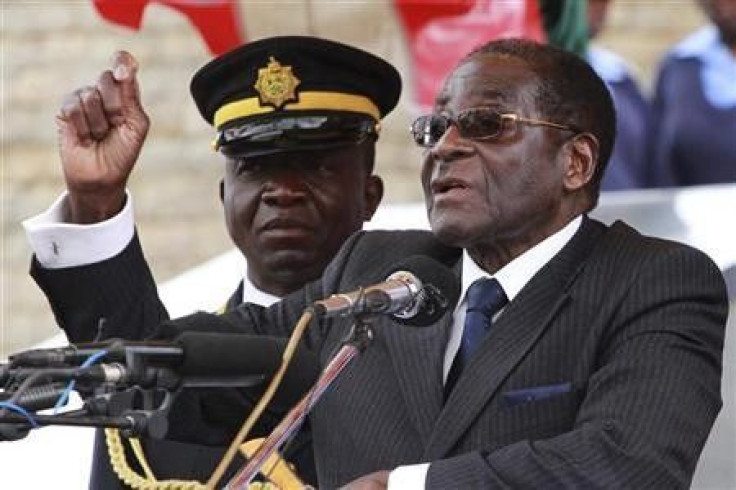 Zimbabwe's President Robert Mugabe threatened on Wednesday a state-backed take-over of foreign firms and a boycott of products to retaliate against Western sanctions placed on him and his ZANU-PF party.
The European Union and United States have imposed a travel ban and financial sanctions on Mugabe and his ZANU-PF allies over suspected human rights abuses spanning more than a decade and election fraud.
It is now time to take action. Indigenisation and empowerment should start with those companies. We must take them over. We are not ashamed of that, Mugabe told thousands of supporters at an outdoor rally in the capital Harare.
In the speech, he also called for a boycott of overseas products in a state with an estimated $6 billion a year economy that is not a major revenue generator at present for most foreign firms.
If we know that some of them have products which we are buying, including foodstuffs, before we seize those companies, we can boycott their products, he said.
Mugabe has already warned that ZANU-PF will nationalise firms from countries that have imposed sanctions, arguing they cannot operate freely while Western powers punish his party.
The threats add to worries of foreign investors in the resource-rich state, which introduced a law saying 51 percent of firms worth over $500,000 should be owned by black Zimbabweans.
But we also want to hear whether they (companies) say the sanctions are evil. They should be removed, that is the likes of Barclays and Standard Chartered, Mugabe said while launching a campaign to get two million signatures denouncing the sanctions.
Mugabe supporters held placards saying Sanctions do kill, Start with Old Mutual while others had a hit list of foreign firms that should be taken over.
Mugabe's threats come as officials from the rival Movement for Democratic Change (MDC), which was forced into a power-sharing government after disputed 2008 elections, have been campaigning globally for foreign investment to prop up the state's staggering economy.
MDC officials have said Mugabe's call to hold election this year, ahead of a plan drawn up in the power-sharing deal, would devastate a nascent recovery in the state whose economy was crushed by hyperinflation about two years ago.
Analysts said years of mismanagement by Mugabe and ZANU-PF are to blame for the economic woes, but Mugabe, 87, and in power since independence from Britain in 1980, has laid the blame in large part on the sanctions.
The call for early polls has touched off fresh violence between ZANU-PF and MDC supporters while the police have threatened to crack down on any Egypt-style protests aimed at toppling one of Africa's longest standing rulers.
© Copyright Thomson Reuters 2023. All rights reserved.
FOLLOW MORE IBT NEWS ON THE BELOW CHANNELS