Zimbabwe's President Robert Mugabe 'Replaced' By Wife Grace Mugabe In 'Palace Coup,' Opposition Leader Says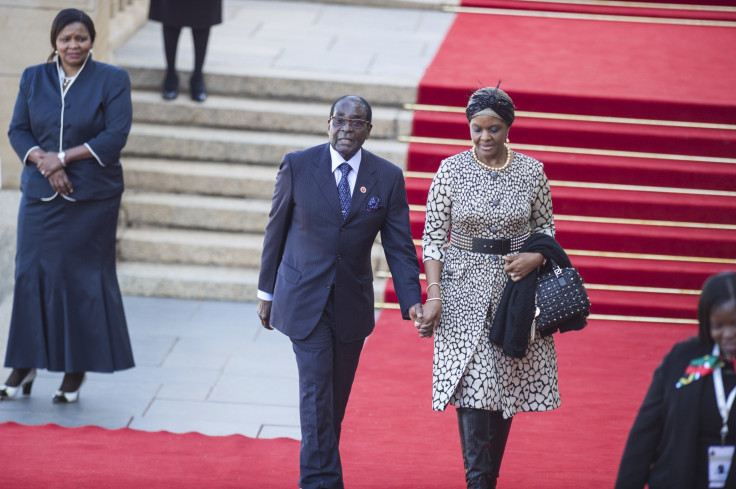 Zimbabwe President Robert Mugabe has been "surreptitiously but willingly replaced by his wife," opposition leader Morgan Tsvangirai said on Monday. Grace Mugabe, 50, took power from Africa's oldest ruler in a "palace coup" as Zimbabwe faces a leadership crisis, the Movement for Democratic Change leader claimed in his end-of-year message.
"We face a bleak Christmas, amid a serious national crisis," Tsvangirai said in a statement published by local media. "No one in government is thinking of solutions to the national challenges as everyone is preoccupied with issues of who will succeed this tired man steering the ship of State; the man who has now been surreptitiously but willingly replaced by his wife in a palace coup."
Grace, who heads the ruling party's powerful women's league, has taken an increasingly prominent role in politics in recent months. The First Lady spearheaded the campaign to oust Joice Mujuru from her post as Vice President last year. Still, she has denied presidential ambitions, saying her husband will continue ruling until he is 100.
"We are going to create a special wheelchair for President Mugabe until he rules to 100 years, because that is what we want," Grace said in November, according to the Independent in the U.K. "That is the people's choice. We want a leader that respects us."
Mugabe, who will turn 92 in two months, has appeared in relatively good health but his fitness to hold office was called into question after he delivered the wrong speech at Zimbabwe's parliament in September. The aging leader has also stumbled twice in public this year, including at the India-Africa Summit in New Delhi, India, in October.
Mugabe and his Zanu-PF party have been in power since Zimbabwe gained independence from Britain in 1980, defeating Tsvangirai in the 2002, 2008 and 2013 presidential elections. Each time, the opposition leader has claimed that Mugabe rigged ballots and intimidated voters, according to South Africa's News24.
Mugabe has seen Zimbabwe's economic growth expand and contract in his 35-year tenure. The economy is still reeling from the catastrophic recession of 1999-2008, during which gross domestic product shrank by 45 percent. Mugabe is banking on China to help revive the economy, but analysts say the country's financial woes are unlikely to be solved by new Chinese investments.
© Copyright IBTimes 2023. All rights reserved.
FOLLOW MORE IBT NEWS ON THE BELOW CHANNELS