Zuckerberg In India: Facebook Wants To Boost Rural Connectivity To Reach 5 Billion People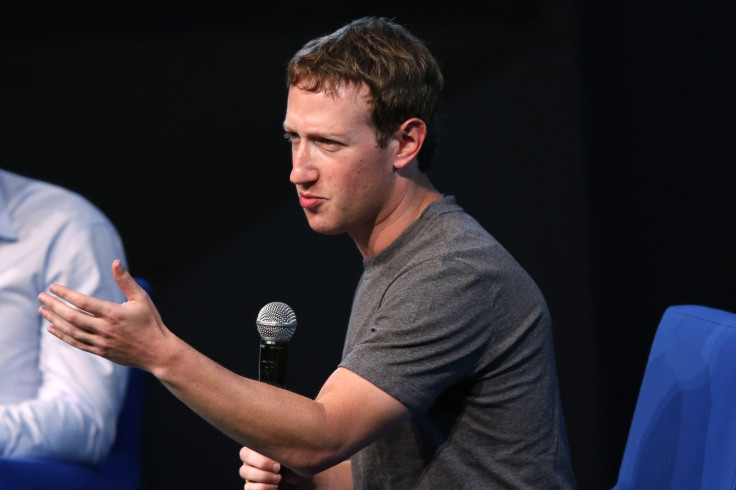 Facebook founder and CEO Mark Zuckerberg, who is visiting India, said he will meet the country's Prime Minister Narendra Modi on Friday to discuss how the social media company can help India's efforts to bring Internet connectivity to some 600,000 remote villages.
This could include building content in local Indian languages, which would remove a big barrier to more people using the Internet, an area that Facebook is already heavily involved in, Zuckerberg said at a conference in New Delhi on Thursday. Over the past year, Facebook has helped connect some three million people in countries including Indonesia, Philippines and Zambia, offering some very basic Internet-based services -- looking up a Wikipedia page, for instance -- free of cost on mobile phones, Zuckerberg said.
"The next generation here (in India) has the opportunity to define the future and bring India to the world and the world to India. A key to this next big opportunity is going to be embracing the Internet ... but we have a long way to go to get there," Zuckerberg said at the event.
The conference was organized by Internet.org, an alliance that Facebook started last year with five other global technology companies, including Ericsson and Samsung Electronics Co, to boost Internet access worldwide.
On Thursday, Internet.org announced a $1.2 million Innovation Challenge in India, comprising of four $250,000 prizes "to recognize those who are working to make the Internet more relevant to four populations that are currently underserved in India: women, students, farmers and migrant workers," and two $25,000 Impact Awards for each of the four categories.
Early efforts to make Facebook accessible on cheap phones with basic features helped the social media network garner millions of users in India. In March this year, the company crossed the 100 million-user mark. Zuckerberg wants to increase that number 10-fold in a country of 1.23 billion people, where fewer than one in five has Internet access, mainly by making the Internet a 100 times more affordable.
This can be done by improving the flow of data 10-fold and reducing the amount of data itself by 10 times, through a combination of technologies that make radio signals travel farther; better use of existing, under-utilized, wireless signal spectrum; data compression; and storing more data on a handset itself so that an active Internet connection would not always be needed to pull up that data, he has said.
Zuckerberg is expected to meet Modi on Friday to talk about how Facebook can help take the Internet to rural India.
The country's economy is expected turn around and grow faster in the current fiscal year and the next, after two years of sluggish growth. Businesses and investors are hoping Modi's government, which has an absolute majority in India's parliament, will push through India's next wave of economic reforms, making it a market of fast-rising importance for global companies, including other technology giants such as Microsoft Corp. and Google Inc.
Microsoft CEO Satya Nadella, who visited India last month, has committed to providing cloud-computing services from local data centers by the end of 2015 to the company's business customers in the country.
Google launched its Android One software platform from India in September, with the aim of bringing feature-rich $100 smartphones to emerging markets. India is the world's fastest growing major smartphone market, with low penetration and high demand for such handsets.
Growth for companies such as Facebook is predominantly hindered by the lack of Internet access to India's large rural and lower-middle-class urban users, making them one of the largest chunks of the planet's five billion people who still don't have Internet access.
By 2013, about 2.7 billion people had access to the Internet and, of the remaining 60 percent of the world's population, only between 500 million and 900 million will have access to it by 2017, McKinsey and Co., a consultancy, said in a report on Oct. 1. The report titled "Offline and falling behind: Barriers to Internet adoption," was the result of a study that McKinsey collaborated on with Facebook, to identify hurdles to getting Internet access in different countries.
"Between 3.8 billion and 4.2 billion people—more than half of the forecast global population—will remain offline in 2017," McKinsey estimated in the report.
The report also introduced the "Internet Barriers Index," a detailed study based on the combination and severity of the barriers facing 25 countries, and ranked those countries on how difficult it is to get Internet access.
India, with a score of 40 out of a maximum of 100, is in the bottom quartile of this ranking, alongside Egypt, Indonesia and others. A low score indicates high barriers and vice versa. The countries with the most easy access to the Internet are the U.S., with a score of 94, followed by Germany and South Korea, both scoring 93, and Japan that scored 90 on this index.
© Copyright IBTimes 2023. All rights reserved.