ISIS Child Training Camp In Iraq Shown In New Video 'Blood Jihad 2'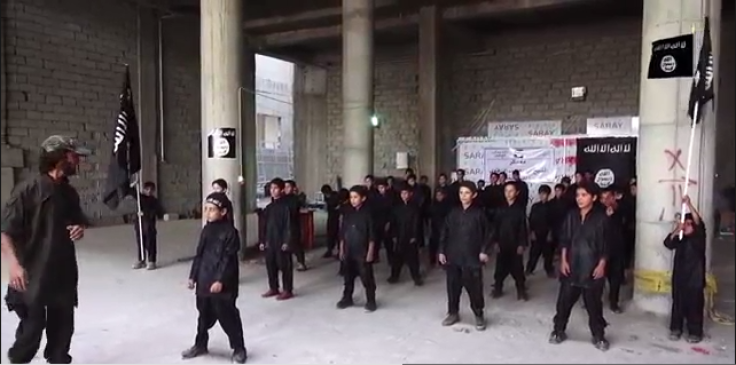 An Islamic State group fighter picks up a stick that appears to be made of wood and advances toward a boy, no older than 10. The boy is dressed in black. The boy does not flinch as the man -- who is twice his size -- whacks him repeatedly in the torso with the stick. The boy is part of the Islamic State group's youth training program.
The group, formerly known as ISIS, expanded its child recruitment campaign to Iraq, according to a video released Monday. Entitled "Blood Jihad 2," the video shows dozens of boys receiving brutal training from ISIS militants. One fighter repeatedly punches a child in the stomach but the boy does not resist. The children are also forced to fight each other and role-play. One such exercise has the children practice walking while holding a Kalashnikov pointed at an "enemy fighter's" head.
ISIS-affiliated Province of Nineveh Media platform produced the video. Nineveh is the name of an ancient Mesopotamian city on the Tigris River, and also the name of an ISIS stronghold in Iraq that houses cities that have seen some of the largest ISIS massacres: Mosul and Sinjar. International Business Times could not confirm if the camp was in Iraq but the title and media platform suggests it is in Mosul.
"What is new is that ISIS seems to be quite transparent and vocal about their intention and their practice of recruiting children," Laurent Chapuis, UNICEF regional child protection adviser for the Middle East and North Africa, recently told Fox News.
International Business Times previously reported that ISIS had stepped up child recruitment in their Syrian stronghold. In Raqqa, children ended up in camps through ISIS-run schools, through friends, or even because their parents had no other way to provide for them.
Training in Raqqa has two tracks: A 45-day "legitimacy training" and three months of "war course," or a combined 45-day program during times of intense battles, a spokesperson for the anti-militant activist group Raqqa Is Being Slaughtered Silently, recently told IBTimes.
In their most recent video, one of the boys is shown holding a knife but chooses to punch and kick his fellow junior recruit. After a particularly powerful punch, the second boy falls to the ground. He lies there, along with several other young boys, playing dead.
© Copyright IBTimes 2023. All rights reserved.