15,000 Americans Stranded In Afghanistan, Have To 'Beg' Taliban: McConnell
KEY POINTS
McConnell called Biden's withdrawal strategy an "utter embarrassment"
The U.S. is yet to plan the evacuation of Americans located outside of Kabul
The Taliban said they will give Americans safe passage to the airport
Senate Minority Leader Mitch McConnell, R-Ky., on Tuesday slammed President Joe Biden for leaving 15,000 Americans stranded in Afghanistan after the Taliban took over the country.
During an interview on Fox News' "Special Report," McConnell blasted Biden's withdrawal strategy, saying that it left thousands of Americans outside Kabul at the mercy of the Taliban.
"They're up to 15,000 Americans stranded out in the country who presumably have to beg the Taliban to let them get to the airport," he said, adding: "Not to mention the interpreters who worked with us, and other Afghans who are in danger because they cooperated with us. All of this is the aftermath of the decision first to withdraw, and to withdraw in a precipitous and incompetent way."
He also hit out at the president for withdrawing, saying the Taliban see his decision as a military defeat of the United States.
"It's an utter embarrassment. Our allies won't trust us," he said. "This was an incredibly incompetent step. And I'm going to say previous presidents have wanted to leave Afghanistan as well, but, in the end, they didn't because we knew we had the lid on," he added.
McConnell's remarks came after two Senate aides confirmed that U.S. officials are working to evacuate between 10,000 and 15,000 U.S. citizens remaining in Afghanistan.
The Taliban have indicated that they intend to give Americans safe passage to the airport. They also promised that they won't harm international community members in Afghanistan.
"We don't have any grudges. You will not be harmed from our soil," Zabuhullah Mujahid, the Taliban's spokesman, said at a news conference in Kabul on Tuesday, according to NBC News.
The spokesman also noted that the newly-established Taliban government intends to commit to the rights of women, including allowing them to work and study. He also said that Afghans who fought against the Taliban and who worked with foreign countries as interpreters and contractors have been "pardoned."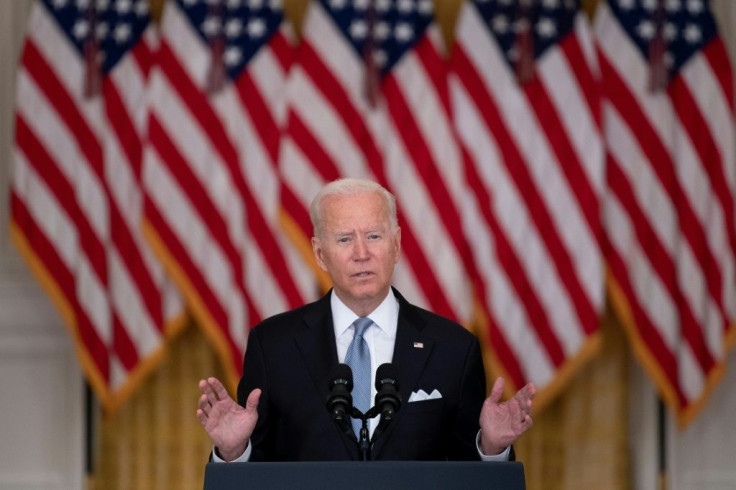 © Copyright IBTimes 2023. All rights reserved.
FOLLOW MORE IBT NEWS ON THE BELOW CHANNELS