20-Foot Crocodile Killed Indonesian Villager, Reptile's Belly Reveals [Photos]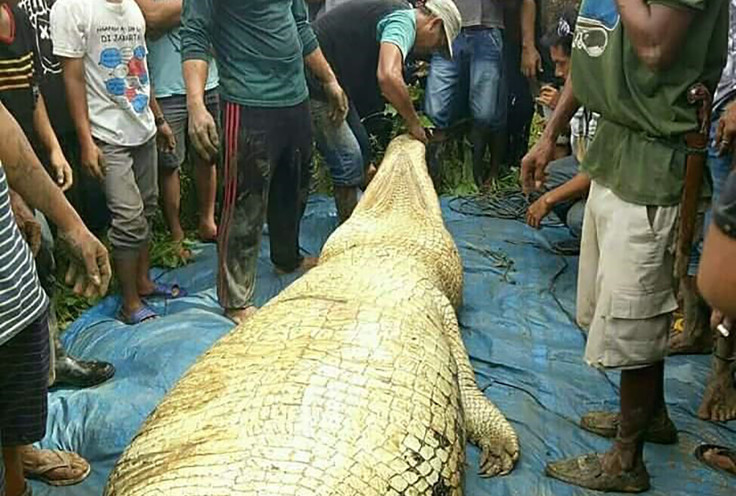 Parts of a human corpse were discovered inside the body of a 20-foot-long crocodile near Marukangan village, Borneo, Indonesia, on Friday.
Human legs and an arm were recovered from the belly of the beast, which is suspected to have killed Andi Aso Erang, 36, a local palm oil plantation worker who went missing on Wednesday, the Jakarta Post reported.
Erang told his family that he was going to look for clams in the Kabuyahan River near the village on Wednesday and never returned. In the evening, Erang's family grew concerned and went looking for him, accompanied by several villagers.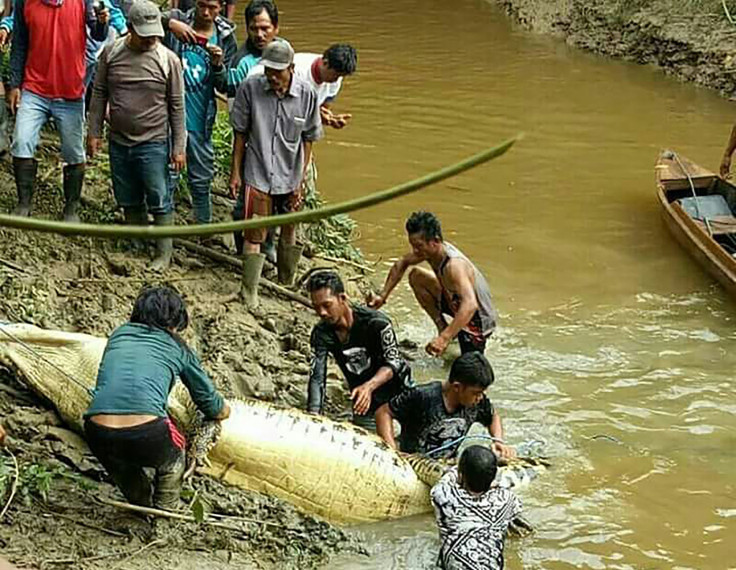 They discovered Erang's shoes and bike near the bank of the river. After expanding their search Erang's half-eaten body was discovered on the riverbank at 3 a.m. local time Thursday (3 p.m. EST Wednesday). It was lacking legs and a left arm.
"I never expected he would end up in a terrible situation like this," the victim's wife, Anisa said, the Strait Times reported.
After seeking assistance from the local law enforcement in the search for Erang's remains, Sangkulirang Police officer Eko Supraptono spotted a huge crocodile lurking near the area, where the villager went missing.
Supraptono shot the beast multiple times and villagers helped pull the dead reptile out of the water. On cutting open the stomach of the crocodile, Erang's missing limbs were discovered.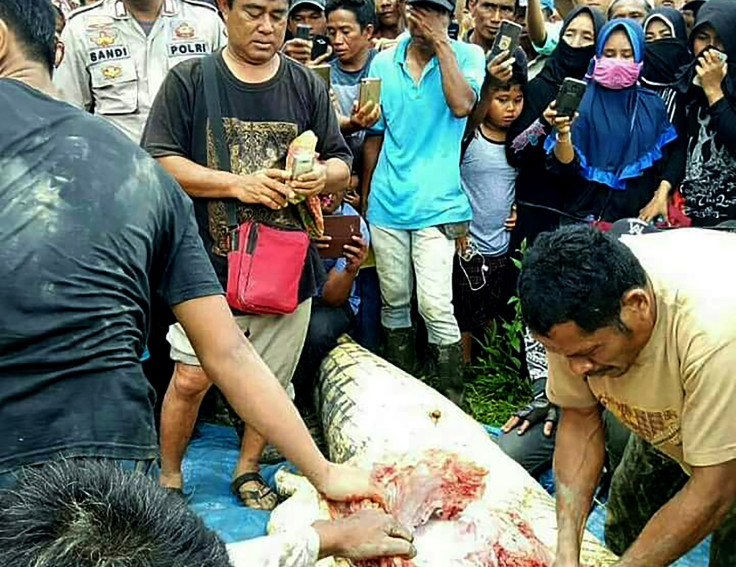 "Inside the crocodile's stomach, we found the left arm and a leg that we believe belonged to the victim," local police chief Teddy Ristiawan said.
Human-crocodile encounters in Indonesia have become a common phenomenon, especially after many rainforests were cut down in the area in order to make room for palm oil plantations. Wild animals, who had their habitats destroyed, often wander into adjacent villages for food or shelter.
"The rivers in East Kutai are the natural habitat of crocodiles. So we urge residents in the surrounding areas to be extremely careful when entering the river," Sangkulirang police officer Teddy Ristiawan said.
© Copyright IBTimes 2023. All rights reserved.