2013 Immigration Reform Bill: 'I'm Going To Push To Call A Vote,' Says Obama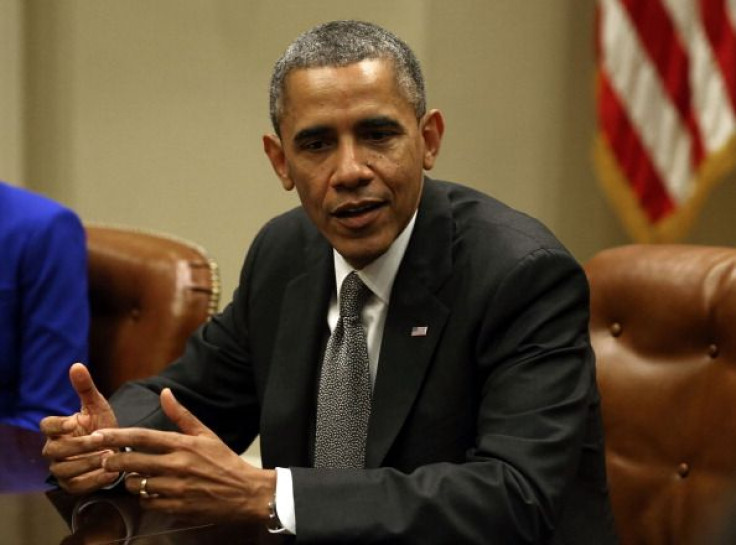 When Congress finally passes a bipartisan bill that kicks the fiscal battles over to early next year, the spotlight could return to comprehensive immigration reform before 2013 ends.
At least that's the hope of President Barack Obama and his fellow Chicagoan Rep. Luis Gutierrez, D-Ill., chairman of the Immigration Task Force of the Congressional Hispanic Caucus and one of the most vocal advocates for immigration reform in the House of Representatives.
"When we emerge from this crazy partisan eruption from the Republicans, there will be a huge incentive for sensible Republicans who want to repair some of the damage they have done to themselves," Gutierrez said in a statement. "Immigration reform remains the one issue popular with both Democratic and Republican voters on which the two parties can work together to deliver real, substantive solutions in the Congress this year."
Reforming the status quo has consistently been favored by a majority of Americans. Earlier this year, at least two-thirds of Americans supported several major steps to make the system work better, according to a Gallup poll. Those steps include implementing an E-verify system for employers to check electronically the immigration status of would-be employees (85 percent), a path to citizenship for undocumented immigrants, (72 percent), an entry-exit check system to make sure people who enter the country then leave it (71 percent), more high-skilled visas (71 percent) and increased border security (68 percent).
The Senate passed its version of a 2013 immigration reform bill in June that includes, but is not limited to, a pathway to citizenship for immigrants without documentation and doubling security on the southern border. But that measure has stalled in the House, where Republicans are adamant they will take a piecemeal approach.
The momentum that lawmakers showed for reform has been sapped by the stalemate that that has shut down the government for 16 days and brought the U.S. to the brink of default. The Senate has agreed on Wednesday to a bipartisan solution to break the gridlock.
When the shutdown and default threat is resolved (for a time), that's when Obama will renew his push to get Congress to move on immigration reform. On Tuesday the president said reform will become his top priority.
"Once that's done, you know, the day after, I'm going to be pushing to say, call a vote on immigration reform," Obama told Univision affiliate KMEX-TV in Los Angeles. "And if I have to join with other advocates and continue to speak out on that, and keep pushing, I'm going to do so because I think it's really important for the country. And now is the time to do it."
The president pointed the finger at House Speaker John Boehner, R-Ohio, for not allowing the bill to be brought to the floor for a vote. Boehner had promised that the Senate's bill would not be voted on unless a majority of the majority in the House supports it -- the same principle he was holding out for on the government shutdown before he gave in.
"We had a very strong Democratic and Republican vote in the Senate," Obama said. "The only thing right now that's holding it back is, again, Speaker Boehner not willing to call the bill on the floor of the House of Representatives. So we're going to have to get through this crisis that was unnecessary, that was created because of the obsession of a small faction of the Republican Party on the Affordable Care Act."
Republicans are opposing the Democratic view of immigration reform because of its inclusion of a 13-year path to citizenship for undocumented immigrants. They said this amounted to "amnesty." Some Republicans prefer to give them legal resident status instead.
Immigration advocates have also been urging Obama to use his executive authority to halt the more than 1,000 deportations taking place daily. Like the activists, Gutierrez said the government shutdown didn't do anything to slow the number of daily deportations.
Some Republicans who welcomed Sen. Ted Cruz's filibuster over Obamacare because it shifted the focus from immigration.
"If Ted [didn't] spin the filibuster, if we don't make this the focus, we had already heard what was coming," Rep. Louie Gohmert, R-Texas, told Fox News on Tuesday. "As soon as we got beyond this summer, we were going to have an amnesty bill come to the floor. That's what we would have been talking about. And that's where the pivot would have been if we had not focused America on Obamacare."
Still, pro-immigration advocates are hopeful they can attain their goal soon. "With more prodding from the president and the American people," Gutierrez said, "we can get immigration reform legislation passed in the House and signed into law."
© Copyright IBTimes 2023. All rights reserved.