2013 Immigration Reform: House Begins Considering Legal Status For Undocumented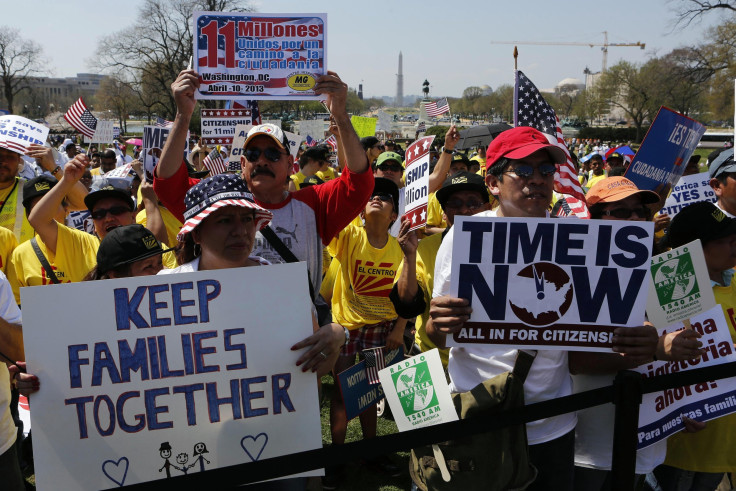 House Republicans are shifting their focus to one of the most important aspects of the immigration reform debate: what to do with the estimated 11 million undocumented people in the country.
Lawmakers in the chamber's Subcommittee on Immigration and Border Security will hear the issue at 2 p.m. today to determine if they want to provide some form of legal status to people brought to America illegally as children. There will be two witness panels: one will include lawmakers and the other will include experts and advocates. It is the biggest push yet by the House to address legalizing the nation's current undocumented immigrants.
The Senate has also passed a comprehensive immigration reform bill that not only boosts border security but provides a special 13-year pathway to citizenship for those inside the country without documentation. House Republicans have been slow to act on the issue of legalization because they can't come to a consensus on whether to offer legal status or a path to citizenship for undocumented immigrants, or even who should get that privilege.
Some believe children who were brought to the country illegally must be legalized. The "Kids Bill" is a proposal drafted by two powerful Republicans, Bob Goodlatte, chairman of the House Judiciary Committee, and Eric Cantor, the House majority leader, both from Virginia.
Goodlatte, who opposes a special path to citizenship, said his committee is considering how to provide legal status for people whose parents brought them to the country illegally. He said these children aren't at fault.
"Any successful immigration reform plan must improve our legal immigration programs, strengthen border security and the interior enforcement of our immigration laws, and find a way to fairly deal with those who are currently in the country unlawfully," Goodlatte said in a statement.
But until the Goodlatte-Cantor bill is ready, the chairman will hear arguments from another influential leader, Rep. Trey Gowdy, R-S.C., who serves as chairman of the the immigration subcommittee. Gowdy's SAFE Act -- an interior law-enforcement bill -- passed the Judiciary Committee last month despite the Democratic opposition's argument that it will lead to profiling and criminalize millions overnight.
Gowdy said the hearing is meant to help with the careful examination of all parts of the immigration system.
"Those who are in the country unlawfully are not a homogeneous group," his statement said. "One of the clearest examples is those who were brought here as children who did not knowingly break our laws. This is an opportunity to explore solutions for these children who have contributed to our country and want to continue to do so."
Still, Gowdy said border security and interior enforcement "are the only guarantee to finding a long-term solution and earning the confidence of the American public."
© Copyright IBTimes 2023. All rights reserved.