2014 Winter Olympics: Attendance Questions Aside, There Are Some Real Fans In Sochi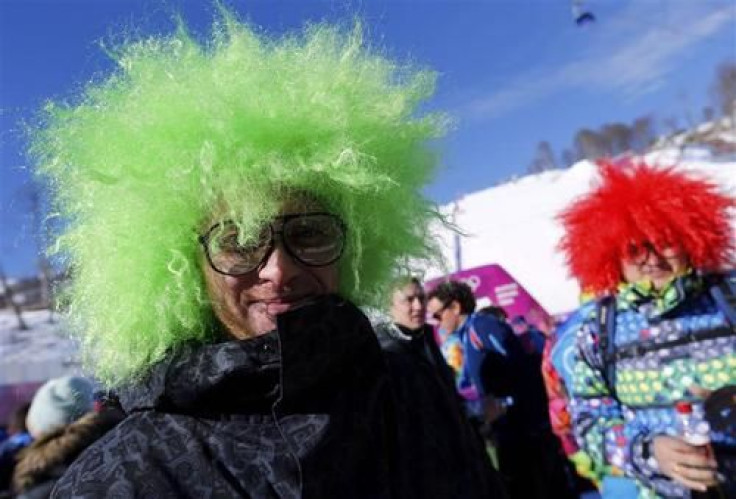 SOCHI, Russia -- By taking a quick glance around the stands in the Mountain Cluster in Sochi, one might conclude that the 2014 Winter Olympics has been overflowing with visitors and that tickets are in very short supply.
On Tuesday night at Rosa Khutor Extreme Park, it sure looked like there was a capacity crowd to watch the men's halfpipe finals. Organizers have said 92 percent of tickets were sold for all competitions, with attendance figures standing at 81 percent, according to Reuters.
But the sight of hundreds of spectators at these events might be somewhat deceiving. On Monday, Reuters also reported that organizers were asking volunteers to fill empty seats.
There are certainly foreign fans in Russia attending the Olympics purely for the events, but it is basically impossible to tell how many and the numbers feel low. It often appears as though the bulk of the attendance consists of media, Olympic volunteers, inactive winter sport athletes, and friends and family members of the competitors, rather than just true fans of the Winter Olympics or a particular event.
There were dozens of spectators wearing black jackets with the NBC Sochi logo for the halfpipe finals. Also on the ground level were people like the parents of Slovenian snowboarder Tim-Kevin Ravnjak, who hoisted a giant green banner in support of their son. They weren't far away from a skier representing Canada, who wasn't competing in Sochi because of a knee injury, but who decided to show up to events like the halfpipe finals. In the stands, there were plenty of the multi-colored jackets that Olympic volunteers wear.
But where were the actual Winter Olympics or extreme sports fans? Where were the hardcore supporters who love sports so much that they are willing to hop on a plane to another country just to watch a live event?
Finding true-blue Olympic fans can be difficult.
"It's like we're one of the few people here who actually came to watch this event," American Casey Wesley said, while catching a glimpse at the giant halfpipe leaderboard.
Slightly taken aback by the "fans" who surrounded him, Wesley was actually seated next to one during the finals. To Wesley's right was Kathleen Crowley, who Wesley bonded with since both happen to be residents of Jackson, Wyo. They stood and watched from the front row of the stands, focusing closely on the developments of the first and final round.
Wesley, who exudes the tone and style of a true snowboard enthusiast, expressed his frustrations with how the conditions at the event weren't ideal, but also pointed out that the 2010 Winter Olympics in Vancouver was similar.
"They all have to compete under the same conditions," he said.
It's easy to find Wesley's presence in Sochi refreshing. He's one of the few spectators who actually fully understands the event he's attending and wasn't there for any other reason but to see a good competition.
"Been a big fan of this competition for a long time," Wesley said. "Obviously, I am a big Shaun White fan. I think it's great to be a part of history with Shaun potentially winning his third gold medal. I wouldn't miss it."
White would ultimately fail to win the gold or any medal in the only event he competed in at Sochi. That didn't matter too much to Wesley, who appreciated White's effort.
"He tried to do more rotations than anybody else," Wesley said.
Crowley decided to visit Russia for one week, dividing her time between Sochi, and trips to Moscow and St. Petersburg. Crowley is a ski enthusiast, and since she has been situated in Europe for a few months, it was an easy decision to make a trip to the Winter Olympics in Russia.
"I am over in Europe for a few months, and I was doing a ski venture," she said.
While skiing is more her thing, Crowley still watched with great enthusiasm as snowboarders made the most of questionable conditions on the pipe, focusing closely on each competitor's run.
Crowley has an infectious and sensible optimism in the way she talks. While many press reports have cited their frustrations in Sochi, Crowley was more forgiving of the host city.
"I think it's starting to grow on me," she admits with a chuckle. "When I first got here, I think I was a little like, 'Is this for real?'"
Crowley and Wesley would cheer on Americans White, Danny Davis, Gregory Bretz, and Taylor Gold, but they seemed more interested in watching a great event.
They would clap with appreciation for gold medalist Iouri Podladtchikov of Switzerland and silver medalist Ayuma Hirano and bronze medalist Taku Hiraoka of Japan, simply because they enjoy watching snowboarding.
With cynicism often an overriding topic in Sochi, fans like Crowley and Wesley can give you a real reason to love the Winter Olympics.
© Copyright IBTimes 2023. All rights reserved.