2015 White House Defense Budget: Special Fund Used To Offset Defense Cuts Has Grown From $0 To $26B In 2 Years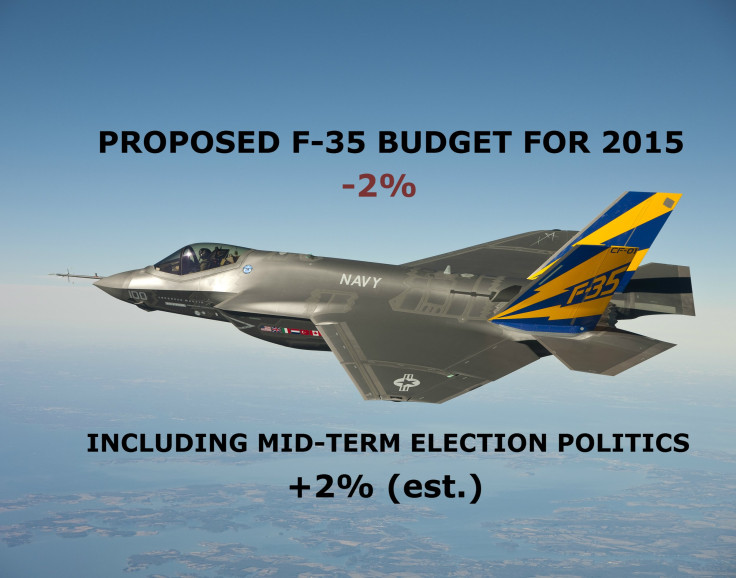 It's no secret that Capitol Hill is filled with back-scratchers and back-stabbers, and when it comes to the touchy subject of cutting defense spending, things can get downright nasty in the halls of Congress.
President Barack Obama introduced his 2015 budget proposal on Tuesday, with an overall 2 percent cut to discretionary spending, reducing it to $1.15 trillion. Under the White House plan, military spending would decline 1 percent, to $606 billion, while non-defense spending would decline 3.3 percent, to $543 billion.
Nestled inside the 218-page budget proposal you'll find details about the Opportunity, Growth and Security Initiative. The White House calls it "a roadmap for additional investments that will help secure our Nation's future."
There are several programs in this initiative, including enhancing early childhood education and investing in rehabilitating juvenile delinquents. There are also programs for defense that are related to procurements and research and development.
"Given [that] 2014 is a midterm election year, congressional districts where the previous funds were allocated will negotiate heavily to have them reinstated," Peter Arment, Josh Sullivan and Asher Carey, aerospace and defense analysts for the brokerage Sterne Agee, said in an industry report that was released after the budget proposal was unveiled. The initiative, they added, "provides the perfect offset to politically sensitive cuts."
For 2015, the White House wants to boost the defense-related part of the initiative to $26.4 billion, up from an unprecedented $22 billion this year. That's more than twice the current budget of the Department of Labor or the Department of the Interior and more than three times the current spending for the National Science Foundation.
Why the defense portion of this initiative went from zero dollars in fiscal year 2013 to 4.4 percent of the total proposed defense budget for FY15 has a lot to do with the mandatory sequestration of the federal budget that went into effect at the start of 2013. This money will be used to reinstate some unpopular cuts to defense projects in various congressional districts. Already, the Pentagon has benefited from a reversal of sequestration defense cuts to the tune of about $22.5 billion in the current fiscal year and $9 billion for FY15. The amount of those reduction reversals could more than fund all of the current annual operations of the departments of Justice and Treasury combined.
"The addition of the $26 billion ... in FY15 provides yet another step out of the sequestration requirements," said the Sterne Agee report.
For example, while the F-35 Joint Strike Fighter program would see a 2 percent cut from this fiscal year, to $8.3 billion under the base budget, Sterne Agee forecasts that as much as $300 million of OGS funding will later be given back to the program, turning a 2 percent cut into a 2 percent raise, in this case for the most costly defense project ever. Major defense contractors that could benefit from OGS offsets include Lockheed Martin Corporation (NYSE:LMT), Northrop Grumman Corporation (NYSE:NOC), BAE Systems plc (LON:BA) and The Boeing Company (NYSE:BA).
In 2011, Reps. Kay Granger (R-Tex.) and Norm Dicks (D-Wash.) created the congressional Joint Strike Fighter Caucus to advocate for a program so wracked with overruns that it could end up costing the taxpayer nearly $400 billion. Granger's top contributor is Lockheed, which makes the C-130 Hercules, and defense and aerospace is her largest industrial constituency. Dicks takes money from Boeing, maker of the Apache helicopter, and other military-oriented manufacturers. Large-cap defense companies, such as General Dynamics Corp. (NYSE:GD) and Raytheon Co. (NYSE:RTN), have seen their shares rise on average by 12 percent this year compared to the S&P average of 1 percent.
U.S. defense spending has increased annually for 10 of the past 15 years. The country has spent $7.11 trillion dollars in military operations, including the wars in Iraq and Afghanistan, since 2001. While defense spending will see a decline this year, the White House projects a 7.7 percent rebound in fiscal year 2016, to $653 billion, while non-defense spending will continue to decline, by 0.2 percent, to $542 billion.
Discretionary spending excludes mandatory commitments, such as Medicare, interest payments on national debt ($223 billion in FY14 on $13.2 trillion in debt), and the largest piece of the national pie, Social Security. Non-discretionary spending makes up roughly two thirds of total spending.
The annual budget battle over discretionary spending reflects the priorities of the country because it's the portion of the budget that lawmakers divvy up. For example, this year the $14.5-billion budget for classified Air Force programs, which is an increase of one percent from the previous year, is nearly three times larger than the budget devoted to medical facilities for the nation's veterans, which was cut 15 percent from the previous year.
FOR FREE to continue reading
✔️ Unlock the full content of International Business Times UK for free
offer available for a limited time only
✔️ Easily manage your Newsletters subscriptions and save your favourite articles
✔️ No payment method required
Already have an account?
Log in
© Copyright IBTimes 2023. All rights reserved.