2019 Strongest Marijuana Strains, According To Experts
There are at least 780 strains of cannabis in the world, and with their legalization for medical and recreational purposes making their way to many U.S. states, the search for finding the best and strongest types is popular.
While pure or hybrid weed varieties all contain THC and CBD, they vary in terms of potency, thus resulting in varying effects. How people respond to certain types of marijuana also depend on their innate body chemistry, so physiological responses to consuming or inhaling it can also differ.
Still, there are certain types of marijuana strains that are stronger than the rest. Here are the top five strongest weed varieties in the world.
5. Strawberry Banana
This variant tastes sweet and clocks an average THC content of 31.62 percent. Developed by Serious Seeds, it is a cross between Strawberry Bubblegum and Banana Kush from Crocket. Given its high concentration, this weed strain is designed for advanced users only.
4. White Tahoe Cookies
This strain contains over 27 percent of THC and is a hybrid of Tahoe OG, The White and Girl Scout Cookies. Effects are said to hit within just minutes and it is said to be perfect for jumpstarting creativity. It starts with a slight buzz and closes with a feeling of sedation that can last for hours, making it a favorite among those with sleep problems.
3. Irish Cream
Developed by Mighty Irish Seeds, it is a cross between Cookies and Cream and the Real McCoy, to result in a THC strength of at least 27 percent. Many people think it tastes like the creamy Bailey's alcohol drink, though those who tried it say it has a more dank and dark flavor than sweet. It is often used for medical purposes, specifically for treating chronic pain, depression and anxiety.
2. Chewdawg
This strain has a THC level of 32.13 percent and is produced by Next Harvest in Denver. It is said to be a hybrid between Nepalese and Thai sativa, though its actual ingredients haven't been confirmed. Regardless, this strain is not for the uninitiated, and because its effects have been found to contribute to one's creative process, it is popular amongst the artistic community.
1. Godfather OG
Dubbed the most potent weed in the world, it has a THC content of more than 34 percent. It is a hybrid variant (made by California Herbal Remedies) of Granddaddy Purps, Cherry Pie and OG Kush. In terms of quality, this strain won the Cannabis Cup from High Times for being the best strain of Indico. Effects include a whole-body euphoric state, with some saying that it could render users couch-locked or even immobile for hours.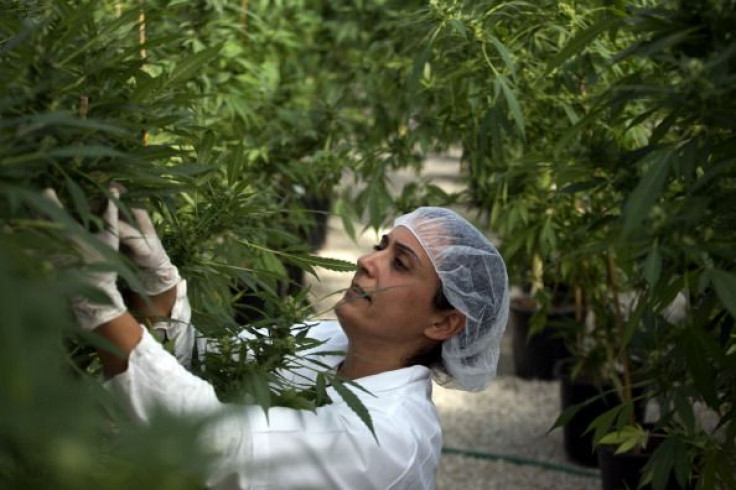 © Copyright IBTimes 2023. All rights reserved.
FOLLOW MORE IBT NEWS ON THE BELOW CHANNELS