2022 PFL Finals Preview: Kayla Harrison Likely To Make League History With Third-Straight Title
KEY POINTS
Kayla Harrison face Larissa Pacheco for PFL women's lightweight championship
Harrison is a two-time PFL champion, targeting her third reign
Pacheco has lost to Harrison twice in the past
For the final time this year, the Professional Fighters League (PFL) sets up shop at the Hulu Theater of the Madison Square Garden in New York City this Friday, November 25th for the league's culminating event.
Six world championship bouts are slated for the aforementioned card, with each of the winners taking home a PFL title and a million-dollar payday.
Headlining Friday night's card will be a PFL women's lightweight championship bout between undefeated American Kayla Harrison and Brazilian powerhouse Larissa Pacheco.
The International Business Times previews and predicts the outcome of this season-ending clash of the league's most dominant female fighters.
Already with two straight PFL title reigns under her belt, Harrison won't just be fighting for the title and the million-dollar check, but she'll also be fighting to make history as the league's first and only three-time champion.
Harrison opened the season as the odds-on favorite to win the women's lightweight tournament and has kept the course, defeating Marina Mokhnatikina and Kaitlin Young in the regular season to clinch a playoff berth.
In the semifinals, Harrison tapped out Martina Jindrova to return to the championship bout for the third-straight year.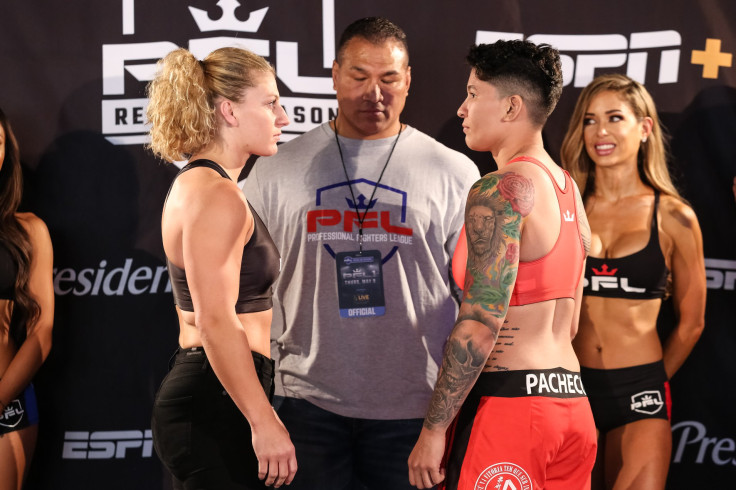 Hoping to finally take Harrison down will be Pacheco, the only woman that can come close to being as dominant as the two-time champion.
Pacheco has an impressive record in the PFL herself, riding five-straight wins—all coming by way of knockout.
This season, Pacheco blasted Zamzagul Fayzallanova and Genah Fabian in the elimination round to book another spot in the postseason.
In the semifinals, Pacheco needed just a little over two minutes to knock out Olena Kolesnyk and set up a grudge-match with Harrison for the title.
After coming up short on two separate occasions, Pacheco hopes to finally be the one to send Harrison over to the loss column.
Prediction: Kayla Harrison will dominate Larissa Pacheco for the majority of the bout.
There is no doubt that Pacheco is one of the most devastating strikers not just in the division, but in the league as well.
In fact, it's not hard to argue that Pacheco would be the league's two-time champion if not for Harrison.
With that being said, Harrison is at a different level and she's shown that twice before in the past.
A third time likely won't be a charm for Pacheco as Harrison will be heading for history as PFL's first and only three-peat champion.
© Copyright IBTimes 2023. All rights reserved.