3-Year-Old Boy Wounded In Russian Shelling Cries Out: 'Is My Daddy Coming?'
KEY POINTS
The boy was wounded during a Russian shelling of Mariupol
His father was also injured and being treated in the same hospital
A nurse was captured trying to comfort the boy as he wept
A wounded Ukrainian boy helplessly cried out for his father while lying in a hospital connected to tubes.
Dima, the three-year-old boy, was injured during a Russian shelling that took place in the besieged city of Mariupol. Reuters shared an image of the boy lying in bed in the children's ward of a hospital in Zaporizhzhia, which is about 124 miles away from Mariupol.
The hospital reportedly took in a number of Mariupol children caught up in the conflict.
A video shared by CBS News captured young Dima sobbing and crying out for his father, who was also injured in the shelling and being treated in the same hospital.
"Daddy. Is my daddy coming at all?" Dima asked. A toy was seen lying next to the boy as he cried, "Where is my dad?"
"Is my dad coming?" the boy asked again.
A nurse at the hospital tried to comfort the boy and said, "Yes, yes, he will come. Just don't cry, OK?"
"Will he come?" the boy asked the nurse.
"Yes he will, he will be here soon like your mom told you."
The video of young Dima was widely shared on the internet and even found its way to Reddit, where several users shared thoughts about his plight.
"No child should ever experience something as traumatic and frightening as this," said CantEscapeTheCats in the comments. "Lying in a hospital bed, calling for a parent who can't come because he's also injured. I look at my own 6yo son sitting beside me and I just can't fathom what they're going through. This is beyond heartbreaking."
Another user, 5inthepink5inthepink, wrote: "Sometimes I start to go numb and stop seeing the true devastation, pain, and loss innocent people in Ukraine are experiencing. Then something like this comes along and rips the wounds wide open again. I have a son this age and picturing him lying there in pain, with me unable to comfort him absolutely guts me. This child shouldn't have to experience this hell. No one should."
Zaporizhzhia, where Dima and his father were hospitalized, has become an important transit point for Mariupol residents evacuating the city. Buses full of people have been arriving in Zaporizhzhia, and from there, evacuees move to other areas in search of safety, according to Yahoo! News.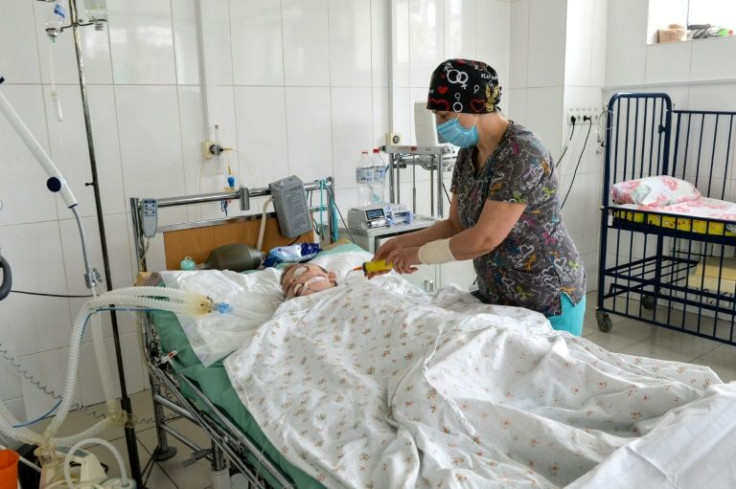 © Copyright IBTimes 2023. All rights reserved.