38 Arrests In Vienna At Protest Against Far Right "Academics' Ball"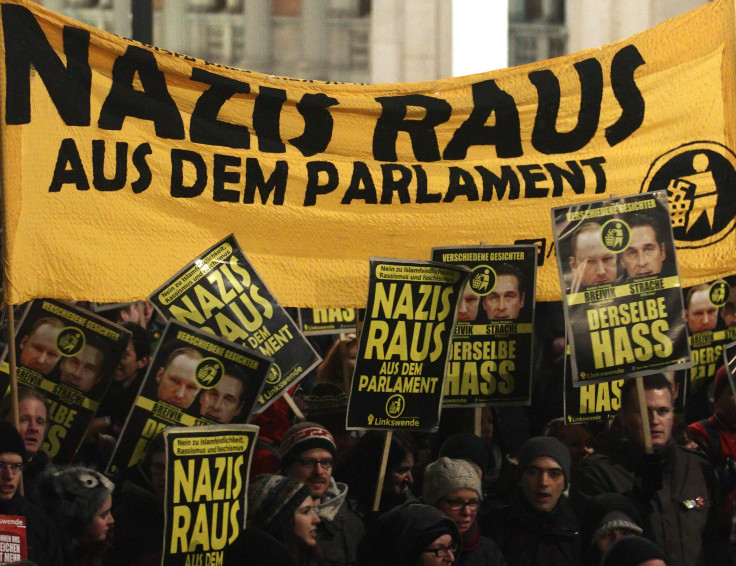 Police in Vienna, Austria arrested dozens of protesters Friday, as thousands demonstrated against a controversial annual ball organized by right-wing politicians.
The demonstrators gathered in central Vienna to protest the "Akademikerball" ("Academics' Ball") at a former imperial palace. In recent years, the ball has become an annual site of conflict with its leftist opponents.
This year, around 5,000 demonstrators, many from abroad, turned up to oppose the event, Reuters reported. Police officer Johann Golob said one officer was wounded by fireworks, and at least one protester was also injured. As the night waned, 38 arrests had been made, but Golob said police would maintain a presence until all possibility of unrest had ended, the Associated Press reported.
Police had banned six of the 20 planned protests, fearing violence from far-left radicals. The bans have sparked criticism about Austria's power to block civil activism. Last year's event led to violent clashes which left 20 people injured. The vandalism and damage which occurred in the wake of the demonstrations ended up fully costing 1 million euros ($1.3 million).
Following criticism against previous crackdowns, Viennese police this year decided to allow people to cover their faces in the city center, and imposed a smaller prohibited zone around the palace. A number of Viennese taxi drivers also organized on Facebook to boycott the event, and refuse to take participants there, according to a report by Agence France-Presse.
The Freedom Party Of Austria leader, Heinz-Christian Strache denied that the ball drew the far right and called its opponents "jackbooted thugs of the SA," referring to the occasionally violent left-anarchist Socialist Antifascists.
He had previously made headlines when, after reports of visitors being intimidated by protesters at the 2012 ball, he reportedly described himself and other ball-goers as the "new Jews."
Opposition to the ball has grown so strong that in 2012, the Austrian committee reporting to UNESCO struck all Vienna balls from its list of the city's traditions because of the Akademikerball alone.
Vienna's traditional ball season is underway, and the Akademikerball is organized by the Freedom Party, which campaigns on Euroskepticism and opposition to immigration. It is currently the third largest party in parliament. The ball has previously hosted other far right European figures such as France's Marine Le Pen.
© Copyright IBTimes 2023. All rights reserved.