400 wildfires blaze across Siberia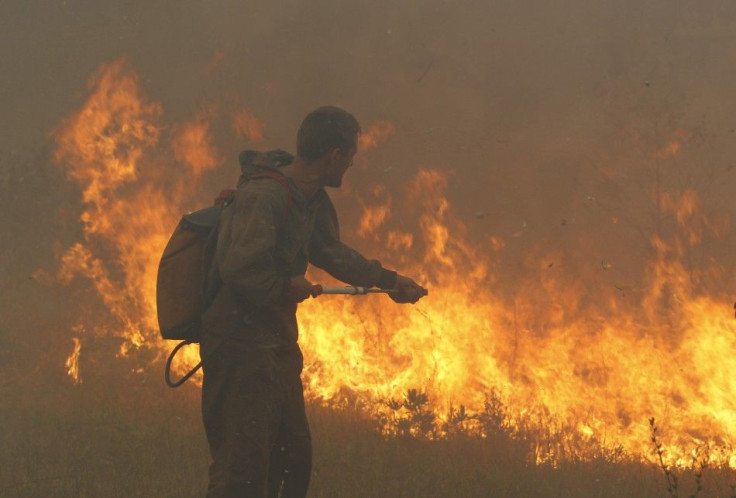 A violent conflagration has overtaken the Russian wilderness after more than 400 wildfires ignited in the forests of Siberia and the Far East region in the last 24 hours.
The fires are contained to the unpopulated areas of the country, but have so far consumed 116,000 hectares (450 square miles) of forest and peat bogs.
The strongest fires are burning in the Siberian districts of Yakutia, Krasnoyarsk and oil-rich Khanty-Mansiysk.
The wildfires are reminiscent of the drought-sparked fires that occurred in the region last year, which resulted in more than 60 causalities as well as destroyed crops and natural habitats. One-third of all crops were destroyed by last year's disaster, resulting in a national ban on grain exports.
Russian officials fear that the fire could continue to spread to grain-producing areas to the west should dry weather persist in the area.
The Russian Emergency Minister has reportedly sent 42 fire-fighting aircraft to drop tons of water over the area. According to emergency officials, 200 of the fires have been put out since Monday. The planes and helicopters are being backed by 6,000 firefighting personnel.
Wildfires [in Siberia] are greater in area compared to last year's fires by more than two times, Emergency Minister head Sergei Shoigu told Russian State TV on Saturday.
The fires do not come as a surprise to many, including Russian President Dmitry Medvedev and Greenpeace. Medvedev last month ordered emergency operations to prevent wildfires at all costs. Environmental organization Greenpeace also predicted the spring-blazes.
Since the start of 2011, there have been a recorded 8,500 wildfires in the Siberian and Far East territories, covering more than 290,000 hectares. This is twice the number for the same period in 2010.
© Copyright IBTimes 2023. All rights reserved.