50th Anniversary Of Voting Rights Act: Obama Calls For Congress To Make Restoration Of Act A Priority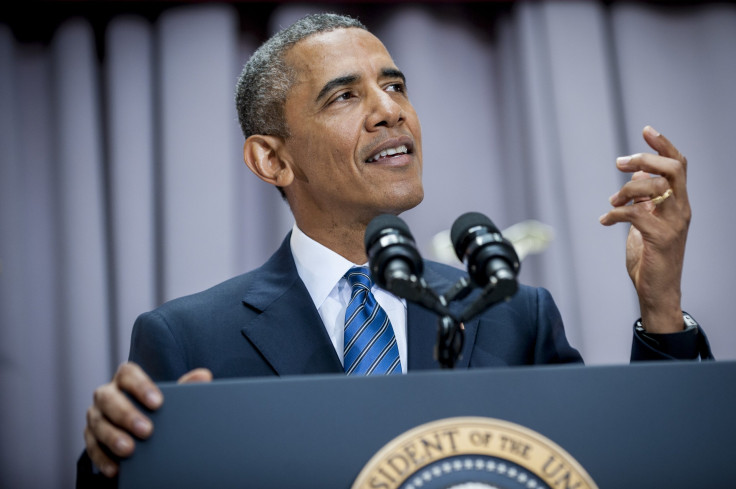 President Barack Obama commemorated the 50th anniversary of the Voting Rights Act of 1965 in a speech Thursday as he called for members of Congress and state legislatures to make it easier for people to vote. Obama said that, in theory, everyone is in favor of the right to vote, but over the years the Voting Rights Act, a landmark piece of federal legislation that prohibited racial discrimination in voting, has been weakened by the courts.
At the same time, some state legislatures have implemented policies and procedures that may on the surface seem neutral -- such as restrictions on early voting and certain requirements for photo identification -- but are actually discouraging people from voting, Obama said.
"If in fact those practices, those trends, those tendencies are allowed to continue unanswered, then over time, the hard-won battles of 50 years ago erode, and our democracy erodes," Obama said. "And that means that the decisions that are made in the corridors of power all across the country begin to reflect the interests of the few instead of the interests of the many."
Obama called for Congress to pass an updated version of the act that would correct some of the problems that have arisen in recent years. The U.S. Supreme Court struck down a key part of the law two years ago, ruling that jurisdictions with a history of discrimination no longer had to have voting changes pre-approved by the Justice Department.
Obama also urged state legislators to fight back against efforts that make it harder to vote, and for citizens to exercise their right to vote. "We miss the forest for the trees if we don't recognize huge chunks of us, citizens, give away our power," Obama said. "We would rather complain than do something about it."
Obama proclaimed Sept. 22 to be National Voter Registration Day, which will be marked with groups mobilized throughout the country in an effort to get people registered to vote.
Obama called for Congress to restore the Voting Rights Act with a bipartisan bill during a speech in Selma, Alabama. in March. But so far, none of the 17 Republican presidential candidates have endorsed the restoration of the act. GOP candidates Scott Walker, Rick Perry and John Kasich have even approved new restrictions on voting. [Walker and Kasich remain governors, of Wisconsin and Ohio, respectively, while Perry is a former governor of Texas.]
In the past, President George W. Bush reauthorized the act in 2006 without resistance, and Presidents Richard Nixon, Gerald Ford and Ronald Reagan also reauthorized the Voting Rights Act without much opposition.
© Copyright IBTimes 2023. All rights reserved.
FOLLOW MORE IBT NEWS ON THE BELOW CHANNELS