7 Reasons Airlander, The World's Largest Aircraft, Could Revolutionize Air Travel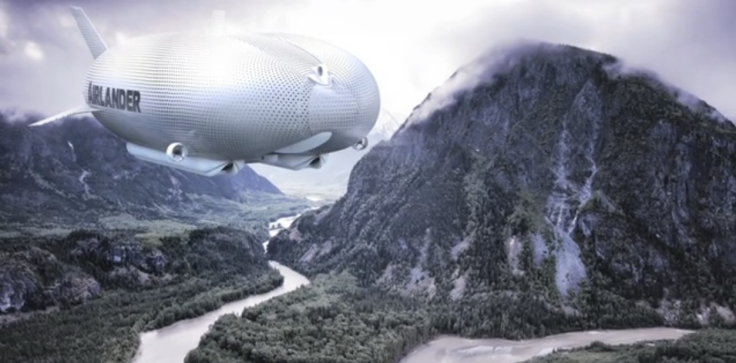 It's as long as a football field, packed full of helium like a balloon, can stay up in the air for three weeks and might just change the way we travel around the globe. Introducing "Airlander," a high-flying mega-blimp from Britain's Hybrid Air Vehicles Ltd.
This amalgam of a plane, airship, helicopter and hovercraft was originally developed for the U.S. Army as a Long Endurance Multi-Intelligence Vehicle, but the government ditched the project last year amid budget cuts and sold it back to HAV for just $301,000 (less than 1 percent of the original cost). What they lost out on, it turns out, was a game-changing aircraft that can carry up to 22,000 pounds, sustain a few bullet holes, and set down on ice, land or sea.
British media got the first glimpse of what is now the world's largest aircraft Friday at the U.K.'s biggest hanger, located in a field near Bedford. The BBC likened it to three giant cigars sewn together, while the Daily Mail called the Airlander a "flying bum."
All who saw it expressed amazement at HAV's monumental achievement. Though the company doesn't anticipate conducting its first passenger flights until 2016, the Internet is already buzzing over the ways in which the Airlander could potentially revolutionize global air travel. Here's a look at seven of them:
It's Environmentally Friendly
The Airlander is 60 feet longer than the biggest airliners currently on the market, the Airbus A380 and Boeing 747-8, and 30 feet longer than the massive cargo-carrying Antonov An-225. Yet, it's about 70 percent greener and infinitely quieter than its competition, deriving 60 percent of its lift from helium and 40 percent from the cambered shape of its hull and four V8 turbocharged diesel engines.
It's Not Reliant On Existing Infrastructure
The Airlander can carry heavy payloads and reach what was once inaccessible without destroying landscapes. Because it does not need a runway to take off and can land on water, sand or ice, HAV says the Airlander would be an invaluable tool in transporting materials to remote mines or humanitarian aid to disaster zones.
It Doesn't Need To Be Tied Down
Unlike earlier helium-filled airships, the Airlander does not need to be tied down by a crew each time it lands because it's still heavier than air. Several ballonets at the fore and aft in each of the hulls provide pressure control, meaning engineers can land the craft via remote control with no one on board at all.
It Can Circumnavigate The Globe Twice In One Trip
The Airlander, which can run with as little as two crew members, has the ability to fly nonstop around the world -- twice! It would, however, take much longer than in a traditional aircraft (a hypothetical one with unlimited fuel) as the Airlander only travels at about 100 miles per hour. The aircraft's developers have discussed various publicity stunts to promote "slow travel and unique ways of seeing our precious earth from the skies." Possibilities include live-streamed journeys from pole to pole or trips at low altitude over natural wonders like the Amazon.
It's Ambitious And Has Government Support
The U.K. government offered up 2 billion pounds ($3.35 billion) for further research and development into greener flying, hoping that it can kick-start the next generation of more efficient and environmentally friendly low-carbon aircraft. HAV, meanwhile, said it plans to produce about 10 Airlanders per year over the next four years with the goal of eventually creating a world market for between 600 and 1,000 of these massive $100 million air cruisers.
It's Got A Celebrity Backer
A professional airline pilot and key investor in the Airlander to the tune of $4.2 million, Bruce Dickinson is perhaps better known as the lead singer of the wildly successful English heavy metal outfit Iron Maiden. He told the Independent Friday that the Airlander was an achievement everyone in Britain should be incredibly proud of: "This is a beautiful thing -- the sheer imagination and scale of it -- British designed and built. Rarely do you get the chance to be involved in something really at the cutting edge of aviation. We have created the world's largest aircraft from a shed in Bedford."
It Could Transport Passengers By 2016
The prototype on display in Bedford is the predecessor of the Airlander 50, a 50-ton heavy lift aircraft that should be in flight by this time next year. Also in the works is a passenger-carrying version due for test flights next year that could bring luxury back into the travel experience. HAV is already promoting a "once-in-a-lifetime opportunity" to join Dickinson and "a host of celebrities" on the Airlander's maiden passenger flight, scheduled for 2016.
Win 2 tickets for Airlander's maiden flight! from Airlander by Hybrid Air Vehicles on Vimeo.
© Copyright IBTimes 2023. All rights reserved.
FOLLOW MORE IBT NEWS ON THE BELOW CHANNELS