88% Of Great Lakes Covered In Ice; NASA Image Shows Near-Record Freeze [PHOTO]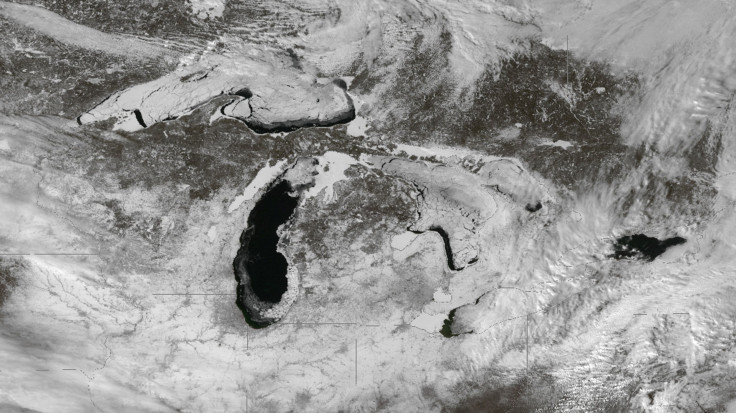 As many North Americans and Europeans know all too well, this winter has been a particularly chilly one – we can blame a meandering North Atlantic jet stream for that. The 2013-2014 cold season is even setting records. All that frigid air coming down from the Arctic has caused the Great Lakes to freeze over to levels not seen in two decades.
New images released by NASA show 88 percent of the Great Lakes covered in ice. The last time the world's largest group of freshwater lakes was that solid was in 1994, according to NASA. Since 1973, the average maximum ice extent was just over 50 percent. In four decades, the Great Lakes winter ice coverage has exceeded 80 percent just five times.
"That Arctic vortex came down, and the ice just kept going," George Leshkevich, a physical scientist with the Great Lakes Environmental Research Laboratory, told the Associated Press.
The ice cover over Lake Erie, Lake Superior and Lake Huron is nearly 100 percent. Lake Michigan's ice coverage is approaching 60 percent, and Lake Ontario is 20 percent covered in ice.
"Persistently low temperatures across the Great Lakes region are responsible for the increased areal coverage of the ice," Nathan Kurtz, a scientist at NASA's Goddard Space Flight Center, said in a statement. "Low temperatures are the dominant mechanism for thickening the ice, but secondary factors like clouds, snow, and wind also play a role."
Kurtz and his team used images obtained by Moderate Resolution Imaging Spectroradiometer on NASA's Aqua satellite. The specialized camera used a combination of short-wave, infrared, near infrared and red images to help separate ice from snow, water and clouds.
The images are so detailed that they even show the shipping lanes carved by icebreakers that allow vessels carrying essential cargo to pass through the lakes.
"We had an early ice season this year, owing to cold temperatures in the fall and early winter," Leshkevich said in a statement. "Ice was reported on bays and harbors of the Great Lakes as early as the end of November, as opposed to the normal timing of mid-December."
Luckily, there's a silver lining to all that ice coverage. According to the Associated Press, the deep freeze of the Great Lakes limits evaporation, an effect that may help restore lake water levels, which reached record lows in the 1990s.
Also, the Great Lakes ice coverage has changed the normal patterns of snowfall in the region. When the lakes are nearly ice-free, winds pick up moisture as they blow over the surface and then dump great quantities of "lake effect" snow on the eastern and southern shores. But when the lake freezes over, the effect is generally far less pronounced.
© Copyright IBTimes 2023. All rights reserved.