Abu Hamza Found Guilty By US Of All 11 Charges, Including Terrorism And Aiding Al Qaeda, Taliban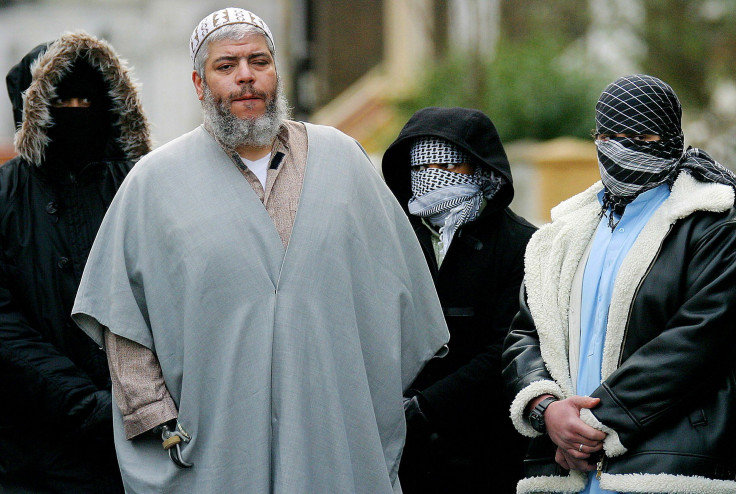 Abu Hamza, the radical Muslim cleric who was extradited from the UK in 2012, was found guilty by a New York court Monday for supporting terrorism and conspiring to aid terrorist organizations.
The Egyptian-born, 56-year-old Hamza, who was an imam at the Finsbury Park mosque in north London in the 1990s, was found guilty of all 11 charges against him, including aiding the kidnapping of 16 tourists in Yemen in 1998 in which three Britons and an Australian were killed, attempting to build a terror training camp in Oregon, and sending one man to Afghanistan for training. Hamza might be jailed for life when he is sentenced on Sept. 9, after being found guilty by the Manhattan court in a trial that lasted 10 years.
"Once again, our civilian system of justice has proven itself up to the task," Preet Bharara, U.S. attorney for the Southern District of New York said, in a statement Monday. "We are gratified that the jury has returned a unanimous verdict of guilt," Bharara said, adding: "The defendant stands convicted, not for what he said, but for what he did. Abu Hamza was not just a preacher of faith, but a trainer of terrorists."
The one-eyed and stump-handed Hamza, who is also known as Mustafa Kamel Mustafa, had denied all charges against him and, before he was sent to New York in 2012, had appealed to the European Court of Human Rights, where he ultimately lost the case. He is known to have moved to the UK in 1979 from Egypt and had worked at a London strip club before becoming a preacher.
Hamza's defense argued that he had assisted MI5 "to keep the streets of London safe," BBC reported, while according to the U.S. Department of Justice, or DoJ, one of the charges against Hamza included providing "material support to a foreign terrorist organization (al Qaeda)."
Jeremy Schneider, Hamza's lawyer said, according to BBC: "Bin Laden, al-Qaeda, 9/11, World Trade Centre, USS Cole - all those things which our client was not charged with specifically, they played much more of a role than we believe it should have," adding that he would appeal the verdict.
Hamza was also charged with conspiracy to provide goods and services to the Taliban through one of his followers, Ernest James Ujaama.
"This case is all the more noteworthy since it continues a trend of successful prosecutions of top terrorism suspects in our federal court system. With each efficiently delivered guilty verdict against a top al Qaeda-linked figure, the debate over how to best seek justice in these cases is quietly being put to rest," U.S. Attorney General Eric Holder said, in a statement released by the DoJ Monday.
© Copyright IBTimes 2022. All rights reserved.
FOLLOW MORE IBT NEWS ON THE BELOW CHANNELS