Abusive Tweets Against British Journalist Campaigning For Woman On Currency Raises Online Security Concerns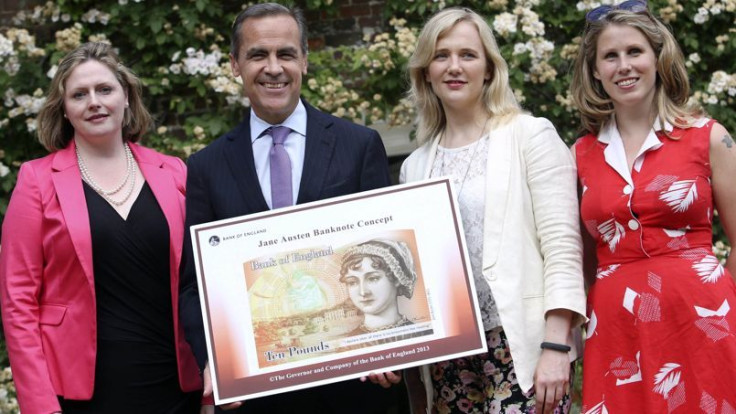 Scotland Yard said it has arrested a 21-year-old man in Manchester for harassment on Sunday in connection with a bizarre incident involving Britain's currency, early 19th century novelist Jane Austen and the Twitter social media website. After the Bank of England decided to use the image of Austen -- the authoress of such classic novels as 'Sense and Sensibility,' 'Pride and Prejudice,' 'Emma' and 'Northanger Abbey' -- on its new 10-pound note in 2017, the woman who had campaigned for this measure received wave after wave of abuse on her Twitter account, with some culprits even threatening to rape and murder her.
Freelance journalist Caroline Criado-Perez was deluged by an average of 50 abusive tweets an hour for a period of 24 hours. Some examples of comments she received: "If your friends survived rape they weren't raped properly," or "HIDE YO KIDS I BE RAPING ALL YALL UP IN HERE." "It's sadly not unusual to get this kind of abuse but I've never seen it get as intense or aggressive as this," Criado-Perez said, according to The Daily Telegraph. "It's infuriating that the price you pay for standing up for women is 24 hours of rape threats. We are showing that by standing together, we can make a real difference."
With Winston Churchill scheduled to replace 19th century reformist Elizabeth Fry on 5-pound notes in 2016, Austen will be the only female to appear on British currency (excluding Queen Elizabeth II). Criado-Perez succeeded in gathering more than 35,500 signatures backing up her project and ultimately made the Bank of England change its plans to have Austen on the note.
But this incident shed light on another important issue, according to Criado-Perez -- namely, the difficulty and tedium of removing abusive tweets from Twitter accounts. Tony Wang, the general manager of Twitter U.K., said that the company was well-aware of the problems and is working toward an easier way to report an abusive tweet. Several British MPs and celebrities have also expressed their support for Criado-Perez. An online petition on her behalf has already attracted around 12,500 signatures calling on Twitter to introduce a button to make it easier to report abusive tweets. The campaign asked Twitter to take "a zero tolerance policy" and to enact measures that "reflect an awareness of the complexity of violence against women, and the multiple oppressions women face."
Shadow home minister Yvette Cooper noted that "of course it is right to report such abuse to the police, but social media platforms also have a responsibility for the platform they give users." Criado-Perez is herself optimistic. "We made the Bank of England change its mind, we can do the same with Twitter," Criado-Perez said.
© Copyright IBTimes 2023. All rights reserved.
FOLLOW MORE IBT NEWS ON THE BELOW CHANNELS