Adrien Broner Suspended: WBC Demands Public Apology From Boxer Over Racially Insensitive Comments During Jim Gray Interview [VIDEO]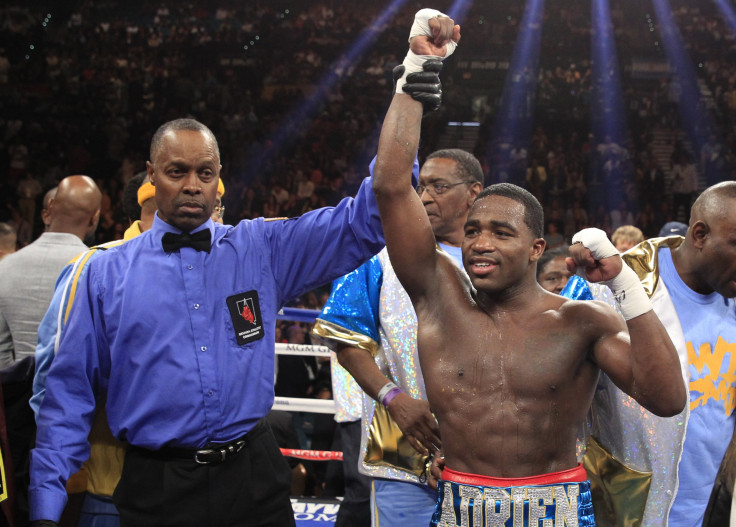 The World Boxing Council has decided to suspend boxer Adrien Broner for making racially insensitive remarks after his victory over Carlos Molina on May 3.
On Wednesday, the WBC announced that it had suspended Broner and demanded that he give a public apology for comments he made during an interview with Jim Gray. "The World Boxing Council holds human equality as its banner and will not accept a former WBC champion to make racially offensive statements," the organization said in a statement.
"Since words have different meanings and can be interpreted in different ways, the WBC is issuing this open letter to Adrien Broner to either clarify what he meant with his words or to issue a public apology if those words were intended to be despective and offensive," the statement added.
"Adrien Broner is hereby suspended from participating in any WBC sanctioned Championship and will be excluded from the WBC Ratings until the time he makes a public apology satisfactorily to the public of the world."
Broner spoke to Gray in the immediate aftermath of his victory by unanimous decision over Molina, a 28-year-old fighter of Argentinian and Mexican descent. During the interview, Broner said, "At the end of the day, I'm still Adrien "The Problem" Broner, the "Can Man," anybody can get it, Africans, I just beat the f--- out of a Mexican," prompting Gray to tell him to "show some class and some dignity."
Broner spoke to TMZ about the incident on Monday. "I love all Mexicans," he said. "Molina put up a hard fight."
The 24-year-old boxer has yet to address his alleged suspension.
© Copyright IBTimes 2023. All rights reserved.