Afghan Military Chopper Crash Kills 12 Soldiers, 5 Pilots In Zabul Province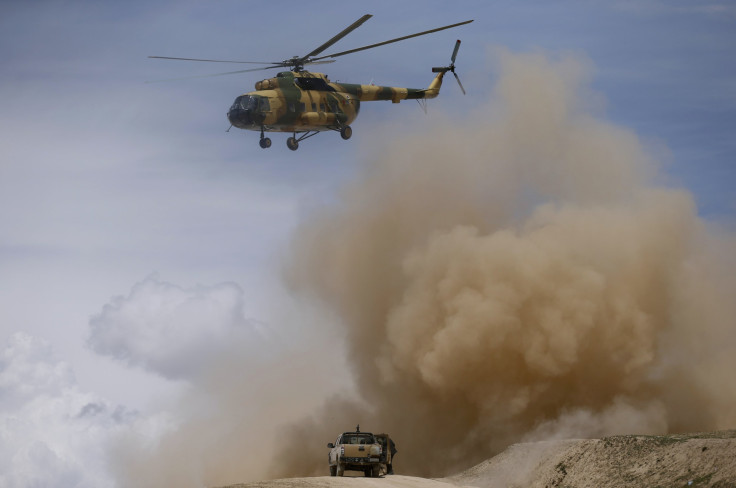 An Afghan military helicopter, carrying 12 soldiers and five pilots, crashed Thursday morning in southern Zabul province, killing all 17 people on board, authorities said. According to the country's defense ministry, the chopper went down because of technical reasons.
The crash occurred in the province's Shinkay district, about 272 miles southwest of capital Kabul. An army commander said officials were called on the site to investigate the incident, Agence France-Presse (AFP) reported. This is reportedly the worst crash the Afghan military has encountered since the U.S. and NATO pulled out their forces from the country last year.
Taliban claimed responsibility for the crash, but Anwar Ishaqzai, provincial governor, dismissed the claims, local network Tolo News reported.
Meanwhile, also on Thursday, a suicide truck bomb exploded outside government offices in eastern Logar province near Kabul. The explosion killed three police officers and five civilians, and injured 12 people, according to the Associated Press. Taliban reportedly claimed responsibility for the attack.
"A water truck filled with explosives was detonated when it was stopped at the gate of the Quick Reaction Force (police) compound," Deputy Provincial Police Chief Mohammad Qari Wara said, according to AFP.
The Afghan interior ministry reportedly said the attack in Logar was the first suicide attack in the country since Taliban confirmed the death of its leader Mullah Omar -- who headed the militant movement for about 20 years -- last week.
© Copyright IBTimes 2023. All rights reserved.