Afghanistan Peace Talks: Four-Country Negotiations Resume In Pakistan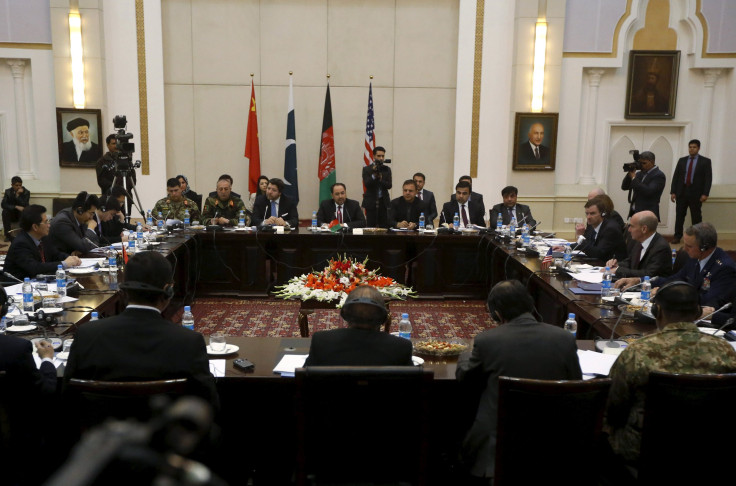 In the latest effort to find a negotiated settlement to the protracted and bloody conflict in Afghanistan, representatives from four countries — the United States, China, Afghanistan and Pakistan — met in Islamabad Saturday and vowed to continue working on a roadmap for peace talks with the Taliban.
The so-called Quadrilateral Coordination Group has met twice before in January, in Islamabad and in Kabul, but no significant developments have been reported so far. Meanwhile, several members of the Taliban, which is itself divided into factions supporting and opposing the peace overtures, have reportedly termed the talks "useless" and refused to end hostilities in the strife-torn nation.
"We believe our collective efforts at this stage, including through supportive CBMs [Confidence Building Measures], have to be aimed at persuading the maximum number of Taliban groups to join the peace talks," Sartaj Aziz, Pakistan's advisor for foreign affairs said Saturday, adding that a "clear and well-defined roadmap" for talks between the Sunni militant group and the Afghan government was needed to ensure peace in the region.
"The people of Afghanistan have been suffering from an unending cycle of violence for decades," Aziz said. "They need lasting peace and stability."
Efforts to broker peace between the Taliban and the Afghan government broke down last year after it emerged that the group's leader, Mullah Mohammed Omar — who the Taliban claimed had sanctioned the talks — had been dead for two years. In addition to exposing deep fissures within the group, confirmation of Omar's demise also created a power vacuum, dividing the Taliban into two separate factions, those opposing the appointment of Mullah Akhtar Mansoor as the group's new leader and those supporting it.
Two new rounds of negotiations were held in Islamabad and Kabul last month, where delegates began laying the groundwork for direct dialogue between Kabul and the Taliban. The militant group was notably absent during the process, despite repeated calls by the administration to participate without preconditions.
© Copyright IBTimes 2023. All rights reserved.