African Officials Are On Board For Chinese Railway Plan -- But Not Everyone Is
China's plans for a major rail link from the Kenyan port of Mombasa to Nairobi and onward through other East African countries should be a boon for local markets desperate for reliable transportation. But after centuries of colonial exploitation, many Africans are concerned about what they might have to give up in exchange for modernization.
"It's an interesting time for Africa's own voice and active participation," said Sanusha Naidu, an independent political analyst based in South Africa.
When Premier Li Keqiang unveiled plans for a $5 billion railway linking Kenya to Uganda, Rwanda, and South Sudan last week, he assured the countries that China's $3.8 billion contribution would come with "no political strings attached," emphasizing that China was looking for mutual benefit with its African partners.
But critics were suspicious. Some lawmakers claimed there was no competition and the deal was overpriced, while Kenyan officials said public bidding was closed as a condition of Chinese financing.
"No country in the world lends with no strings attached," said Naidu.
Having China build the rail infrastructure is beneficial for Africa, Naidu said. "But what should be more important is maintaining that infrastructure afterwards."
While all the governments are on board with the project, civil society isn't as excited. Newspapers, opinion leaders, intellectuals and NGOs are asking questions.
In an op-ed for Daily Nation, a Kenyan paper, commentator David Ndii argues that the high costs of the project and debt to be repaid will be crippling for the economy.
"Many people seem to be under the impression that [besides a high initial cost] it is otherwise a good investment. It is not," Ndii wrote.
He estimated that the project "will increase our external debt by close to one third, our debt to GDP ratio by nine percentage points and our interest payments on external debt by 50 percent."
"If we are going to put ourselves in debt to this extent, we need to be sure we are getting value for our money. Are we?"
The benefits of a well-organized, efficient railway system have undeniable appeal.
Africa currently holds almost 60 percent of the world's uncultivated arable land, but transportation problems hamper development. African farmers lose roughly half their crops just getting the goods to market. A truly connected railway system would be a significant asset to local farmers and also the broader markets.
Kenya's President Uhuru Kenyatta said the line would cut freight costs from to 20 cents per metric ton to 8 cents.
"Both member countries and foreign investors can benefit from the expected increase in trade and investment and economies of scale, and the reduction in transaction costs," said Amadou Sy, global economic analyst at the Brookings Institute.
African countries need to spend about $93 billion per year to meet their infrastructure needs, according to the Infrastructure Consortium for Africa.
"Domestic revenues are not enough to fill in the spending gap and foreign money is needed," said Sy.
One of the most important things to watch during the process is transparency from both Kenyan and Chinese parties. "This is the key because at the end of the day, countries should be able to have sustainable debt and not tie the hands of future generations," Sy said.
Africa has long needed an effecient railway system, but no one entity has stepped up to fund it. A headline from a 1908 article from The New York Times archive reports that a "Cape to Cairo Railroad Scheme Is Rapidly Approaching Completion," with just 700 miles to go. It was never finished, and though various governments have pieces of a continent-spanning rail line in place, the dream has yet to be achieved.
Sub-Saharan Africa has "long produced the types of agricultural commodities and mineral ores that would normally have mandated adequate rail transport," wrote former World Bank railways adviser Louis Thompson wrote in a report for the Commonwealth Business Council. "As the colonial era ended, the [sub-Saharan Africa] railways entered a long period of fiscal and physical decline caused largely by instability in the economies they served and the inability of their new government owners to provide adequate finance or management."
Even today, fears of political instability have made investors other than the Chinese reluctant to put money into Africa.
In the 1970s the Chinese government built, financed and operated a railway connecting Tanzania and Zambia, also known as the TAZARA project. Despite finishing the project ahead of time and some initial success, the line stagnated over the next few years, with traffic falling 23 percent in the past decade thanks in part to a U.S.-financed road that runs over the same route.
But Thompson suggests that China's venture may be different this time around. "Aside from the private sector investing in concessions, the role of the government of China may be particularly significant," he wrote, citing its involvement in more than 25 railway projects on the continent.
According to Beijing-based attorney Kai Xue, who assists companies and banks operating in sub-Saharan Africa, the railway projects can be seen in the context of broader Chinese financing for African transportation infrastructure. He said 14 Chinese companies are have entered 58 projects to build more than 1,900 miles of road in Tanzania alone over the past decade.
On Sunday, East African leaders and the Chinese premier signed agreements to begin construction. Reuters reported that official numbers put the total project cost at about $5 billion, including financing, of which China will provide more than 85 percent, or about $3.8 billion.
East Africa is a strategic regional choice as one of its major idustries is transportation, while the energy and power sectors are more prominent in all other sub-Saharan regions (see chart below.)
The first leg of the project, linking the Kenyan port of Mombasa to Nairobi, and will be built by the China Road and Bridge Corporation, subsidiary of the China Communications Construction Company.
"Whether this multi-country East Africa railway works depends on whether East Africa will meet the expectations of the 'Africa rising' narrative," said Xue.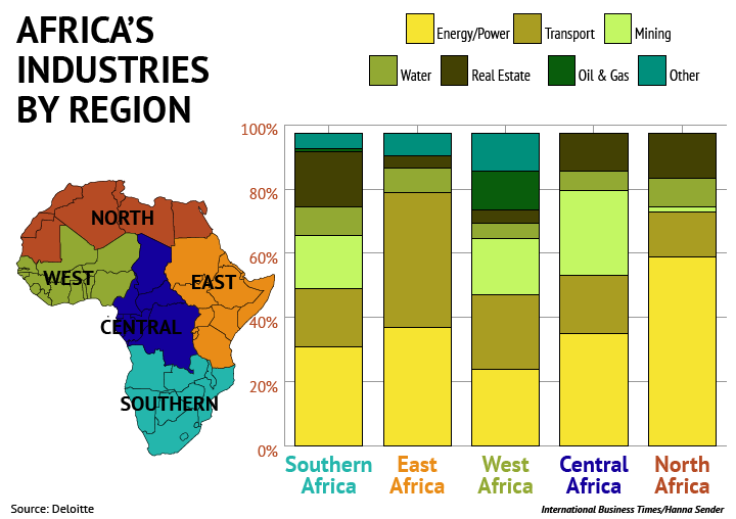 FOR FREE to continue reading
✔️ Unlock the full content of International Business Times UK for free
offer available for a limited time only
✔️ Easily manage your Newsletters subscriptions and save your favourite articles
✔️ No payment method required
Already have an account?
Log in
© Copyright IBTimes 2023. All rights reserved.