After Arizona Immigration Law, Super Bowl Helps Phoenix Adopt More Friendly Image, But Immigrants Say They Are Still Targeted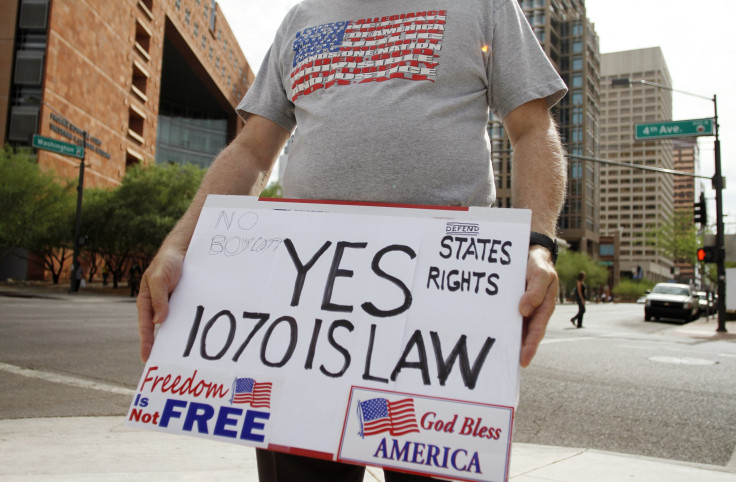 With the Super Bowl in town, Arizona Gov. Doug Ducey met with more than 70 CEOs this week hoping to lure new investors to a state that has struggled financially for years because of a global boycott triggered by tough immigration policies that chased away tourists and convention business. Ducey, who took office in January succeeding Jan Brewer, who was for many the face of Arizona's anti-immigrant movement, is part of a statewide effort to use the big game to make over the too-extreme image some have of the state.
Mike Kennedy, former chairman of the Arizona Super Bowl Host Committee, said immigration never came up when NFL owners voted to bring the 2015 Super Bowl to the Phoenix metropolitan area, choosing it over Tampa, Florida. "I don't feel like its even in the room anymore," he said of the state's contentious immigration battle. "We have a new governor who was an entrepreneur, who has a business background. ... One of his first acts was extending his arms and inviting new businesses to consider Arizona. It's [an] entirely different outlook than we've had, aggressive and engaging, and really trying to get the word out through the Super Bowl that we are open for business."
Community activists opposed to the state's many anti-immigrant measures, however, said life in Arizona remains difficult for Latinos, who are often targeted by conservative lawmakers and law enforcement officials. Tensions between conservative white residents and the young, Hispanic voters replacing them is being whitewashed during the Super Bowl to impress visitors and potential investors, the activists said, but in many ways the issues that inspired the 2010 boycott of Arizona still remain.
"By hosting the Super Bowl here, people think everything is fine now and everything is beautiful, but the reality is Arizona is one of the most anti-immigrant states in the union and that hasn't changed," said Salvador Reza, who was born in Mexico but has lived in Arizona for 22 years. "We still feel it every day."
Reza described a recent town hall meeting where he and other Latino activists were called "invaders" by angry white community members in the audience. "It isn't that Arizona has changed," he said. "The Latino community has stood up to them and were basically able to roll back some of those things."
Immigration is never far from the surface in Arizona, which passed SB1070, the nation's toughest immigration law in 2010, and has since refused to recognize President Barack Obama's recent immigration policies granting work visas and other rights to undocumented immigrants. Most recently, Maricopa County Sheriff Joe Arpaio, who became famous for tactics including making immigrants wear pink underwear and starting a women's chain gang, recently erected a 120-foot tall electronic billboard featuring his face in New York City to celebrate Arizona's hosting of the Super Bowl. It reads: "Maricopa County's Sheriff Joe Arpaio welcomes all to sunny Arizona for the big game! Enjoy our state, obey all laws and be safe."
Hispanics made up 30 percent of Arizona's population in 2012 while non-Hispanic whites accounted for 57 percent of the state, according to census data. Roughly half of the state's foreign-born population is undocumented and nearly half of all illegal border crossings into the U.S. occur along the Arizona-Mexico border. The Arizona Office of Employment and Population Statistics has projected the minority population will overtake whites as the majority by 2027.
After state lawmakers passed the so-called "Show Me Your Papers" law in April 2010, which required officers to question the immigration status of anyone already detained who was suspected of being in the country without documents, national and local Latino activists called for an international boycott of Arizona. Conventions were relocated, performers canceled shows, and local governments across the nation passed resolutions to avoid doing business with the state. In all, the boycott may have cost Arizona $87 million in lost wages, at least $250 million in lost economic output and nearly 2,800 jobs, a report commissioned by the Center for American Progress indicated. A similar boycott in 1993, after the state refused to recognize Martin Luther King Jr. Day, saw the NFL pull the Super Bowl from Phoenix that year.
"The fact that the Super Bowl is here, it shows that we have turned the page on a very ugly period in our state's history," said state Sen. Martin Quezada, who has been an advocate for the Latino community in Glendale where the Super Bowl will be played. "Anyone that is not part of this state or this valley, they are going to see that we have a thriving community here. This is a Latino community, it really is. The Latino influence here is incredibly strong. You are going to see it in restaurants, in our music, in the people walking around."
After the most recent boycott, many business leaders began lobbying lawmakers to stay away from any extreme legislation that could draw the nation's ire or portray Arizonans as intolerant, said Garrick Taylor, senior vice president of government relations and communications for the Arizona Chamber of Commerce. Hosting the Super Bowl in many ways represents a culmination of those efforts, he said.
"There seems to be a real effort by the governor not to let this opportunity pass by without taking the time to show off Arizona's business environment," he said of Ducey, the former CEO of Cold Stone Creamery. "Our employers here have been extremely engaged in ensuring that our state is shown off in the best possible light and to send the message that we are not only a great place to invest in but also a great place to work, study and live."
For Super Bowl week, area hotels were expecting a 90 percent occupancy rate for the area's 55,000-plus rooms, said Kristen Jarnagin, senior vice president of the Arizona Hotel & Lodging Association. "The SB1070 boycotts were five years ago," she said. "We have increased in occupancy and rates every single year since then, so we have been recovering slowly. We all knew the Super Bowl was going to bring in not just hundreds and thousands of people, but also worldwide positive exposure for Arizona."
Super Bowl visitors to the state will hopefully help drive tourism in the future by telling their friends about the warm weather, elite resorts and friendly welcome, Jarnagin said. "The people of Arizona are very diverse, so what is often portrayed in the media is not a true reflection of the state," she said.
Angela Hughey, an opponent of the 2010 immigration law and president of One Community, a gay and lesbian organization in Phoenix, said business leaders are very mindful of how they talk about immigration. "Arizona is on the national and international stage this week,"she said. "We still have work to do, but there is a lot of education going on with business and community leaders about having a diverse, inclusive state."
But Arizona can't overcome years of anti-immigration policies and portray itself as pro-diversity simply by putting on a big smile during the Super Bowl, said Marshall Fitz, vice president for immigration policy for the left-leaning Center for American Progress in Washington.
"That's the picture they would like to paint, but I don't think people have forgotten that there continues to be a thread of extremism within the state, not only on immigration but on a variety of issues," he said. "Things kind of get whitewashed for a brief period, but as soon as the Super Bowl is gone the headlines will no longer be about what a great show Arizona put on, but rather what's next in the Sheriff Joe saga, or what next crazy thing did the legislature propose."
As recently as last year, Arizona's Republican-led legislature made national headlines when lawmakers moved to pass legislation that would allow businesses to refuse service to gays and lesbians. In response, the NFL threatened to move the 2015 Super Bowl to another city if the bill became law. "Our policies emphasize tolerance and inclusiveness and prohibit discrimination based on age, gender, race, religion, sexual orientation or any other improper standard," NFL spokesman Greg Aiello told USA Today at the time.
Phoenix Mayor George Stanton said such extreme legislation hurts the community and does not reflect "smart public policy." The Democrat has worked in recent years to establish trade relations with Mexico and advocate for immigration reform at the national level that would allow Arizona's many undocumented immigrants to obtain legal rights.
"If anybody read negative things about Arizona and felt that that really represented the values of this community, well, they were mistaken," he said. "We understand that our diversity is our greatest strength."
Court rulings in recent years have forced the state to take a softer stance toward immigrants. Arizona was the only state in the nation that refused to give driver's licenses to immigrants who received work visas under Obama's 2012 policy allowing young people brought illegally to the United States as children to obtain legal rights. A recent ruling struck down the ban on driver's licenses. In March, a federal judge reprimanded Arpaio for targeting Latinos during routine patrols, traffic stops and workplace raids. In 2013, a court found Arpaio had systematically racially profiled Latinos during patrols.
The legal pushback has made it easier for many immigrants living in Arizona, said Dulce Matuz, co-founder of the Arizona Dream Act Coalition, a pro-immigration-reform group based in Phoenix. But she noted many of the lawmakers who passed anti-immigrant laws in recent years remain in place. Arpaio, for example, is expected to run for a seventh term in 2016. "The business community and the community activists don't want another 1070 in the state of Arizona," Matuz said. "I don't want people to believe everybody in Arizona is like Joe Arpaio."
Carlos Garcia, the head of Puente Arizona, a local group suing Arpaio over his workplace raids, was among the many activists who called for the boycott in 2010. "What the boycott did was stop further attacks, but unfortunately everything with 1070 and all of that has been normalized so people continue to be profiled and our community continues to struggle," he said. "All the bad laws that happened are still affecting our community."
Garcia said he hopes visitors to Arizona this week will recognize the contribution Latino immigrants have made to the state, particularly construction and hospitality workers. "The entire Super Bowl is being had on the backs of undocumented people in Arizona and it's the same people that Arpaio is trying to drive out," he said. "The reason this city runs is because of immigrants."
© Copyright IBTimes 2023. All rights reserved.