After Foley, Sotloff Beheadings, AFP To Reject Freelance Work From Journalists In Some War Zones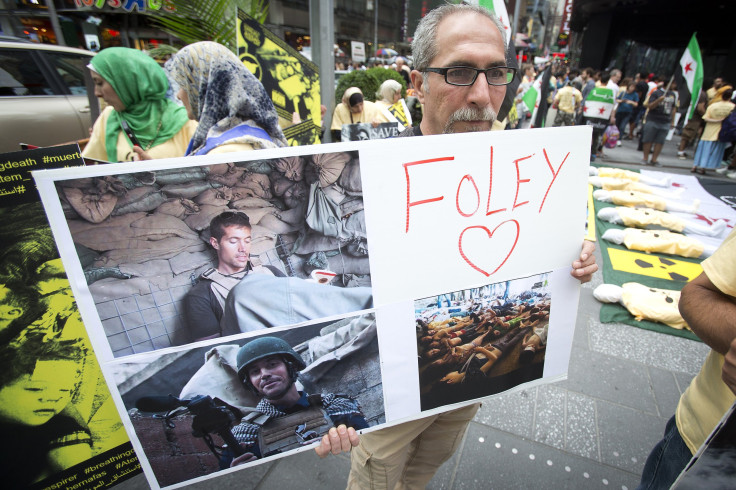 Agence France Presse announced it will no longer accept freelance work from journalists reporting from war zones that the news agency deems too dangerous. The new policy follows the high-profile beheadings of U.S. journalists James Foley and Steven Sotloff, who were freelancers kidnapped in Syria and killed by the Islamic State group (ISIS). Neither of the men was working for AFP at the time of his capture.
Michele Leridon, global news director for the AFP, published a blog post Thursday outlining the agency's policies on war reporting. Journalists in places like rebel-held Syria, Leridon wrote, have become "targets, or commodities to be traded for ransom. That is [why] we no longer accept work from freelance journalists who travel to places where we ourselves would not venture."
According to Leridon, the AFP already stopped sending its journalists to parts of Syria held by rebels in August 2013. "Freelancers have paid a high price in the Syrian conflict," she wrote. "High enough. We will not encourage people to take that kind of risk."
Many news organizations have been relying more on freelance reporters to document the conflict in Syria as fighting there has made it riskier for journalists to be in certain parts of the country. But freelancers lack the institutional support and protections that staff reporters receive, making them more vulnerable in cases of kidnapping or other life-threatening situations. The deaths of Foley and Sotloff, depicted in gruesome videos released by ISIS, highlighted this vulnerability. Foley had previously been a regular contributor to AFP.
Leridon said the AFP would still send journalists and hire freelancers to report in other conflict zones such as Gaza, the Central African Republic and Ukraine.
The AFP is not the only news outlet rejecting freelance work from some conflict zones. The U.K.-based Sunday Times made a similar call in 2013, when it turned away a freelance war photographer's pictures from the Syrian conflict, saying it did not want to "encourage freelancers to take exceptional risks."
© Copyright IBTimes 2023. All rights reserved.
FOLLOW MORE IBT NEWS ON THE BELOW CHANNELS