After Gay Marriage Ruling, North Carolina Pastor Urges US Churches To Choose Christian Flag Over 'Stars And Stripes'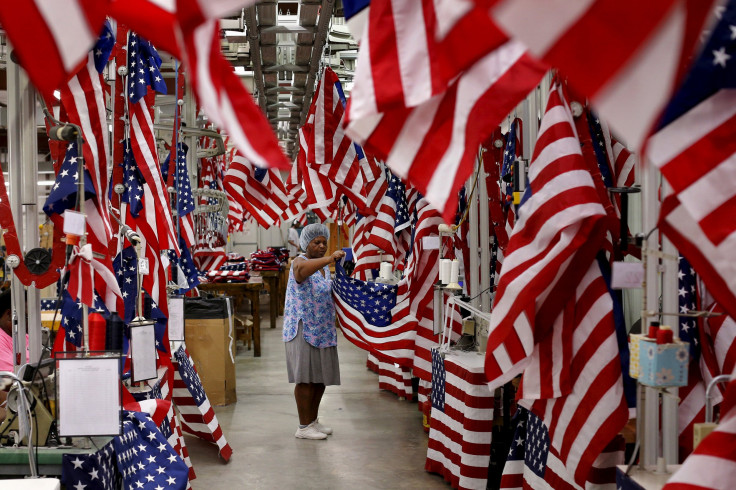 Rit Varriale, an emerging evangelical activist, says Christian beliefs are under attack in the United States after the Supreme Court's ruling legalizing gay marriage across the nation. He wants U.S. congregations to fly the Christian flag above American flags at their properties. His call to Christian churches went out over the Fourth of July holiday weekend, when most American communities were proudly waving the "Star and Stripes" to celebrate the nation's independence from Britain.
"We're not saying that this nation should be a theocracy, by any means," said Varriale, who pastors the Elizabeth Baptist Church in Shelby, North Carolina, in a phone interview this week. "What we are saying is that the government has been dealing with a [flawed] interpretation of the original concept to the separation of church and state. When you have the government shutting down the majority opinion of a [religious] community, that's really dangerous."
Varriale's protest comes as a number of Christian leaders across the nation have taken umbrage with the Supreme Court's decision to legalize marriage for same-sex couples. Roughly 94 percent of evangelical Christians surveyed by the Christian polling firm Barna Group opposed the Court's ruling, as did 66 percent of practicing Christians as a whole. A poll released by the evangelical research firm LifeWay Research in April showed 66 percent of American evangelicals believe same-sex relationships go against God's will. That's down from 82 percent who held that view three years ago.
The United States remains largely a Christian nation, despite falling church attendance rates. The number of American adults who consider themselves Christian fell from 78 percent in 2007 to 71 percent in 2014, according to a survey by the Pew Research Center. The percentage who identify as atheist, agnostic or "nothing in particular" rose to 23 percent from 16 percent over the same time period.
The Supreme Court ruling came just as Varriale launched his "God Before Government" movement, but was not a direct response to the expansion of rights for lesbian, gay, bisexual and transgender Americans, he said. He and other hardline evangelical ministers have warned for years that the nation's tradition of honoring religious observance is being eroded to accommodate Americans who object to expressions of religion in public and the right to conduct business in a way that honors religious beliefs. That some take offense to flying the Christian flag is baffling, Varriale said.
"We're not asking for this to be flown on government buildings or schools," he said. "People have the right to spit on [the American flag], walk on it and burn it, but then turn around and say we don't love our country because of how we chose to fly ours."
So far, only a handful of churches in North Carolina have hoisted the Christian flag, which features a red Latin cross inside of a blue square, over a crisp white field. The banner, created in 1897 by Charles Overton, a church minister from Brooklyn, New York, represents a non-denominational devotion to Jesus Christ.
Since 2005, Varriale, 44, has been the pastor of Elizabeth Baptist Church, a congregation of just over 1,000 members. He served for four years as an officer in the U.S. Army before answering the call to ministry in the late 1990s. While he completed his education – earning masters and doctorate degrees in theology and ministry from Duke University and the Princeton Theological Seminary, respectively – he saw majority Christian communities forced to dismantle Nativity scenes at schools, new bans on praying before school board meetings and "In God We Trust" insignia stripped from municipal buildings.
"The very important sentiments of the majority of people are being trampled on," he said.
Varriale has rejected attempts by some opponents to label him as anti-gay. Flying the Christian flag, he said, is similar to the widely celebrated display of the rainbow flag among gay rights supporters.
In fact, Varriale said the Christian church could learn a lot from the LGBT community and its endurance in the fight for equal rights. "You have to give respect to them," Varriale said. "The LGBT community has sacrificed [and stood by its principles], which is why they are winning. And they should be. Golly, they're strong and that's what we [Christians] need to be doing."
The idea for flying the flag came from another local pastor in Shelby, Varriale acknowledged. Walter Wilson, pastor of Focus Missionary Baptist Church, started flying the Christian flag above the American flag at his church three months ago. "Really, it was a movement from God," Wilson said of his inspiration to change the flag orientation. "What God is trying to let us know is that he rules and reigns over all."
FOR FREE to continue reading
✔️ Unlock the full content of International Business Times UK for free
offer available for a limited time only
✔️ Easily manage your Newsletters subscriptions and save your favourite articles
✔️ No payment method required
Already have an account? Log in
© Copyright IBTimes 2023. All rights reserved.