After Gaza Report Alleging War Crimes, Familiar Israeli Stance Returns: UN Is Biased Against Israel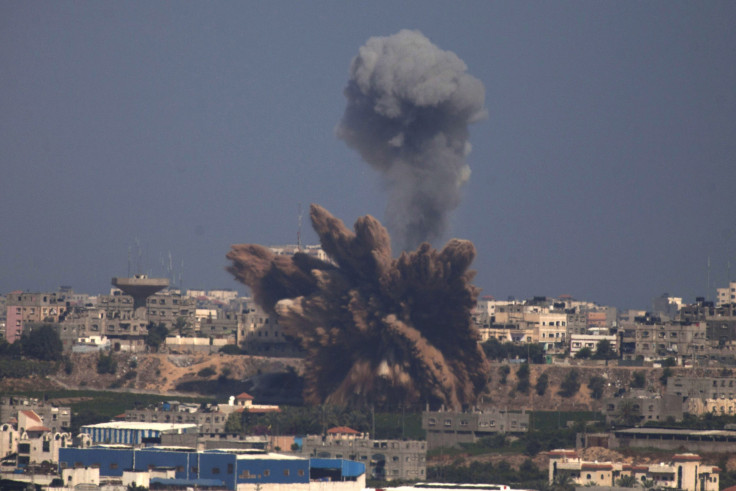 Israel has dismissed a United Nations report on last summer's war in Gaza, released on Monday, after refusing to cooperate with the committee that produced it. The report found that both Israel and several armed Palestinian factions committed violations of international and human rights law that could amount to war crimes. The Israeli government claims the United Nations Human Rights Council is biased against it, and denied the committee's investigators access to its territory. It also conducted its own investigation into the war, whose findings were published last month.
After the U.N. report was published Monday, many Israeli officials and pro-Israel commentators said the entire organization behind the report was biased against Israel.
"The fact that today's United Nations report on Gaza is utterly predictable makes it no less disgraceful. This report follows the shameful, blatant pattern of anti-Israel bias of the U.N. in recent years that is rooted in establishing a modern-day blood libel and delegitimizing Israel," Rabbi Shmuley Boteach, an American Orthodox rabbi and author of several books on Judaism, said in a statement Monday, referring to the canard of "blood libel" sometimes used to discredit Jews. "This effort by the U.N. to create false equivalency between the state of Israel and a terrorist group dedicated to its destruction ... should be dismissed in its entirety."
"Israel's retort is to attack the personality and credibility of the Human Rights Council. That's changing the subject," said Hussein Ibish, a senior resident scholar at the Arab Gulf States Institute, a think tank based in Washington and funded by an independent institute based in the United Arab Emirates. "I do not think that their protestations are credible or convincing."
The war in Gaza began as an Israeli response to rocket fire from the Gaza Strip. Hamas, the armed political group that rules Gaza, is considered a terrorist organization by Israel, the United States and the European Union.
"Israel does not commit war crimes -- Israel defends itself against a terror organization that calls for its destruction, and commits many war crimes," Israeli Prime Minister Benjamin Netanyahu said on Monday. "We will not sit and did not sit with folded hands," he added. "We will continue to act with strength and determination against anyone who tries to harm us and our citizens, and we will do this according to international law."
The report stated that there were at least 10 armed Palestinian groups active in Gaza last summer, including Hamas' armed wing, the al-Qassam Brigades. The groups had varying degrees of military capabilities, including long-range rockets and mortars. The U.N. found that 4,881 rockets and 1,753 mortars were fired from the Gaza Strip during the war.
"As a result of Israel's lack of cooperation and denial of access to its territory, the commission faced difficulty in identifying victims who had been injured in rocket attacks and was unable to examine individual cases in detail," the report said.
Military experts and Palestinian officials claimed that many of the weapons available to Gazan militants did not have the capability for targeted or precision attacks, which led the investigators to the conclusion that Hamas and other armed groups had fired rockets and mortars indiscriminately into civilian areas. If proven, this would amount to a war crime.
The U.N. report did not accuse Israel of taking unwarranted action against armed Palestinian factions, but did claim that some of the Israel Defense Forces' operations violated international and human rights laws.
Israel launched 6,000 air strikes during the conflict, many of them on civilian homes and heavily residential areas, according to the U.N. report. The IDF repeatedly stated that it warned civilians prior to an attack, a protocol mandated by international law. The report confirmed that the warnings did save civilian lives but also found that at certain points during the conflict, roughly 44 percent of Gaza was under fire. Even with the warning, the scale of such attacks left civilians with no place to hide.
"With severe constraints on humanitarian assistance, warnings cannot be expected to 'empty' entire areas," the report said. "The generalized and often unspecific warnings sometimes resulted in panic and mass displacement, further exacerbating the situation."
The Israeli report refuted this and claimed many of the "allegedly 'civilian' casualties were in fact militants."
The U.N. admitted that certain claims were difficult to investigate due to a lack of cooperation from both the Israeli and Hamas sides. However, the report focused on the investigation of specific incidents during the war that received extensive media coverage.
"The general findings are highly consistent with the known facts that the carefully following public had been able to detect," said Ibish. "It seems clear that Israel, Hamas and other Gaza militants are likely to have committed war crimes and a report that finds that there is evidence of that simply reiterates what is quite obvious."
The report is the product of a commission appointed by the United Nations to investigate events that took place in the Gaza Strip between June 8 and Aug. 26, 2014. The report is based on more than 500 written testimonies and at least 280 interviews with witnesses and victims, in addition to military and human rights experts.
The seven-week war in Gaza that began last July killed 2,251 Palestinians, 1,462 of whom were civilians. Six Israeli civilians and 67 soldiers also were killed during the conflict, the investigation found. Roughly 1,600 Israelis were injured, including over 270 children, according to Israel's Ministry of Health.
"The extent of the devastation and human suffering in Gaza was unprecedented and will impact generations to come," said Mary McGowan Davis, chairwoman of the commission of inquiry.
FOR FREE to continue reading
✔️ Unlock the full content of International Business Times UK for free
offer available for a limited time only
✔️ Easily manage your Newsletters subscriptions and save your favourite articles
✔️ No payment method required
Already have an account?
Log in
© Copyright IBTimes 2023. All rights reserved.