After Paris Terror Attacks, Are French Anti-ISIS Airstrikes In Syria Legal? Current, Future France Military Action Against Islamic State Called Into Question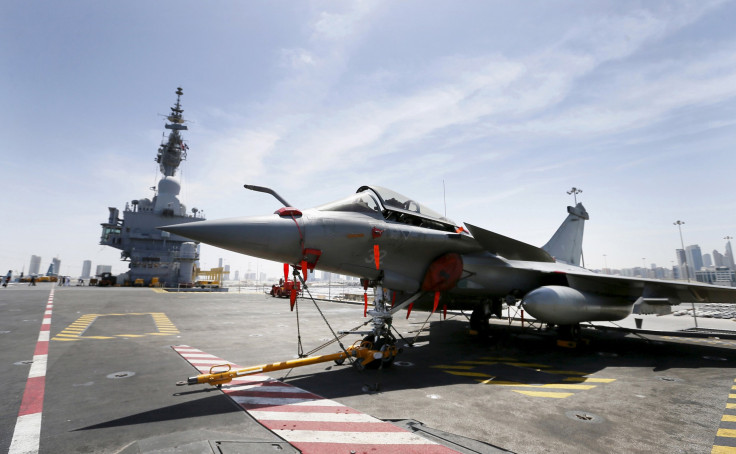 As French President François Hollande announced Monday his country is at now at war with the Islamic State group and ordered the aircraft carrier Charles de Gaulle to set sail for Syria, questions have been raised about the legality of waging an all-out struggle against the terror group, according to a Guardian report Monday. There are a number reasons why a country may commence military operations in another sovereign state, but the United Nations rules do not specifically account for non-state entities like ISIS.
Most countries must navigate their own political process before conducting any military operations abroad. That ordinarily involves asking a parliament or congress for permission, or in some cases the country's leader could authorize such an attack on his or her own. But domestic considerations aside, the international laws for those operating within the U.S.-led coalition in Syria, which includes France and the U.K., are far murkier and harder to pin down.
Generally, international law dictates that all countries must abstain from using force against another country, whether in the form of airstrikes, naval or ground forces. Self-defense, such as the U.S. invoked after the 9/11 attacks, is one of the circumstances under which launching war can be justified -- as with the handful of countries that have justified their bombing raids against ISIS in Syria. Strikes in Iraq are currently legal because the Iraq government formally invited the U.S. and other countries. The Syrian government, which controls only a fraction of the country, has invited only Russia in to hit ISIS, making any other military presence there questionable.
Last year, the U.S. ambassador to the U.N., Samantha Power, said U.S. strikes in Syria were legal under Article 51 of the U.N. Charter that allows force for self-defense against a state, even though at the time it was not immediately clear what the threat against the U.S. was. In the case of France, whose foreign minister said last year the legal basis for strikes in Syria was lacking, the Paris attacks may still fall short of the criteria because ISIS is not a state. In previous international law decisions involving actions against a non-state entity, the exercise of this right of self-defense has not been considered lawful.
Because of these strict standards, questions were lingering over how legal the military action is, according to two experts on international law.
"The fact that a state enjoys a right of self-defense does not necessarily mean that it may conduct defensive operations against a non-state armed group based in the territory of another state," wrote Louise Arimatsu, an international security fellow at the London think tank Chatham House, and international law expert Michael Schmitt of the U.S. Naval War College in a Guardian article from late 2014. "There are two views on this issue. Some experts take the position that operations against an armed group such as ISIS require consent by the territorial state. Others argue that the victim state may engage in limited military operations to prevent further attacks if the territorial state is 'unwilling or unable' to put an end to the group's activities. "

The most recent example of this legal scenario being rejected was in July 2004 when the International Court of Justice told Israel it could not build a security wall in occupied Palestinian territories because they were not internationally considered a state. (Israel ignored the opinion.) U.S. action in Afghanistan against the Taliban in 2001 was endorsed as legal by the U.N., but the Taliban was the government of the country at that time and was harboring and encouraging the terror group al Qaeda. To get the U.S. out of the country, Syria would have to launch a legal challenge with the International Court of Justice.
Meanwhile, Hollande said the Charles de Gaulle aircraft carrier will set sail Thursday.
"The sponsors of the attack in Paris must know that their crimes further strengthens the determination of France to fight and to destroy them," Hollande said. "We must do more. Syria has become the largest factory of terrorists the world has ever known."
FOR FREE to continue reading
✔️ Unlock the full content of International Business Times UK for free
offer available for a limited time only
✔️ Easily manage your Newsletters subscriptions and save your favourite articles
✔️ No payment method required
Already have an account?
Log in
© Copyright IBTimes 2023. All rights reserved.