Ahead Of World Cup 2022, Qatar Has Done Little To Stem Migrant Worker Abuses: Amnesty International Report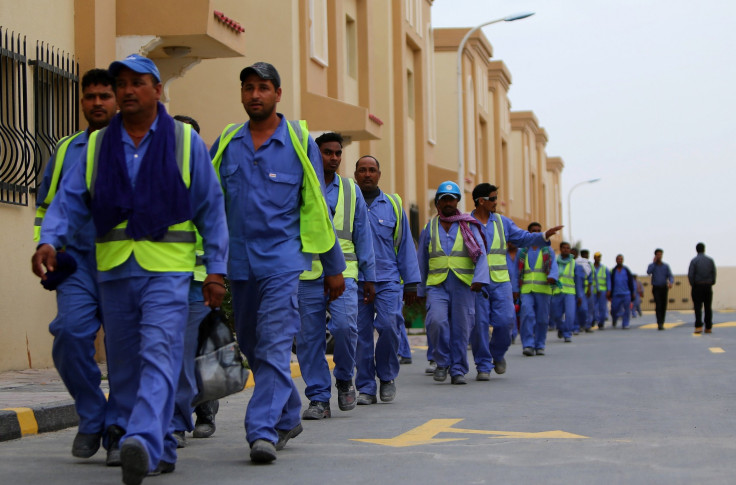 Qatar has done little to stop the exploitation of migrant workers as the small Persian Gulf emirate prepares to host the 2022 World Cup, a report from Amnesty International finds. Authorities have yet to implement a series of labor reforms promised last summer, and long-standing complaints like wage theft and the lack of organizing rights remain unresolved.
World Cup preparations have increased global scrutiny over labor practices in the wealthy Arab state, which hosts more than 1 million foreign workers, many of them low-wage laborers from India and Nepal. Through the so-called kafala system, sponsoring employers control the visa status and work permits of the mostly South Asian migrant workers. The International Labor Organization has criticized the system for shackling workers to their bosses.
One year after the Qatari government announced four measures to improve the mobility of migrant laborers, none have been implemented, Amnesty International notes. The proposed measures would increase fines for employers who confiscate workers' passports, make it easier for workers to change jobs when their contracts end and get exit permits, and repeal a rule that prevents workers from returning to Qatar for two years after ending an employment contract.
And those promised, unfulfilled reforms don't go far enough, Amnesty says. The exit permit reform, for instance, would still let employers raise objections with the Qatari government and prevent workers from leaving. Meanwhile, authorities haven't addressed core labor issues -- unsafe working conditions, poor accommodations, lax enforcement of existing rules, the lack of protections for domestic workers and the inability of migrant workers to form unions.
Last year alone, 441 workers from India and Nepal died in Qatar, according to the report. The International Trade Union Confederation, the world's largest labor federation, estimated in 2014 that 4,000 foreign laborers will die in the Gulf state before the World Cup begins, some of them building stadiums and other infrastructure. Cardiac arrest is the leading cause of death; others have died from workplace accidents, traffic accidents and suicide.
Earlier this week, top World Cup sponsors Visa, Adidas and Coca-Cola expressed concerns over labor conditions and urged the sport's global governing body, FIFA, to take action. FIFA, for its part, said it welcomed the Amnesty report and noted that it has "repeatedly urged publicly and with the highest authorities in Qatar that fair working conditions for all workers in Qatar are imperative."
© Copyright IBTimes 2022. All rights reserved.
FOLLOW MORE IBT NEWS ON THE BELOW CHANNELS