Aid To Ukraine: The Biggest Players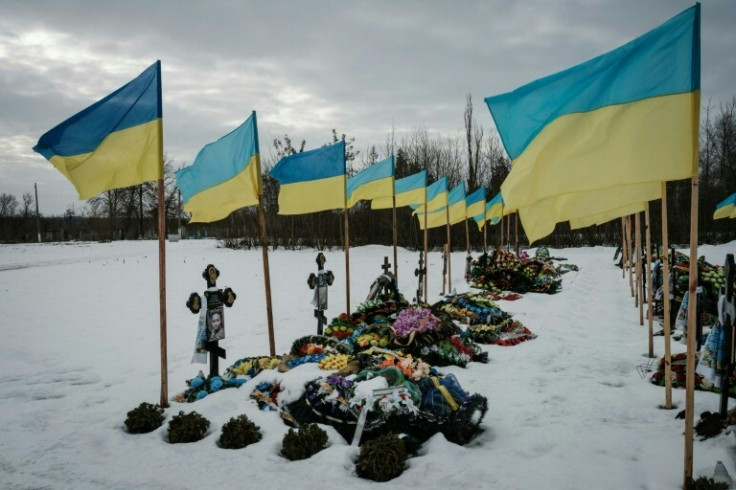 Countries around the world have been ramping up their aid for Ukraine on the eve of the first anniversary of Russia's invasion.
Japan on Monday pledged $5.5 billion in new aid to the country, leapfrogging into the major league of donors.
And US President Joe Biden on a surprise visit to Kyiv upped Washington's contribution, which already tops the world at more than $100 billion, according to an AFP tally.
Here are Ukraine's biggest donors, according to a ranking published by the German-based Kiel Institute for the World Economy Tuesday, based on bilateral military, financial and humanitarian commitments made by January 15, 2023.
The United States which has been Ukraine's top supporter since the start of the war, has earmarked 73.18 billion euros ($78.13 billion) in aid over the past year, according to Kiel's tracker.
The figure includes 44.34 billion euros in military aid, 25.11 billion euros in financial support and 3.72 billion euros in humanitarian aid, the report showed.
The State Department has put the figure for military assistance at $29.8 billion (27.9 billion euros).
The arms supplied by the US range from radars and drones to HIMARS multiple-rocket launchers and, in January, the promise of 31 top-of-the-line Abrams battle tanks.
On Monday, Biden added another $500 million to the mix, particularly ammunition, howitzers and Javelin anti-tank missiles.
In second place in the aid league comes the United Kingdom, with 8.31 billion euros ($8.87 billion) in commitments, according to Kiel's figures, including 4.89 billion euros in military aid and 3.02 billion euros in financial aid.
The UK boasts of being the first European nation to provide offensive weapons to Kyiv, even before Russian President Vladimir Putin ordered his invasion on February 24, 2022.
It was also the first, in January 2023, to promise powerful tanks in the form of 14 Challenger 2s, which are due for delivery in March.
Germany, which has been on the frontline of the concomitant energy war between Moscow and Europe, has aided Ukraine to the tune of 6.15 billion euros, the Kiel report shows.
Chancellor Olaf Scholz's government puts the figure for all types of aid, including money spent on welcoming one million Ukrainian refugees and investigating war crimes in Ukraine at 12.5 billion euros since February 2022.
The figure includes 2 billion euros in military aid in 2022, which Berlin says it will match this year.
After strenuous lobbying by Ukrainian President Volodymyr Zelensky, Scholz last month agreed to provide 14 of its Leopard tanks, considered among the best in the world.
The 27-nation European Union, of which Germany is a part, has collectively pledged 35.02 billion euros in aid to Ukraine over the past year.
In fourth place in Kiel's tracker is Canada, home to an estimated 1.4 million people of Ukrainian descent, which has committed 4.02 billion euros in aid, including 1.29 billion euros in military support.
Canada in January also agreed to supply heavy tanks to Ukraine to fight off Russian forces in the form of four German-made Leopards.
Poland, which fears being a future target of Russian aggression, has given neighbouring Ukraine 3.56 billion euros in aid, including 2.43 billion in military aid, making it the fifth-biggest donor country in Kiel's ranking.
The government estimates its contribution at between 7.3 and 8.4 billion euros, including money spent on welcoming the more than 1.5 million refugees sheltering on Polish soil.
Warsaw, which is planning to re-export some of its Leopard tanks to Kyiv, has also said it is open to sending Ukraine fighter jets if Western allies agree on such a move.
The most generous countries are not the great Western powers but the former Soviet republics of Estonia, Latvia and Lithuania, according to the Kiel report, which shows them topping the table for the proportion of GDP spent on aid to Ukraine.
The tracker shows Estonia's aid over the past year amounting to 1.07 percent of GDP, compared with 0.37 percent for the US and 0.07 percent for France.
© Copyright AFP 2023. All rights reserved.