Air Show Crash: Pilot Ladislao Tejedor Romero Killed In Vintage Jet Explosion In Spain [VIDEO]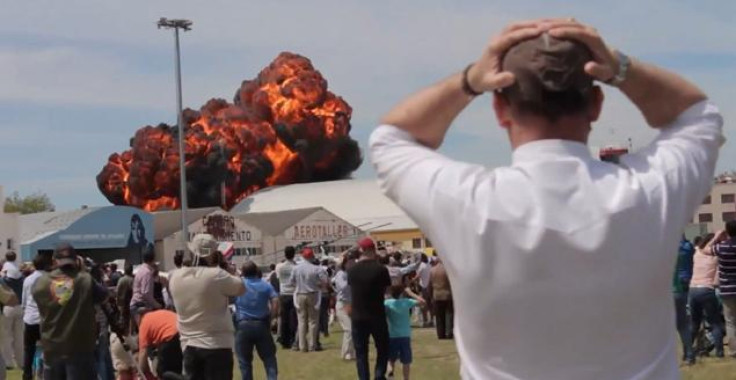 An air show in Spain ended in tragedy Sunday when a pilot crashed his vintage plane into an aircraft hangar, suffering fatal wounds, Spanish officials said.
Ladislao Tejedor Romero, an experienced 35-year-old pilot, died of his injuries in the burn unit of Getafe hospital, a spokesman for Spain's Defense Ministry confirmed Monday to The Associated Press. Romero had been an assistant to Spanish Defense Minister Pedro Morenes.
Local authorities have yet to identify the cause of the crash, which occurred in front of 3,000 terrified spectators at Cuatro Vientos airfield near Madrid, AP reports. Romero was performing a series of aerial acrobatics in one of Spain's first jet-propelled aircraft when he collided with the hangar in a massive explosion.
Defense ministry spokesman Alfredo Florenza identified the plane as a HA-200 Saeta, an advanced trainer developed by Hispano Aviacion in the 1950s, AP reports.
In the aftermath of the accident, Spanish news outlet RTVE interviewed eyewitnesses who described the plane's freefall and subsequent impact with multiple buildings, AP reports.
While Romero is believed to be the tragedy's only fatality, Europa Press news agency reported that two people were taken to a local hospital with injuries. According to the report, a rescue worker was treated for burns, while a 57-year-old man, believed to be Romero's father, reportedly suffered from an anxiety attack. A third rescue worker suffered from smoke inhalation, but was treated at the scene.
© Copyright IBTimes 2023. All rights reserved.