Airport Employees To Join Fast-Food Workers In Nationwide Strike For $15 Hourly Wage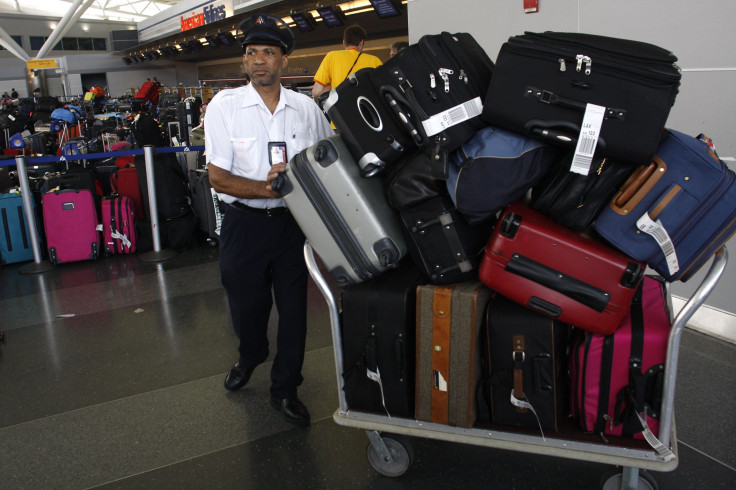 Abera Siyoum works 60 hours a week–sometimes more—for minimum wage, driving an electric car that shuttles disabled Delta Airlines patrons between concourses at the Minneapolis-St. Paul International Airport. Three years ago, when he emigrated from Ethiopia and started the job, he earned $7.25 an hour. Now, at age 36, he earns $8 an hour to support a wife and two toddlers. As an employee of Air Serv, an aviation services company under contract with Delta, he has no benefits and no right to unionize.
Siyoum is hoping to boost his pay and improve his work situation by joining 40,000 U.S. airport workers and thousands of fast-food workers in a nationwide protest Thursday and Friday. The strikes are designed to call attention to "poverty wages," according to Fight for $15, the grassroots organization behind the movement.
"It's hard for me to survive and pay my bills," Siyoum says. "People living in poverty are fired up. Our goal is to win $15 an hour and union rights. Companies need to pay us a living wage plus benefits."
Siyoum, of course, isn't the only one who can complain. The vast majority of American workers haven't seen their wages increase much faster than costs for goods like housing, health care, education and gasoline for more than a decade. But Siyoum and workers like him argue that a $15 hourly wage would help workers spend more time with their families and work more effectively rather than under fatigue from holding two or three jobs.
Baggage handlers, ticket agents and plane and airport cleaners at 10 major airports, from New York's LaGuardia and JFK airports to Boston, Atlanta and Philadelphia, wrote a letter this week to CEOs of six major airlines asking for higher wages.
"As airport workers we have pledged to stand together with people who work in home care and fast food to fight for $15-an-hour wages," the workers wrote to American, JetBlue, Delta, United, Southwest and Alaska airlines. "We face a struggle to survive while making poverty wages."
The campaign for higher wages and union rights dates back to Nov. 29, 2012, when about 200 New York City fast-food employees stopped working. The strike, organized by a handful of local groups, was the largest of its kind in the history of the American fast-food industry. It's unclear how the planned strikes will affect air travel Thursday and Friday. Those who do walk off the job will join fast-food workers from at least 150 cities on Thursday.
In the past two years, the living wage movement has grown to thousands of workers across the country and spread beyond restaurant employees to home care workers, and most recently, airport employees. Last spring, the city of SeaTac raised the minimum wage to $15 an hour for most businesses at the Seattle-Tacoma International Airport. The new wage rules take effect on Jan. 1, 2015.
Airlines used to employ their own airport service workers, but cost-cutting measures in recent years have included dropping employees and contracting out the work instead, according to John Goglia, an aviation safety consultant and author. The contracts usually go to the lowest bidders, who pay workers the lowest wages. That has created high employee turnover at many airports as workers switch jobs frequently to increase their wages, and many employees work two or three jobs, increasing the risk of mistakes due to fatigue.
Siyoum says he's not scheduled to work Thursday and Friday and plans to protest outside a downtown Minneapolis McDonald's Thursday and outside the airport on Friday.
"We will demonstrate and ask companies to care about the living wage," he said.
© Copyright IBTimes 2023. All rights reserved.