Airstrikes Destroy Field Hospital In Aleppo, Killing One Of The Last Pediatricians In Syria
BEIRUT — At least 27 people, 14 of them patients and staff, were killed when a series of airstrikes hit a hospital and nearby buildings in the Syrian city of Aleppo Wednesday night local time. One of the last pediatricians left in Syria died in the explosion at Quds hospital, according to Doctors Without Borders (MSF).
Syrian opposition said President Bashar Assad's forces were responsible for the deadly airstrikes in the rebel-controlled district of al-Sukkari, Aleppo. The attack came at a critical time for the United Nations-brokered peace talks, which were put on hold earlier this month, at the request of the opposition, after rebel-held areas saw an uptick in regime airstrikes despite the partial ceasefire .
"Whoever carries out these massacres needs a war tribunal and a court of justice to be tried for his crimes. He does not need a negotiating table," chief Syrian opposition negotiator Mohammed Alloush told Associated Press. "Now, the environment is not conducive for any political action."
The hospital was one of the few left in Syria with a functioning emergency room, intensive care unit and operating room. The staff included eight doctors and 28 nurses and was the " main referral center for pediatrics," MSF said in a Tweet posted to its official account.
The Syrian Civil Defense (SCD), a volunteer search and rescue organization operating in opposition-held areas of Syria, said the death toll had risen to at least 30 by Thursday morning, including six doctors who worked in the field hospital. The Syrian Observatory for Human Rights said at least three children had died in the strikes.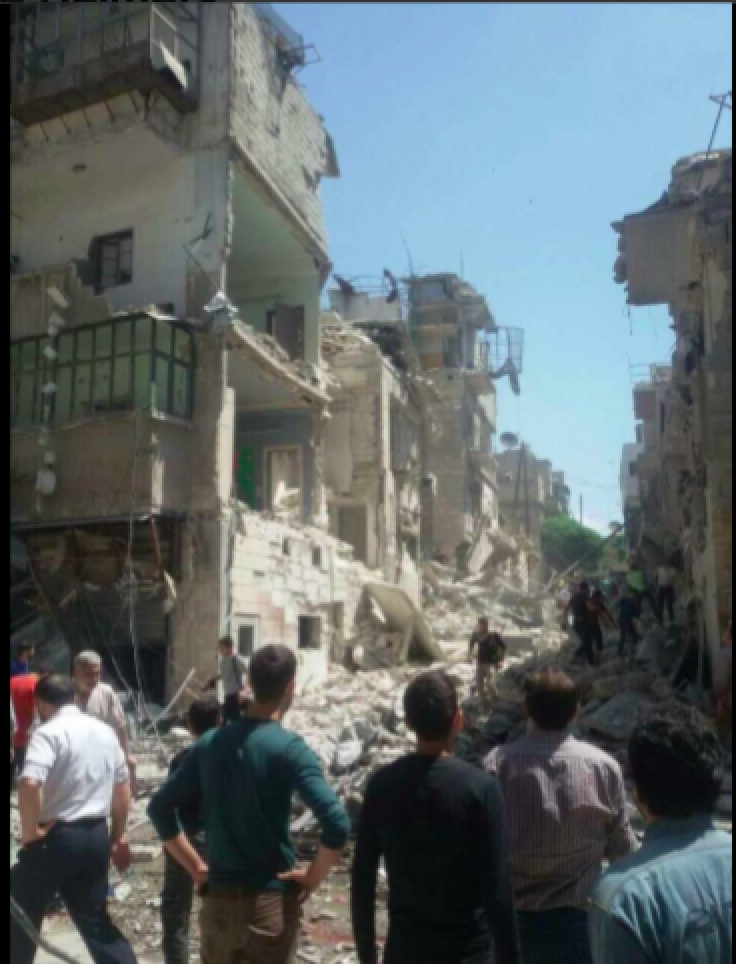 Airstrikes on rebel-held areas of Aleppo continued Thursday. Syria's state-run news agency said the latest bombing had killed 14 people, including four civilians. The SCD said it responded to at least 10 airstrikes in Aleppo Thursday morning.
Syria's largest city has seen a major increase in violence over the past week, since the unofficial collapse of the "cessation of hostilities." Roughly half of the 200 civilians killed since April 19 have died in Aleppo.
Five SCD volunteers were killed Tuesday when the Syrian regime launched a series of heavy airstrikes on the organization's center in the Al Atareb district of Aleppo.
"In all other countries around the world, search-and-rescue teams are immune from bombing under the Geneva convention, yet this is not the case in Syria," Raed al Saleh, head of the SCD, said in a statement released Tuesday. "In Syria, our volunteers are forced to pick up the body parts of their teammates."
© Copyright IBTimes 2023. All rights reserved.