Al-Shabab Militant Detonates Mogadishu Car Bomb After Arrest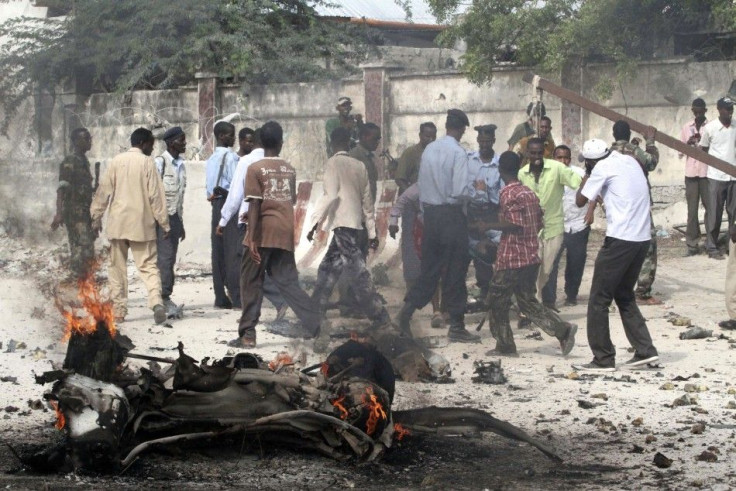 A car bomb in Mogadishu, Somalia killed at least five people on Tuesday -- the suicide bombing is thought to be the work of al-Shabab, a paramilitary rebel group that wields a deadly control over parts of the country.
Police stopped the car as it approached a busy junction in the capital. From there, the story took an unusual and devastating turn. After being stopped, the bomber was arrested by police officers who took him into custody, according to The Press Association. But then, hours later, police took the suspect back to his vehicle and ordered him to dismantle the explosive device. In a move that seems all too obvious in hindsight, the militant detonated the bomb instead.
Three of those killed were civilians and at least one policeman died.
Al-Shabab, a militant Islamist group that is the ruling clan in many parts of politically unstable Somalia, was expelled from Mogadishu earlier this year by African Union (AU) troops, but the group has been fighting to regain its old territory. Living up to an October promise, al-Shabab has initiated a number of attacks on civilians and government institutions in Mogadishu and elsewhere.
Along with the AU, Kenya is also taking an offensive against al-Shabab, attacking from the west. Kenya launched an unprecedented military offensive into Somalia this fall after two Western tourists were kidnapped by the rebel group.
Kenya's campaign has been controversial. Far from backing down, al-Shabab has gone on a counter-offensive against Kenyan troops and are thought to be responsible for two grenade attacks as deep into Kenya as Nairobi, the capital.
The Kenyan military has been quick to report its victories against al-Shabab. On Tuesday, Kenya reported that dozens of militants have been killed in recent skirmishes, including five who tried to attack a navy ship by boat on Monday. According to The Associated Press, the Kenyan military said that 40 militants and 11 Somali government soldiers died in a battle over the weekend, but the report cannot be verified.
Al-Shabab's stated mission is to turn Somalia into an Islamic state governed by sharia law. The group, which finds room to operate within the ineffectiveness of Somalia's existing government, has been linked to al-Qaida and has been known to attack any foreign presence in the country.
In late November, the group raided a number of humanitarian agencies giving aid to those suffering from a long-lasting famine, including the United Nations Refugee Agency, U.N. Children's Fund and World Health Organization.
I am extremely concerned by Al-Shabab's seizure of property and equipment belonging to several non-governmental organizations and U.N. agencies working to alleviate suffering in southern Somalia, Valerie Amos, U.N. under-secretary-general for humanitarian affairs, said in a statement last week.
I call on groups associated with Al-Shabab to withdraw immediately from humanitarian compounds seized this morning in the regions of Bakool, Bay, Lower Shabelle and Hiraan, and to desist from any further actions which would threaten humanitarian operations and the safety of humanitarian workers, she added.
© Copyright IBTimes 2023. All rights reserved.