Alabama Immigration Law: Prove Citizenship or Lose Clean Water Supply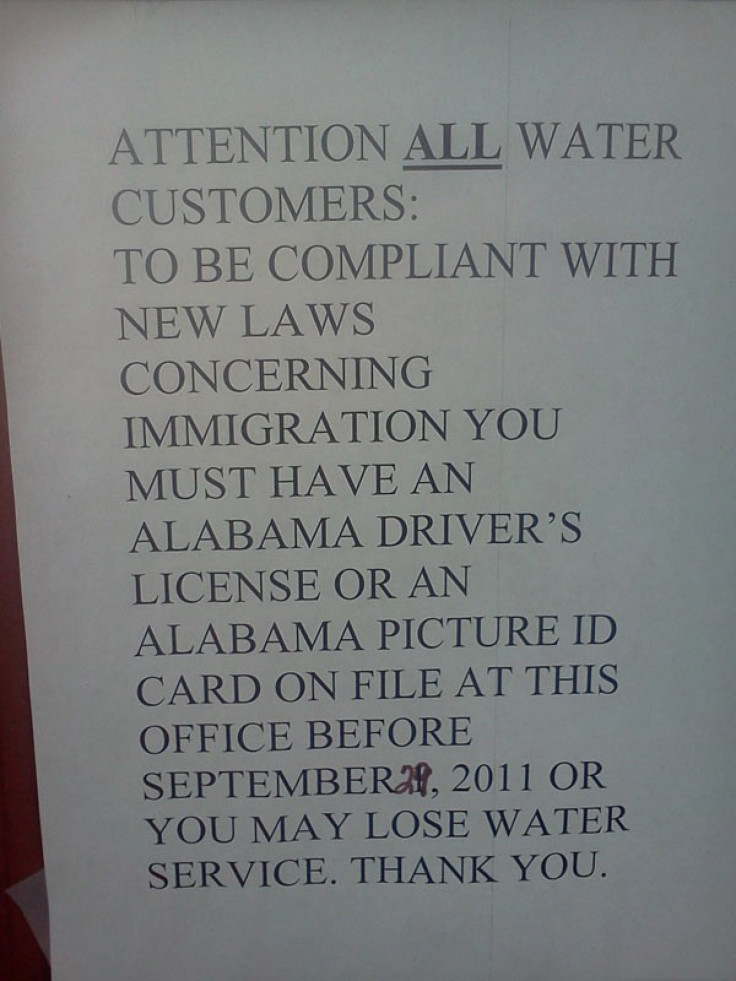 While Alabama's recently upheld immigration law has been criticized by a number of organizations for provisions that are widely thought to be the harshest in the nation, there's one measure that can be considered the most draconian of the bunch: namely, a line that has allowed at least one city to cut off clean water to residents who don't have an Alabama driver's license.
Under section 30 of the law, known as HB56, anyone lacking the proper immigration papers is considered to be committing a crime if they try to enter into a business transaction with the state or a political subdivision of the state. Although the law doesn't define what constitutes a business transaction, some parties apparently believe it includes something as basic to life as clean water.
The community of Allgood features a warning notice stating that, To be complaint with new laws concerning immigration you must have an Alabama driver's license ... or you may lose water service, according to multiple reports. The note was posted by the Allgood Alabama Water Works; Allgood Mayor Neil Pane hasn't publicly commented on the issue.
During an Oct. 7 news conference, The Birmingham News reported, a group of lawyers, educators and children's advocates said Alabama's immigration law is essentially a humanitarian crisis, creating an element of fear and racism that has led to thousands of children being kept home from school, pregnant women being afraid to give birth in a hospital and families having their water supply cut off.
Mary Bauer, the legal director of the Southern Poverty Law center, told the newspaper the center's hotline has received thousands of phone calls since the law was upheld and indicated that multiple municipalities may cut off water service to customers with a questionable immigration status. Families are being forced to go without clean water and even indoor plumbing until the decision is reversed in court, an impact of the law she said is blatantly unconstitutional.
Allison Neal, the legal director of the American Civil Liberties Union of Alabama, told the IBTimes that in addition to Allgood, the Montgomery Water Works is now requesting social security numbers from individuals before setting up water service to their homes. In addition, she said both the Montgomery and Houston County probate offices have indicated that those requesting water sevice must meet the citizenship requirements listed in the new law.
The U.S. Department of Justice filed a lawsuit in the 11th U.S. Circuit Court of Appeals last week in an effort to keep Alabama from enforcing HB56. The Justice Department has called the law a sweeping new state regime that could strain diplomatic relations with Latin American countries and could impact millions of workers, tourists and students in the U.S.
© Copyright IBTimes 2023. All rights reserved.