Alberto Nisman's Death Just The Latest Example Of Large-Scale Corruption, Argentines Say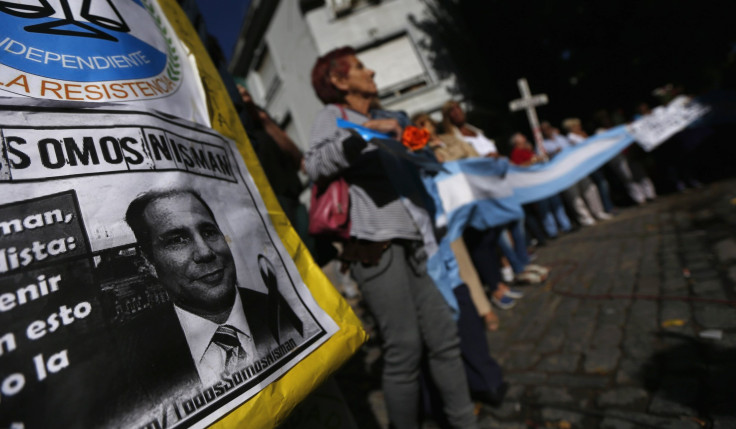 BUENOS AIRES -- For Argentines, Friday's announcement that formal charges would be sought against President Cristina Fernandez de Kirchner for shielding Iranian officials from prosecution for the 1994 bombing at the Asociacion Mutual Israelita Argentina, a Jewish community center in Buenos Aires, was just the latest episode in a real-life story that has all the ingredients of an Oscar-winning drama.
Victims, leading actors, supporting players, day-to-day commentators and a vast ensemble of analysts still cannot assuredly answer Argentine society's main question: What happened to federal prosecutor Alberto Nisman? It's a mystery of a reality that is surpassing fiction.
Gerardo Pollicita, the prosecutor who took over Nisman's investigation after he died under mysterious circumstances last month, leveled accusations of a cover-up in the case at the president, Foreign Minister Hector Timerman and others associated with the government. They include Luis D'Elia, leader of a workers union, and Andres Larroque, one of the main leaders of La Campora, a political youth group supporting Kirchner.
Now, Argentines await their president's response, and with the ruling party holding majorities in both chambers, most expect the national congress to dissolve the secret intelligence agency, SIDE, that Kirchner ordered shuttered after Nisman's death.
While opinions in South America's second-largest country are divided, many feel the latest events are simply in line with a tradition of deception that has clouded the past 10 years of government. According to a January survey by the Argentine consulting firm Gonzalez-Valladares, only 29 percent of respondents had a positive view of Kirchner, a decrease of 4 percentage points from December that coincided with Nisman's death coming to light. Meanwhile, a little more than 50 percent of those surveyed had a negative image of the president -- an increase of 11 percentage points from December -- while 54 percent of them agreed her image got worse after this event.
But as Kirchner loses popularity and witnesses the crumbling of her presidency, her followers still trust in her power as the leader of their movement. They claim there is an ongoing dispute within the secret intelligence agency. "This is clearly an internal struggle between secret agents and former secret agents," says Juan Pablo Martinez, a 28-year-old Argentine salesman. "Our president is actually the victim given that Nisman's death only benefits the corporations that want to have an excuse to bring down the government since a decade ago."
However, Kirchner's detractors point at the president and those around her as the organizers of Nisman's unusual death. "We are a bit afraid because we feel boundaries have been lost -- we don't know what's the limit now," says Juana Rua, 36, of Buenos Aires. "I find it hard to believe that President Cristina can command such a vicious act, but I don't feel we can trust the judicial system either. Anyway, we'll have to wait for the investigation to go further to comprehend what happened that night [when Nisman died]. And if there's someone to blame for this murder, they should go to court."
For most, it's accepted that Nisman did not take his own life. Ipsos, a research consulting firm, measured the local impact of the news. It determined that 70 percent of respondents believed the prosecutor was murdered and, therefore, the resultant investigation should not attempt to clarify whether he committed suicide or not, but focus on bringing the perpetrators of the crime to justice. In fact, when the initial official version of Nisman's death referred to a self-inflicted gunshot wound -- an unexpected happenstance involving a man on the verge of the most important presentation of his career -- Kirchner herself rejected the declarations of her own minister: She called it "[t]he suicide that (I am convinced) was no suicide" on her website.
"This is nothing new, it's always the same. In this country, corruption and politics go hand in hand, and it won't change until we learn better and make fine choices," says Mariela Aldana, an independent physiotherapist who says she has felt nothing but frustration and a sense of disappointment.
According to Transparency International, Argentina fell again in its 2014 Corruption Perceptions Index, on which it ranked No. 107 among 175 countries considered. In the Latin American region, its reputation for corruption is surpassed only by Venezuela, Paraguay and Ecuador.
Given the nature of the accusation against the president and other government officials, as well as the data included in the prosecutor's report, Pollicita requested the investigation of Kirchner be subject to a nondisclosure order, as a means of protecting the lawsuit. No other information has been publicly revealed, and the date of any trial is still unknown.
Meanwhile, Alejandra Gils Carbo, Argentina's attorney general, has announced the new team she has designated to continue the investigation into the attack on the Jewish community center more than two decades ago. "Our mandate is to search for the truth," she said during a recent press conference.
Kirchner isn't the only one in her government facing an investigation. There is also the delicate situation of Vice President Amado Boudou, who has been accused of misappropriation of public funds, and the next in line for the presidency, Army Chief Cesar Milani, who been charged with crimes against humanity allegedly committed during the 1976-1983 military dictatorship, according to the Buenos Aires Herald.
With serious doubts and differences even within her close circle, and a lack of clarity about the candidate she will support in the coming presidential election, Kirchner faces one of the hardest moments of her two terms.
This is an election year, not only for the president but also for governors in the main provinces, as well as for some members of the legislative and judicial branches, and the risk of losing legal support while facing major trials could jeopardize the way the Kirchner era ends: Before Cristina Fernandez de Kirchner's time as president, her husband, Nestor Kirchner, occupied the same office for four years.
For many Argentines, their next move is to participate in a so-called Silence Demonstration Wednesday, exactly one month after Nisman's death. The event was called to mourn and quietly cry for justice.
"This is extremely serious, there's a before and after this case in our country, compared with the horrors of the military dictatorship," says Carlos Di Guglielmi, 58, who plans to participate in the march. "The ones holding the power got rid of the prosecutor because he was on the right track. The government will hear us -- whether they like it or not -- in the Silence Demonstration."
FOR FREE to continue reading
✔️ Unlock the full content of International Business Times UK for free
offer available for a limited time only
✔️ Easily manage your Newsletters subscriptions and save your favourite articles
✔️ No payment method required
Already have an account? Log in
© Copyright IBTimes 2023. All rights reserved.