Alberto Nisman's Death Was Homicide, Argentine Official Suggests In Requesting The Federal Court Intervene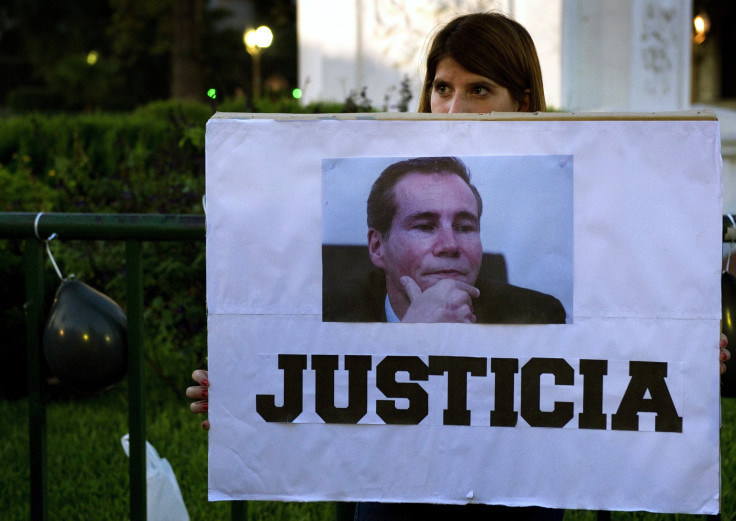 Argentine federal prosecutor Alberto Nisman's suspicious death last year was a murder, and the justice system should treat it as such, a national official argued in court Thursday. Ricardo Sáenz, the attorney general for the criminal appeals court, wrote in an opinion that Nisman "was a victim of homicide," La Nacion reported. The declaration marked the judicial branch's first public suggestion that Nisman might have been assassinated.
Nisman was found dead in his apartment bathroom Jan. 18, 2015, from a gunshot wound to the head. The door to the bathroom was locked from the inside. Authorities found a gun next to his body but did not discover a suicide note, according to the New York Times. Even more vexing: His death came the day before he was scheduled to testify against then-President Cristina Fernández de Kirchner.
Nisman had been investigating the bombing of the Asociación Mutual Israelita Argentina, a Jewish community center in Buenos Aires, where 85 people were killed and more than 300 wounded in 1994. The prosecutor had recently accused Fernández of covering up the attack as part of a secret oil deal with Iran, and he was preparing to speak before Congress when he was found deceased.
As a result, protesters alleged Nisman's death was another Fernández cover-up, suggesting also that the probe into his death had been intentionally botched. El Dínamo reported that his former wife, judge Sandra Arroyo Salgado, said last month that "I think, at this point, we're not going to know the truth."
But that could change with the involvement of Sáenz, who said Thursday he agreed with the assassination theory presented in a complaint filed by Nisman's family. "Being at the mere possibility that Alberto Nisman" was assassinated, "research should be pursued by the federal court of this city, which is the one that has the broadest jurisdiction, to hear and decide which of all the assumptions involved, is finally fact," Sáenz wrote in Spanish, according to La Nacion.
Sáenz's suggestion will be heard in court March 18, La Republica reported.
© Copyright IBTimes 2023. All rights reserved.
FOLLOW MORE IBT NEWS ON THE BELOW CHANNELS