Amazon Digital Day 2017 Sales: Deals On Games, Movies, HBO, Tidal, More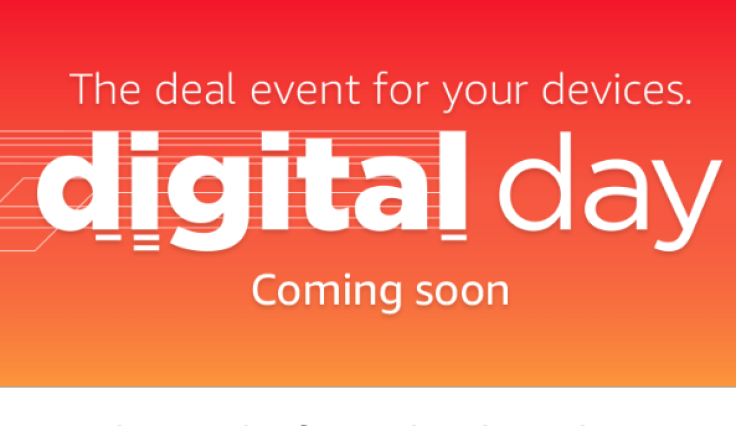 Amazon will hold its second annual Digital Day sale on Friday Dec. 29, in which it will offer deals on games, apps, movies and music.
The Digital Day sale will follow Amazon's successful Black Friday and Cyber Monday, as well as the company's record-breaking holiday season.
Digital Day will offer more than 5,000 deals across the shopping platform. This year around, the company is holding 40 percent more deals than in 2016, Amazon said. The online retailer will offer up to 80 percent off digital content, which includes apps, games, TV shows, movies, digital comics and more.
Digital Day will start on Friday at 12 a.m. EST on Amazon amazon.com/digitalday, on the Amazon app and the Amazon Appstore.
The company offered a sneak peak of the deals before the sale kicks off.
Amazon Digital Day: Music, TV, Movies
Customers can save:
Up to 60 percent off hundreds of movies including "Wonder Woman," "The Fate of the Furious," "Moonlight," "The Dark Tower" and more.

Save up to 50 percent off hundreds of TV shows including "Game of Thrones," "American Gods," "This Is Us," "Outlander" and more.

Get a $10 Amazon.com credit when subscribing to HBO NOW on Amazon.

Save 20 percent off one month of UFC Fight Pass.

Save 25 percent off yearly Plex membership.

Get 3 months for $0.99 of Amazon Music Unlimited (only new subscribers).

Get a 90 day complimentary trial of Tidal music streaming service.

Save 25 percent off annual subscription to Boomerang.

Get one month free for Grokker TV.

Get a 30-day free trial to Filmstruck.

Save up to 20 percent off annual subscription to Quello streaming concerts.

Save up to 50 percent off of subscription to Smithsonian Earth.
Amazon Digital Day: Deals for Families and Kids
Save up to 50 percent on popular kids and family movie titles including "The Emoji Movie," "The LEGO Batman Movie," "Despicable Me 3," "Trolls" and more.

Save up to 80 percent off mobile games from Nickelodeon including "Dora¹s Great Big World," "PAW Patrol Pups to the Rescue" and "Teenage Mutant Ninja Turtles: Half-Shell Heroes."

All Toca Boca and Sago Mini apps on sale for $0.99.

Save up to 75 percent off popular kids apps from PBS Kids including "Super Why!" "ABC Adventures," "Splash and Bubbles Ocean Adventure" and "Explore Daniel Tiger's Neighborhood."

Get 3 months of FreeTime Unlimited for $2.99.

Get three free audiobooks when you sign up for an Audible trial.

Save up to 80 percent off in-game items for Playrix games like "Homescapes," "Gardenscapes," "Township" and "Fishdom."
Amazon Digital Day: Deals On Games
Save 30 percent or more off video games like "Sonic Forces," "Civilization VI," "NBA 2K 18" and "WWE 2K18."

Save up to 60 percent off digital PC games like "Assassin¹s Creed Origins-Gold Edition," "For Honor," "Overwatch Game of the Year Edition" and more.

Get an exclusive Digital Day Pack with bonus gold, XP, speed ups and resources for "Final Fantasy XV: A New Empire," "Game of War" and "Mobile Strike."

Save 50 percent off all in-game items for "Marvel Puzzle Quest."

Save 25 percent off $49.99 Lapis bundle for "Final Fantasy Brave Exvius"

Save 80% off on "Pokémon Duel."

Customers new to the Amazon Appstore can get 35 percent off 10,000 Amazon Coins ($100 value for $65).
Amazon Digital Day: Other Deals
Save 25 percent or more off PC software like Rosetta Stone, Adobe Creative Cloud Photography and Quickbooks.

Get first 3 months free in Daily Burn streaming workouts.
© Copyright IBTimes 2023. All rights reserved.
FOLLOW MORE IBT NEWS ON THE BELOW CHANNELS