Amazon Drone Delivery Update: Drones Will Talk To Each Other, Locate Customers By Phone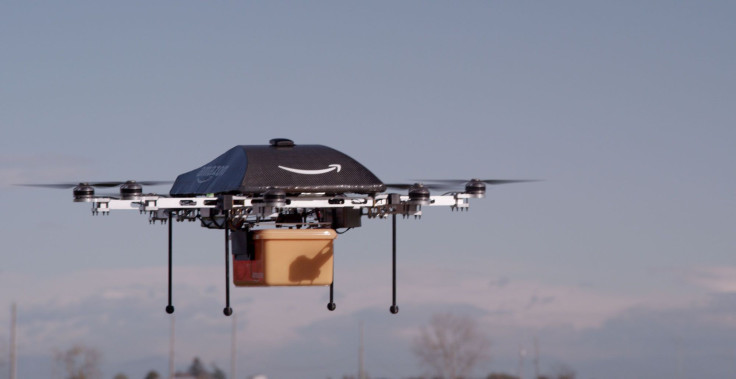 Amazon's delivery drones will be able to locate customers based on the signal from their smartphone, and be able to communicate with other drones about traffic and weather conditions. That's according to the just revealed patent that gives the public the first major insight into the plans behind the Amazon Prime Air program.
Amazon announced in December 2013 it plans to soon put packages at customers' doorsteps within a half hour of the order. The plan has hit snags in the U.S., with testing centers opening in Canada and the United Kingdom while the e-commerce giant awaits regulatory approval stateside. Amazon submitted its drone patent application to the Patent Office in September 2014, though the details are only coming to light now that the application was approved.
The drones will come in a variety of sizes depending on the size of the order: It's a safe bet to assume that a drone delivering a single Blu-Ray disc won't be as large as one deployed to deliver a box of college textbooks. But the drones will also be equipped with cameras and infrared lights that locate landing places and, if all goes according to plan, steer clear of humans and animals.
"If it is determined that the navigation path and/or failure path intersects with a human and/or other animals, roads, walkways, etc., the navigation path may be altered to avoid the humans, animals, roads, walkways," the patent states.
An approved patent does not mean all the plans laid out in the filing will be completed as described.
© Copyright IBTimes 2022. All rights reserved.
FOLLOW MORE IBT NEWS ON THE BELOW CHANNELS