Amazon Echo Vs. Apple HomePod: Which Device Do Consumers Want?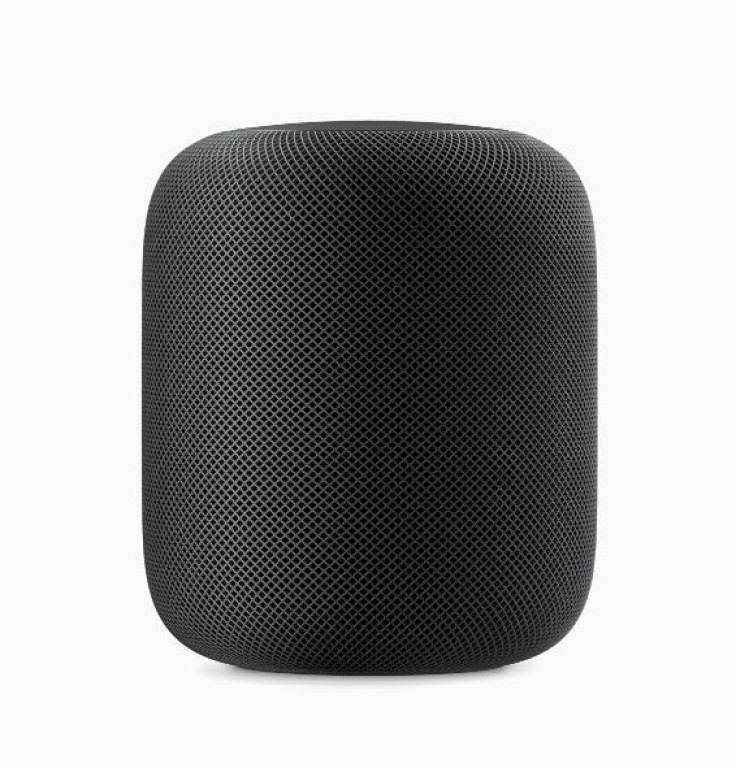 One in three U.S. consumers are interested in buying Apple's new HomePod speaker, a new survey found.
Morning Consult polled 2,200 adults in the U.S. between June 8-12, a few days after the HomePod was revealed at Apple's Worldwide Developers Conference. The iPhone company pitched the device as a hybrid high-end music speaker and home assistant, which can control smart home devices with Apple's HomeKit. Users will also be able to use the HomePod for basic reminders, ask questions about the news and will also control music and audio playback.
Read: Tim Cook, Donald Trump, HomePod vs. Amazon Echo: Apple CEO Talks New Products, Presidential Politics
The survey shows people are interested in buying the iPhone maker's high-end speaker, with 33 percent of respondents saying they were interested in purchasing the device. After stacking up the HomePod against its competitors, like Amazon Echo devices and Google Home, the number of those interested barely changed, staying at 30 percent. In comparison, a Morning Consult poll last September found 25 percent of respondents said they were likely to buy the iPhone 7.
Out of those who own Apple devices, 45 percent said they were interested in buying the HomePod. After looking at a chart that breaks down different speakers, 40 percent of Apple device owners were still interested in buying the HomePod.
Amazon Echo Vs. Apple HomePod
However, Amazon still beats Apple in assistant speakers. The survey found 17 percent of overall respondents said they were most likely to buy the Amazon Echo, followed by the Echo Dot at 11 percent, Google Home at 11 percent, Apple's Home Pod at nine percent, and Sonos Play:1 and Sonos Play:3 both at two percent. The numbers get better for the Cupertino company among Apple device owners, but Amazon still takes the lead. Among Apple product users, 18 percent said they were most likely to buy and Amazon Echo, Apple's HomePod trailed behind by one point at 17 percent. The Amazon Echo Dot and Google Home each followed at 11 percent.
Read: Siri vs. Alexa vs. Google Assistant: Apple Struggling With Privacy Concerns
The price of the device is an important factor when looking at speakers. The survey shows 57 percent of respondents cared about the price of the product, which could be why Amazon is leading. Apple's HomePod is more expensive than its competitors, priced at $349, more than twice as expensive as the Amazon Echo, which currently costs $139.99, and Amazon's latest Alexa device with a built-in screen, the Echo Show, which is priced at $229.99.
Apple CEO Tim Cook recently said in an interview with Businessweek that the HomePod is going to be worth it.
"We're hitting on something people will be delighted with," he said. "It's gonna blow them away. It's gonna rock the house."
He also pointed out that other Apple devices, like the iPod and the iPhone, were initially criticized for their price.
Consumers Care About Speaker and Audio Quality
Another feature respondents said was "very important" when considering a voice assistant was the speaker and audio quality, with 51 percent of consumers saying they took that aspect into consideration.
Other features respondents said were "very important" were:
49% Accuracy of device's voice recognition

44% Compatibility with devices you may already own, such as your smartphone

30% Access to a variety or music streaming services

29% Ability for device to integrate with other services or platforms, such as controlling smart lightbulbs

29% Brand that manufactures the device

21% Aesthetics or look of the device
Apple's HomePod is scheduled to be released this December.
© Copyright IBTimes 2023. All rights reserved.
FOLLOW MORE IBT NEWS ON THE BELOW CHANNELS