New Amazon Echo: Show Preorder, Features, Price Revealed For Alexa-Powered Device With Built-In Screen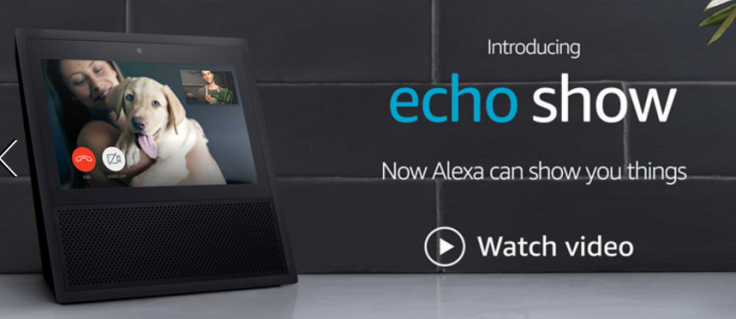 Amazon unveiled the Echo Show Tuesday, an Alexa-powered device with a built-in screen.
It was reported last year that Amazon was working on an Echo device with a built-in screen. Rumored features were also reported before the gadget was announced. Last week leaked images showed the Amazon Echo Show in black and white — and those pictures turned out to be real.
"Echo Show brings you everything you love about Alexa, and now she can show you things," Amazon says on its site.
Read: Amazon vs. Google: Who's Winning The Voice-Assistant Speaker Market?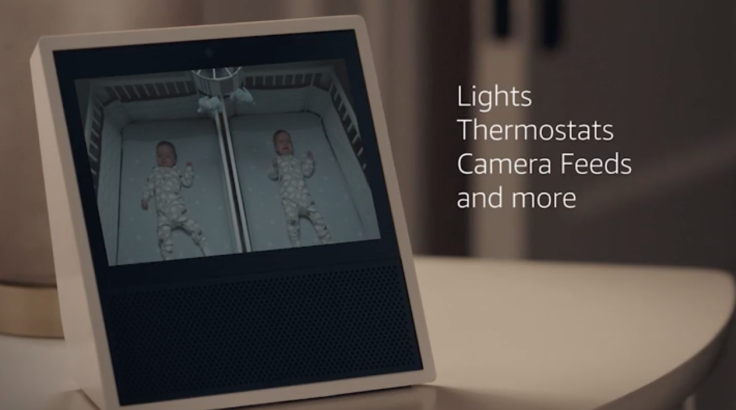 Amazon Echo Show Features
The Amazon Echo lets you watch video flash briefings and lets you ask Alexa to pull up YouTube clips. The device also allows you to control security cameras, see photos, weather forecasts, create to-do and shopping lists, reorder products on Amazon, flip a virtual coin, turn on lights, control thermostats and more with WeMo, Philips Hue, ecobee and other compatible smart home devices. With the new Echo device, you can ask Alexa to show you the front door or the baby's room with compatible cameras from Ring and Arlo.
Alexa carries out more tasks and will continue to learn for better use, Amazon said. The company said Alexa is "getting smarter and adding new features, plus thousands of skills like Uber, Jeopardy!, Allrecipes, CNN, and more."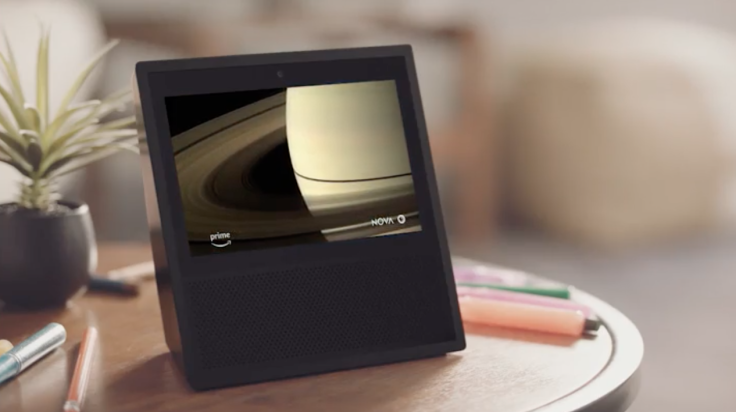 Stream Music on Echo Show
The device also streams music on Amazon, Pandora, Spotify, TuneIn, iHeartRadio and more.
If you to like sing out loud and don't know the words to the songs, the Echo Show displays music lyrics on the screen.
Echo Show Speakers and Microphones
The Echo Show comes with "powerful, room-filling speakers with Dolby processing for crisp vocals and extended bass response," Amazon said. The company seems to have addressed the main problem with previous Echo models: hearing users' voices.
Read: Amazon Echo Look: An Alexa Powered Camera Device That Works As Your 'Style Assistant'
"With eight microphones, beam-forming technology and noise cancellation, Echo Show hears you from any direction — even while music is playing," Amazon said.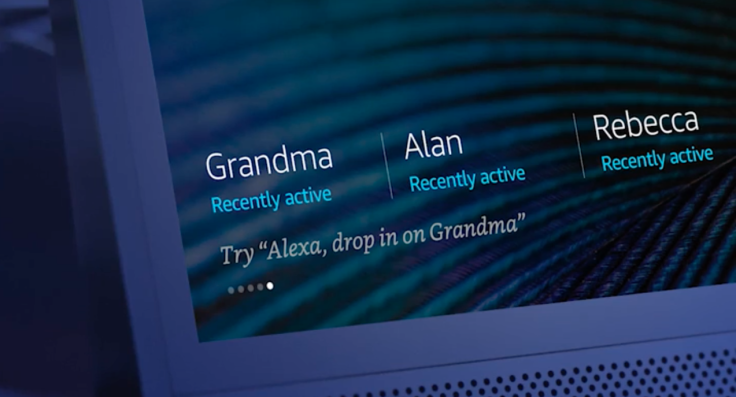 Video and Voice Calling with Amazon's Echo Look
Amazon's Echo Show allows you to make voice and video calls, with video calling resembling FaceTime. Users will be able to call others who have an Echo or the Alexa app. Amazon also introduced "Drop-In," which shows you when your closest friends and family are available to call. Once they have granted access, you can drop-in on your contact and launch a video call. The person you are dropping in on will also have the option to use voice call instead of video if they're not completely available.
Amazon Echo Show Price, Preorder
The Echo Show is only available for preorder and will be released June 28. The gadget's price is higher than previous Alexa-powered models, which was expected. The Echo Show is priced at $229.99 on Amazon, with free shipping. Amazon currently sells its previous models, the Dot, Tap and Echo speakers at $50, $130 and $180, respectively. The recently released Echo Look is priced at $199.99 and can be purchased only by invitation.
Amazon has a limited-time offer for those planning to buy two Echo Show devices. For people who want to purchase two Echo Shows, they can take $100 off the order using the code SHOW2PACK. You can read the terms and conditions here.
© Copyright IBTimes 2022. All rights reserved.
FOLLOW MORE IBT NEWS ON THE BELOW CHANNELS