Amazon Fire Phone Flop: Web Giant Takes $170 Million Hit On Hardware Gamble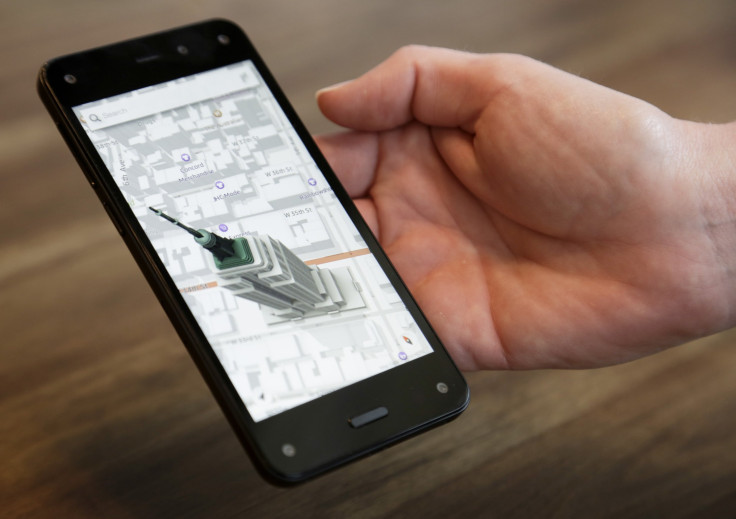 Amazon.com's Fire phone has been reduced to embers. Amid reporting a shaky third quarter on Thursday, the huge e-commerce company also confirmed that it has taken a $170 million writedown on the device. The Fire phone, which was supposed to revolutionize the way consumers shopped through mobile, has seen abysmal sales since its July launch.
Primarily, the Amazon Fire phone was expected to be an affordable option for consumers, but it debuted in July with a premium price of $649 unlocked. Carrier subsidies on AT&T brought it down to $199.99 with a two-year contract, but competition from big names in the premium sector, including Apple Inc. and Samsung Electronics Co., probably affected sales.
At the time, the iPhone 5s and 5c and Samsung Galaxy S5 were still the hottest models on the market; but since then, Apple has launched the iPhone 6 and 6 Plus and Samsung the Galaxy Note 4. While sales figures for the Samsung Galaxy Note 4 have not yet been released, the iPhone 6 and 6 Plus sold a record 10 million handsets during their first weekend of availability. In comparison, the Fire phone is believed to have sold approximately 35,000 units.
The Fire phone's carrier exclusivity on AT&T likely also contributed to its lack of sales. It simply didn't have the cross-carrier availability it needed for a successful launch. Amazon also lacks the branding cachet to orchestrate a successful launch on only one carrier.
The Amazon Fire phone includes such notable features as its "Dynamic Perspective" 3D Technology, which tracks head movement to create 3D effects within certain applications like maps, and its Firefly product scanner, which allows users to look up products and services on Amazon.com. Amazon hoped these features would justify the Fire phone's premium price tag and attract customers, but less than two months after launch, the company slashed the device's price to 99 cents with a two-year contract and $449 off contract in a last-ditch effort to move handsets.
Amazon's financial chief Thomas Szkutak said there was about $83 million worth of Fire phone inventory at the end of the third quarter. The e-commerce website posted net sales of $20.58 billion and a net loss of $437 million, or 95 cents per share, falling short of Wall Street's expectations.
© Copyright IBTimes 2023. All rights reserved.