At AT&T Stores, Hype For Amazon's Fire Phone But Apple's iPhone 6 Casts Long Shadow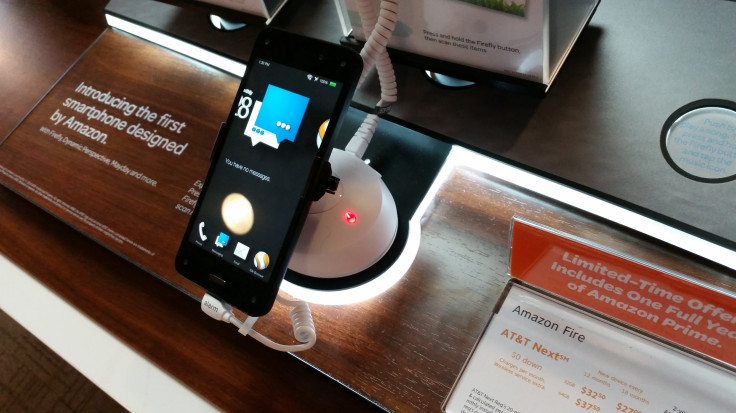 Who wants to buy an Amazon phone? Amazon (NASDAQ:AMZN) started taking orders for its Fire Phone last week, but inside AT&T (NYSE:T) stores the coming iPhone 6 is complicating the decision-making for potential buyers.
Amazon launched the Fire Phone with some nice perks, including a year of Amazon Prime (free shipping), unlimited cloud storage for photos and Firefly, an app that can recognize products in photos and find them on Amazon.com. It also launched a media blitz including TV ads on networks like FX and Nickelodeon. Just as important: Amazon has thousands of AT&T (NYSE:T) employees talking up the phone at more than 2,200 stores across the country.
But they are also launching this new phone (and category) inside a long shadow cast by Apple's (NASDAQ:APPL) iPhone 6, which is expected to come out in September. The question is just how much headway can Amazon make while consumers wait to see just what Cupertino has in store?
Survey firm Qriously found some encouraging data for Amazon. Late last week the firm asked a random sample of nearly 600 U.S. iPhone and Android users if they had heard of the Amazon phone and if they'd consider buying one. Among iPhone users, 27 percent said "yes" they'd heard of the Amazon Fire Phone and 26 percent said they'd consider switching. Among Android users, 26 percent had heard of the Amazon phone and 24 percent said they'd consider a switch.
Not bad for a phone that has been in stores for just a few days. AT&T has the exclusive on Amazon's Fire Phone, as it did the first iPhone and the ill-fated Facebook Phone, which means plenty of ground troops trying to gin up interest among the iPhone and Android faithful. We decided to check and see for ourselves how the phone is doing and found plenty of people talking about Amazon's phone, if not actually buying it.
"It's the hottest phone right out right now," said one employee at the AT&T store on Broadway in lower Manhattan before conceding that iPhones were still selling better.
The displays were attracting some attention, if not buyers. One customer picked up the phone and declared it "bulky" and "heavy, too."
The employee said the selling point for the phone is the four front camera configuration that makes it feel like "you're really there" in virtual environments. She said she'd been offered a free Amazon Fire Phone by AT&T but opted to stick with her Galaxy S5. "I'm attached to it," she said.
Further uptown, on Wall Street, one employee claimed to have sold six Amazon Fire Phones on Monday.
At an AT&T store on Canal Street, staffer Dexter Liu said the upcoming iPhone 6 is weighing heavy on customer decision-making. "I personally have only sold one [Amazon Fire Phone], but that's because everyone's waiting for the iPhone 6 to come out, so they can compare it," he said.
For Liu, the selling point for the Amazon phone is tight integration into the e-commerce giant. The phone comes bundled with a year of Amazon Prime (which means free shipping, music, movies and TV), unlimited cloud storage and the "Firefly" app that identifies products, songs and movies.
"I used it to find something really weird, like this Chinese candy," Liu said. "I couldn't buy it but it knew what it was."
Outside AT&T stores, there appears to be some awareness that Amazon is selling a phone. Alexandra Arnone, assistant admissions director at New York Institute of Technology, said she's seen the ads but it would take more to pry her away from her iPhone.
"I thought it looked like a good idea to have everything at your fingertips. A free year of Prime, free movies, books and music, so that's pretty cool," she said, while riding the J-Train in Manhattan. "At least until the novelty of free wears off. When the year is over and you have to pay $100 per year, that's not as cool."
© Copyright IBTimes 2023. All rights reserved.
FOLLOW MORE IBT NEWS ON THE BELOW CHANNELS