Amazon Key Poll: Majority Of Americans Creeped Out By In-Home Delivery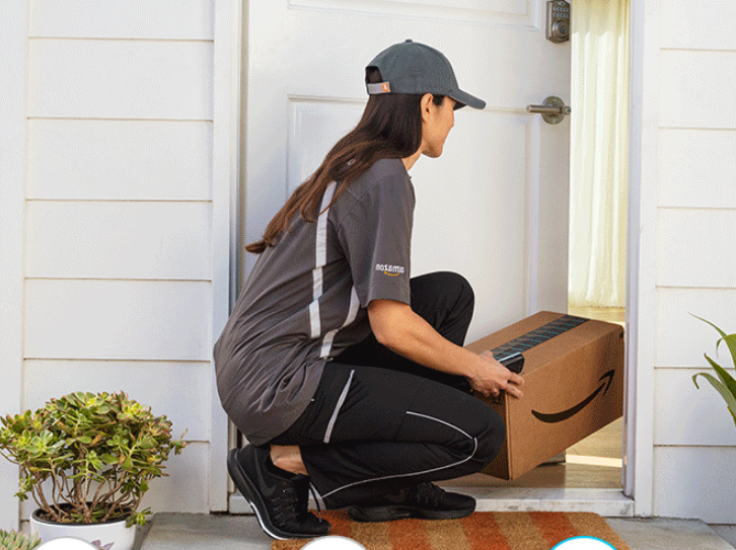 Amazon announced a new delivery method for Prime members last week that would allow drivers to set packages inside customers' home, but most Americans are not happy about that idea, according to a new national survey.
The in-home delivery service works with a smart lock and a connected Amazon Cloud Cam, called the Amazon Key In-Home Kit. The kit is set up for $249.99 and users can select the "in home" option on the app to get their items delivered inside their house. Through the app, users can get alerts and can see the delivery happen in real-time.
While Amazon portrayed the service as a convenience, especially for those who lead busy lives, many Americans aren't so fond of the feature. The poll found 68 percent of U.S. adults said they are not comfortable letting delivery drivers have access to their homes, while 53 percent said the idea made them "very uncomfortable."
The survey also found majorities of every subgroup said they are uncomfortable with delivery drivers entering their homes to deliver items, including young people ages 18-29, which tend to be more open-minded about new technology features. However, young people were still more than twice as likely than older people over 65 to say they're comfortable with the idea.
The survey was conducted among more than 2,000 U.S. adults on the days following Amazon's announcement of the service.
Morning Consult released a graph depicting the findings: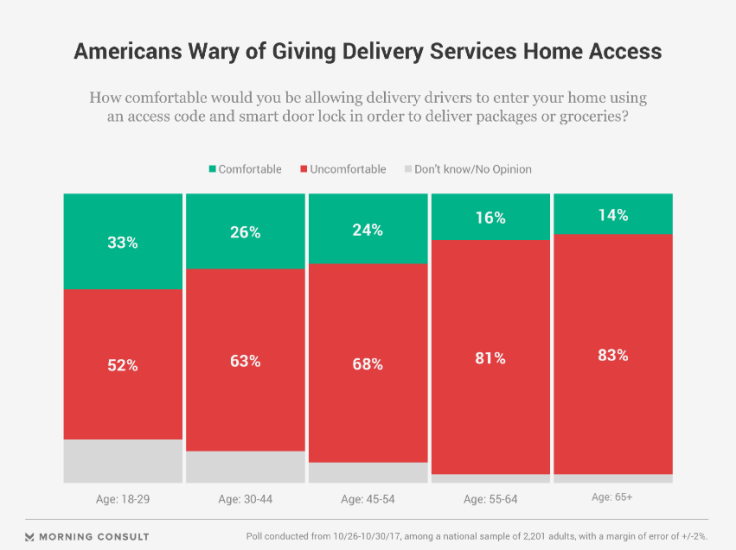 Around the same time the survey was conducted people went on social media to poke fun at Amazon Key:
While Americans are skeptical about the service, Amazon assured in its announcement that the delivery method is safe.
"Each time a delivery driver requests access to a customer's home, Amazon verifies that the correct driver is at the right address, at the intended time, through an encrypted authentication process," Amazon explained. "Once this process is successfully completed, Amazon Cloud Cam starts recording and the door is then unlocked. No access codes or keys are ever provided to delivery drivers. And, for added peace of mind, in-home delivery is backed by Amazon's Happiness Guarantee."
Amazon Key is set to launch in 37 U.S. locations on Nov. 8 and will be free for Prime members, after the kit installation. Those who are interested in Amazon Key can go to http://www.amazon.com/key?tag=viaibtus-20.
Amazon's in-home delivery method isn't the only service to receive backlash. Last month, Amazon rival Walmart announced it was testing a similar delivery service that would allow drivers to enter a person's home and put their groceries in the refrigerator. That service, which also allows customers to watch their deliveries in real-time on a mobile app, also freaked consumers out.
© Copyright IBTimes 2023. All rights reserved.
FOLLOW MORE IBT NEWS ON THE BELOW CHANNELS