Amazon PlayStation Network Store: Online Giant Launches PSN Digital Downloads For Sony PS4, PS Vita And PS3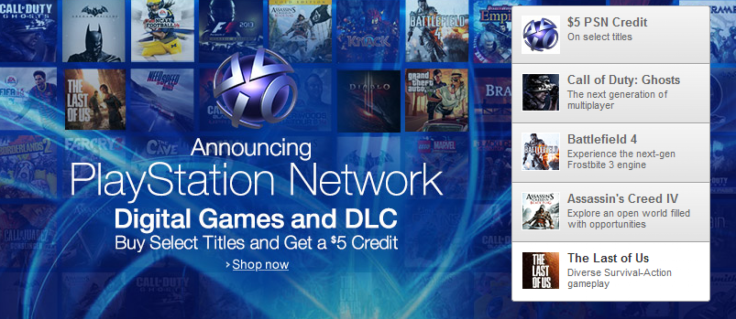 While Sony (NYSE:SNE) and Microsoft (NASDAQ:MSFT) took market cues from the PC gaming market with digital downloads, their digital stores, the PlayStation Store and Xbox Live Marketplace, respectively, had no outside competition -- until now.
Amazon (NASDAQ:AMZN), in an effort to promote competition to the console digital marketplace, introduced its PlayStation Network Store, which features several digital titles for the PlayStation 3 (PS3) and PlayStation Vita (PS Vita), and it will feature PlayStation 4 (PS4) games in the near future.
To mark the launch of Amazon's PlayStation Network store, the online retail giant is offering a $5 PSN credit with the purchase of select digital games and DLCs (downloadable content).
The Amazon PlayStation Network store is also selling digital codes for PlayStation Plus subscriptions and gift card codes for the PlayStation Store.
Previously, owners of the Sony PlayStation devices were relegated to the PlayStation Store if they wanted to make any digital purchase on their device, whether it was a PS Vita or PS3.
While the Amazon PlayStation Network store only contains about 68 titles available for digital download, the selection of PlayStation games are sure to increase over time as more games are released. As the video game industry continues to grow, more competition in the digital marketplace is sure to be a win for consumers and players of the PS Vita, PS3 and the upcoming PS4.
Prior to the launch of the Amazon PlayStation Network, Amazon offered Xbox Live Arcade game code purchases, but it stopped the pilot program back in 2010. It is unknown whether or not Microsoft will match Sony's move and begin offering Xbox Live digital downloads on Amazon in the near future.
With the expansion of the digital download marketplace for the Sony PlayStation family, it is probably only a matter of time until shopping spree deals similar to Valve Software's Steam Holiday Sale begin popping up for PlayStation Network digital downloads.
What do you think about PlayStation Network digital download sales being added to Amazon? Let us know what you think in the comments.
© Copyright IBTimes 2023. All rights reserved.