Americans Too Broke To Go Bankrupt? US Bankruptcy Filings On Pace To Fall To Pre-2008 Level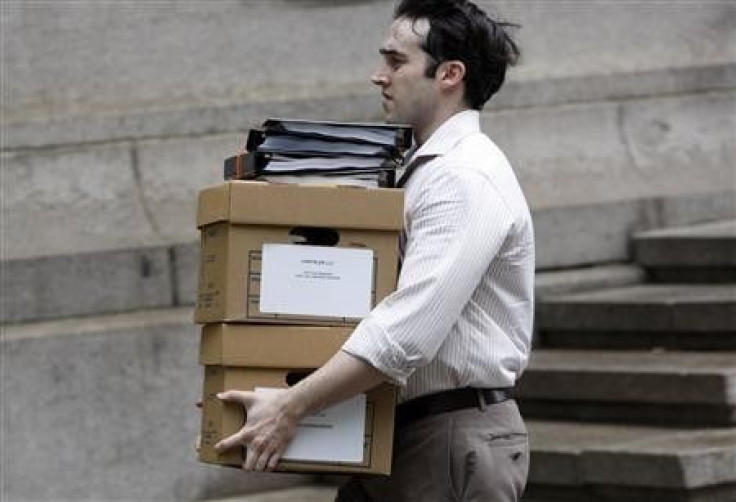 The pace of bankruptcy filings in the U.S. is slowing down to pre-recession levels, but don't cheer just yet -- because hundreds of thousands of Americans might have been too broke to file for bankruptcy.
The number of U.S. businesses and consumers filing for bankruptcy fell 14 percent in the first half of 2012 and is on track to end the year at the lowest level since before the 2008 financial crisis, a new report showed.
New bankruptcy filings fell to 632,130 in the first six months of the year compared to the year-ago period, according to a report from the American Bankruptcy Institute and Epiq Systems Inc., which manages bankruptcy procedures for filers.
The number of consumers seeking court protection from creditors fell 13 percent to 601,184, while the number of businesses filing for bankruptcy dropped 22 percent to 30,946.
We are on pace for perhaps the lowest total new bankruptcies since before the financial crisis in 2008, Samuel Gerdano, executive director of the American Bankruptcy Institute, said in the report.
Household bankruptcies in America increased sharply between 1980 and the mid-2000s, reaching an annual rate of 1.6 million filings in 2004 -- representing 1.4 percent of all U.S. households.
To prevent abuse use of the system by wealthy debtors, Congress passed the Bankruptcy Abuse Prevention and Consumer Protection Act in 2005.
These changes increased the costs of filing by 60 percent, from $921 to $1,477, according to the Government Accountability Office.
While the Bankruptcy Abuse Act succeeded in reducing the number of bankruptcy filings, many Americans seeking bankruptcy relief as a result of foreclosure or unemployment have been forced to pay the steep costs targeted at preventing abuse by the wealthy.
Bankruptcy filings by individuals historically account for more than 90 percent of the total number of annual filings.
But this year, with weak job gains and stagnant wage growth, many Americans may find themselves too broke to even file for Chapter 7 bankruptcy protection -- the most common way that consumers seek protection from their creditors.
As a result, as many as one million Americans are estimated to be unable to afford that steep cost this year, according to a research conducted by a group of professors from Columbia University, the University of Chicago and Washington University in St. Louis.
The authors -- Tal Gross, Matthew J. Notowidigdo and Jialan Wang -- estimate that another 200,000 Americans, who would otherwise not have enough money to file, will use their tax refunds to pay for bankruptcy this year.
Record-low interest rates are another contributor to the drop in bankruptcy filings.
Rock-bottom rates have made it easier for businesses and individuals to refinance at terms that are more favorable to borrowers. With sustained low interest rates and weak consumer spending, we expect bankruptcies to stay at relatively low levels through the end of 2012, Gerdano said.
Fixed U.S. mortgage rates have fallen to new lows of 3.62 percent on a 30-year loan and 2.89 percent on a 15-year, according to mortgage financier Freddie Mac, which helped push the Mortgage Bankers Association refinancing index to a three-year high in June.
Yet, low interest rates are a double-edged sword.
When interest rates are low enough, they might not even beat inflation, therefore, driving down bank deposits and encouraging firms and consumers to take on more debt.
Piling up debt is not so bad if it's taken on prudently and in moderation. But low interest rates can cause excess.
While borrowing can solve the short-term liquidity needs, excessive borrowing can be particularly dangerous if a loan obtained in a low interest rate environment is not fixed, but adjusts as rates rise. All of a sudden, that loan may quickly become unaffordable and could lead to bankruptcy.
Despite the decline in filings, there have been several large bankruptcies this year, including: photography pioneer Eastman Kodak Company (PINK: EKDKQ), textbook publisher Houghton Mifflin Harcourt Publishers Inc. and Hostess Brands Inc., the maker of Twinkies and Wonder Bread.
© Copyright IBTimes 2023. All rights reserved.
FOLLOW MORE IBT NEWS ON THE BELOW CHANNELS